Some recipes you make once and, even though they are okay, never make again. This tasty beef stir-fry doesn't fall into that category. I've been making Peking Sesame Beef for almost 35 years, and it's a hit every time.
I discovered this recipe in the October 1981 Bon Appétit magazine's RSVP section. It caught my eye for two reasons: it looked easy and had savory flavors, and I was living in Boston and the recipe came from Mandarin Garden restaurant in nearby Braintree, Massachusetts. Although I never visited the restaurant, I've made the stir-fry so many times that it has clearly withstood the test of time, as my late father would have said.
I recommend prepping all your ingredients ready before cooking, as once you start it only takes a few minutes.
I love making stir-fries with flank steak, don't you? If you've had problems slicing the beef into neat pieces, here's a tip to make it easier: partially freeze the meat before slicing. Are you confused about what it means to slice across the grain? This photo shows you the direction of the grain and how I began cutting at a right angle to it. It's also important to slice flank steak diagonally, for tender results, as the second photo shows.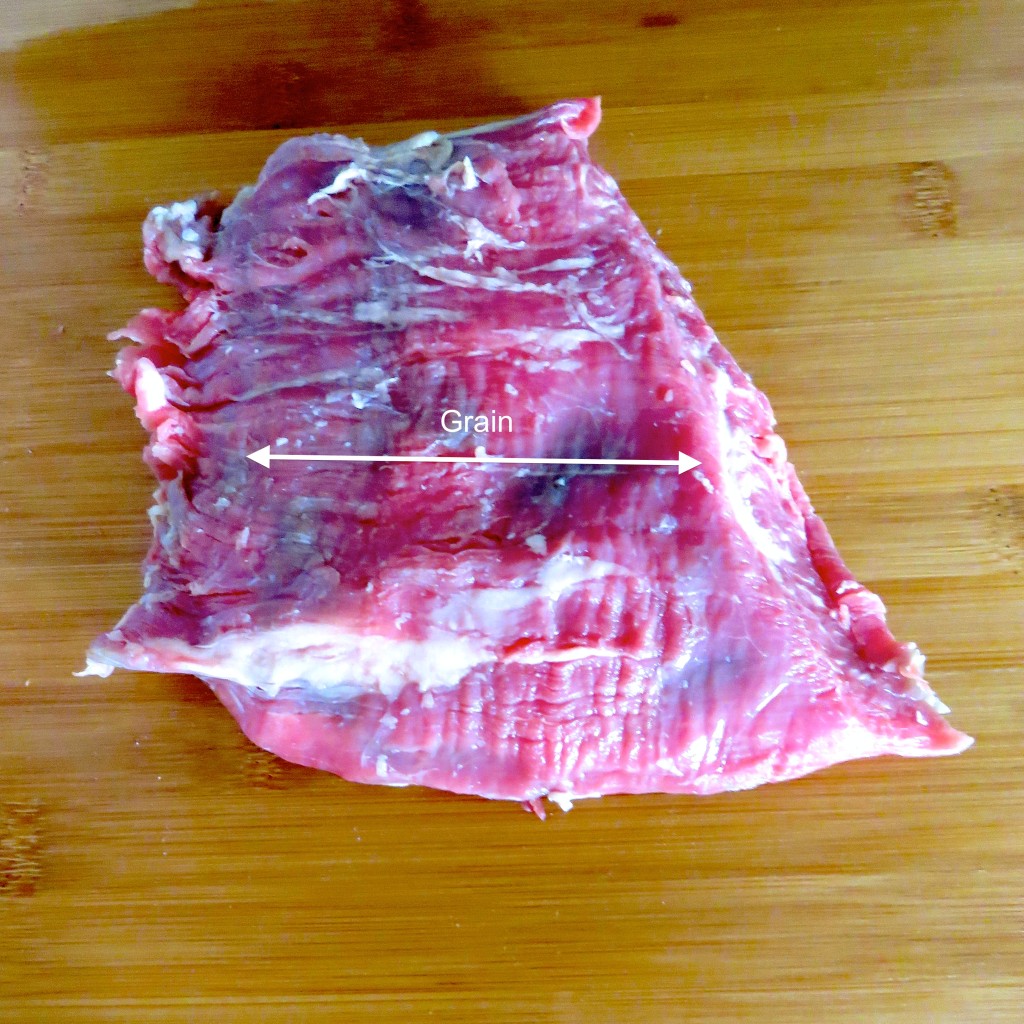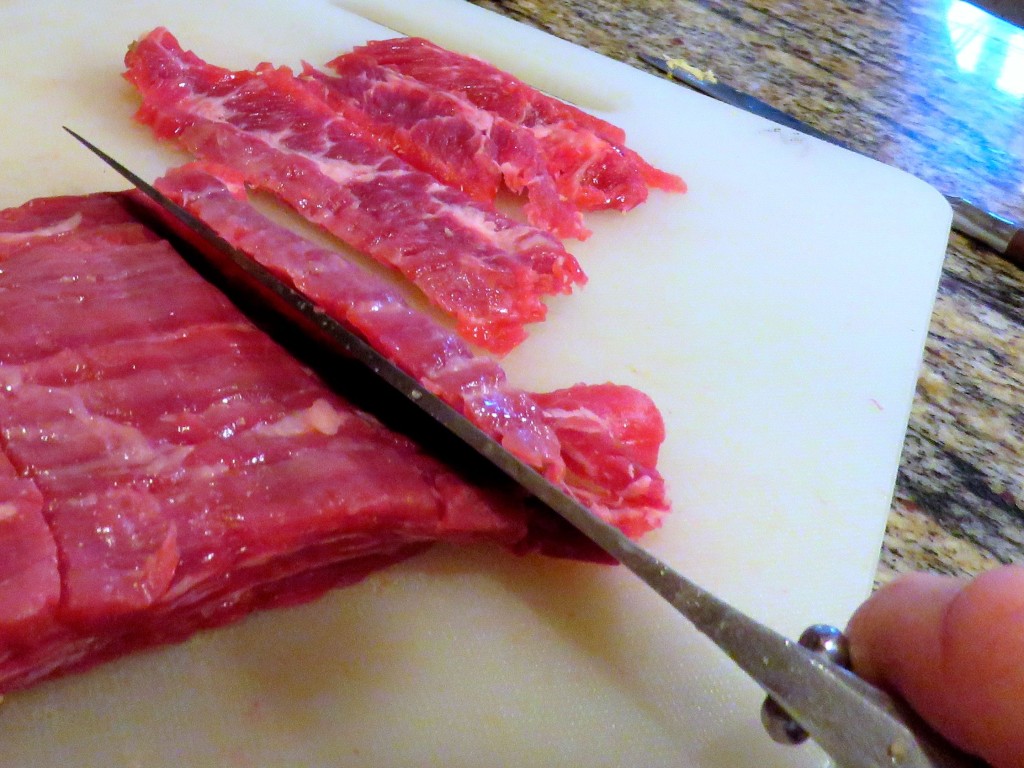 After slicing, the meat marinates for up to two hours and is lightly coated with cornstarch, to give it a velvety texture. When I've been in a hurry I've marinated for as little as 20 minutes and the results are still good!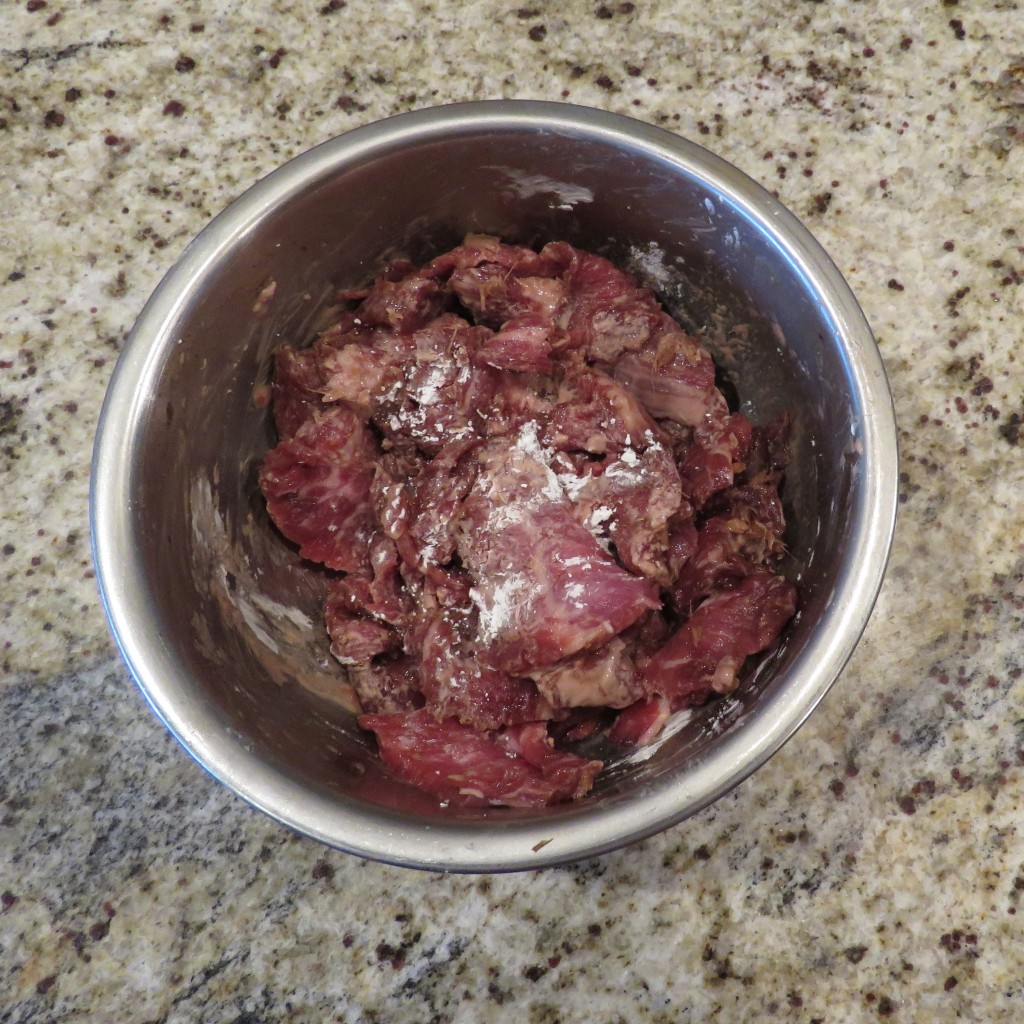 The beef is cooked twice, first on its own and again with the aromatics (garlic, ginger, and green onion) and sauce. (Wondering what the red ingredients are? I had some red jalapeños from a friend's garden so added them as well.)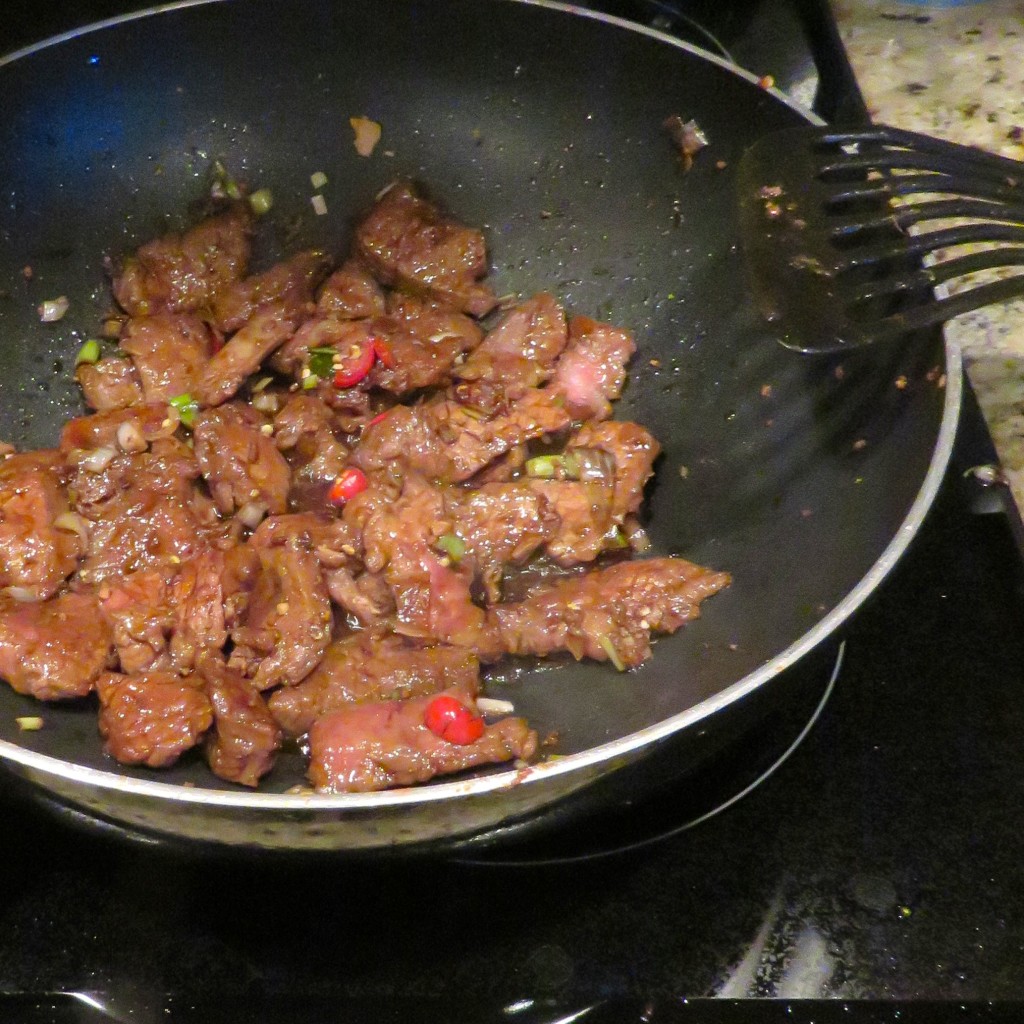 You can adapt the recipe easily to be a one-pan meal by adding partly cooked vegetables along with the beef at the end. At different times I've used broccoli florets, zucchini, mushrooms, slivered carrots, any color bell pepper, snow peas, and snap peas–or a combination of several. I zap the broccoli for about 45 seconds in the microwave so that it is still crisp. You can lightly sauté the veggies in another pan (although that defeats the one-pan claim!) or add them to the wok after cooking the green onions, garlic, and ginger for 1-2 minutes. Either works well. Another option is to serve the vegetables separately, sautéing them in a little oil and tossing them with some oyster sauce (which is what I did here). For the rice, I used Trader Joe's Quick-Cooking Organic Brown Basmati, one of my favorites.
Set the table with some chopsticks and dinner is served!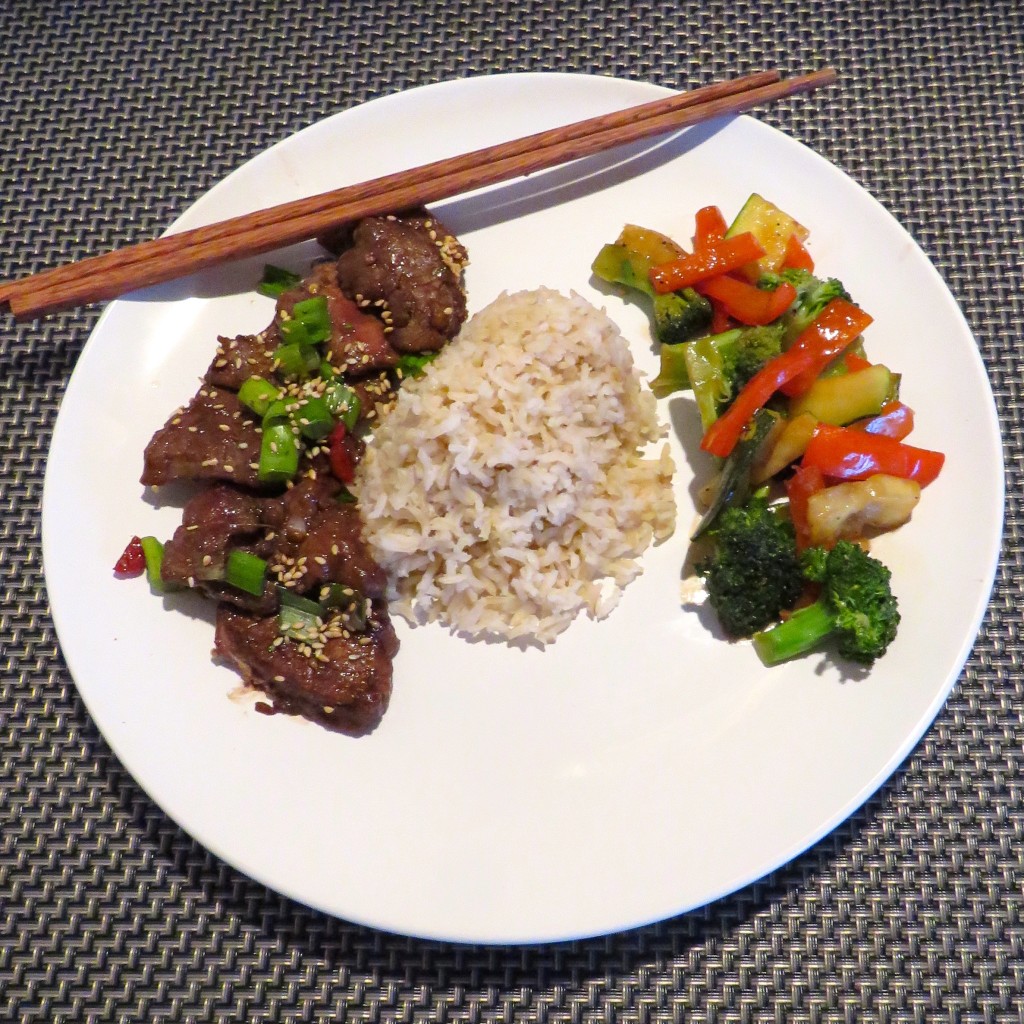 What's your favorite stir-fry dish to make at home?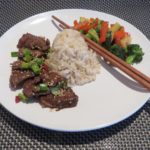 Peking Sesame Beef
Based on a recipe from Mandarin House in Braintree, Massachusetts, this stir-fry is quick to cook once you prepare the ingredients. Serve with steamed rice and sautéed vegetables.
Ingredients
1

Tablespoon

soy sauce

1

Tablespoon

water

2

Tablespoons

dry white wine or dry Sherry

2

teaspoons

garlic, finely chopped, divided

2

teaspoons

fresh ginger,finely chopped, divided

2

to 3 green onions, chopped, white and green parts separated

1/4

tsp

baking soda

1

lb

flank steak or beef tenderloin, , trimmed of fat and cut across grain into 1"-2" slices

Tip 1

1-2

Tbsp

. cornstarch

Oil for stir frying

3

Tablespoons

each water and soy sauce

1

teaspoon

white sugar

1/4

tsp

freshly ground pepper

I Tbsp. sesame oil

2

Tbsp

sesame seed
Instructions
Mix soy, water, wine or sherry, baking soda, and one teaspoon each of the garlic and ginger in a bowl.

Add sliced beef, stir well, and marinate 1/2 hour to 2 hours. (If marinating more than an hour, place in refrigerator.)

Sprinkle cornstarch over meat and mix well to coat meat lightly. Start with 1 Tablespoon and add more if desired. (Tip 2)

Heat a little oil in wok or large skillet, just enough to film the surface. Add beef and stir-fry, tossing to cook evenly, for about 2-3 minutes until no longer red but still pink. (It won't be done but gets a second cooking.) Don't crowd the pan; cook in two batches if necessary, for about 2 minutes. Using a slotted spatula to drain oil, remove beef from pan and place on paper towels on a plate to drain fat.

Cook white part of green onion and remaining 1 teaspoon of garlic and ginger until fragrant, adding oil if necessary. Watch carefully so garlic doesn't burn. Add water, soy sauce, sesame oil, sugar, and pepper; bring to boil.

Quickly stir in beef and sesame seed and cook over high heat for a few minutes, until most of the sauce cooks down. (Tip 3)

Sprinkle with reserved green part of green onions and serve with steamed rice.
Recipe Notes
If you prefer bite-sized pieces of beef, cut the flank steak lengthwise into 1-1 1/2" strips before slicing across the grain.
Tossing the beef in cornstarch gives it a nice surface texture, much like velveting but without the egg white.
To make this a one-dish meal, add partially cooked vegetables along with the meat in step 6. I've used broccoli florets, sliced red or green bell pepper, snow peas, or snap peas. I par-cook them in the microwave so all they need is a toss to coat them with sauce.
Save
Save