Why, you are no doubt asking yourself, would Marlene post a cranberry recipe after Thanksgiving? Let me assure you, this one is worthy of keeping on hand year-round.
What ups the flavor profile and sets this apart from other cranberry relishes and chutneys is the spices. Cranberries with curry powder? No way, you insist. Trust me on this, it works. Fresh ginger gives it a tangy note, while the cloves together with the curry powder add a subtle earthiness that will have your guests trying to guess what's in the chutney. Then there are the dried fruits plus orange or lemon zest.  Everything comes together to create a tangy condiment that is more than a side for turkey. I also serve it with chicken and brisket, mix it into yogurt for breakfast, and use it as a jam. Here's what you need.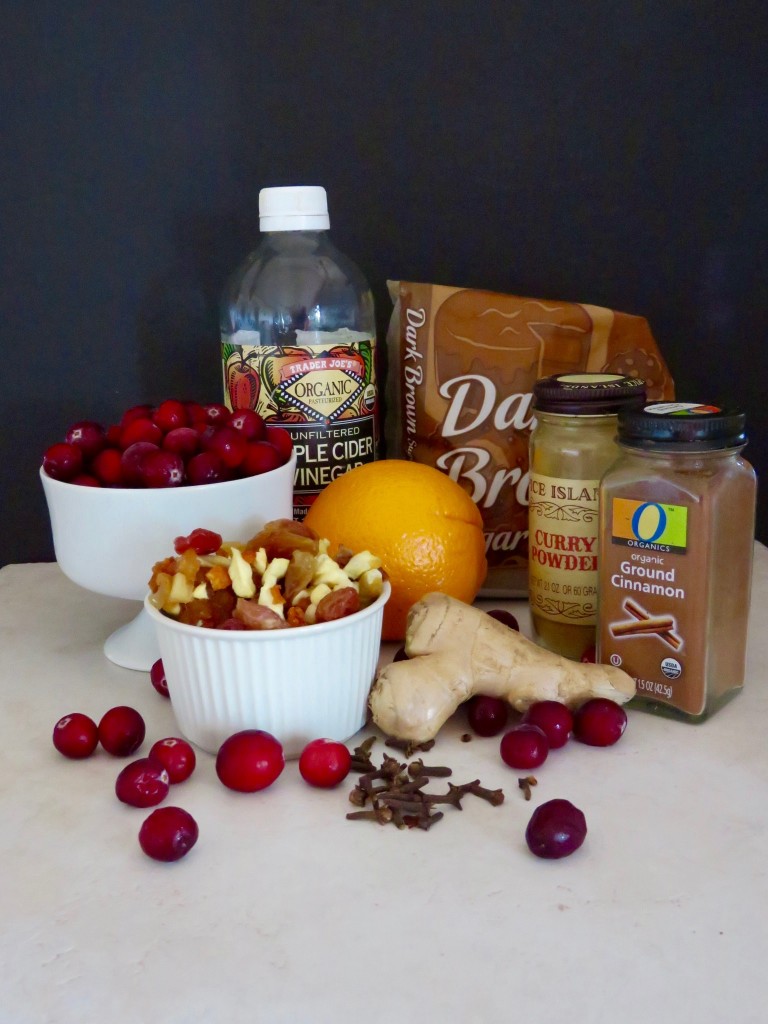 Toss everything together in a medium saucepan and let it simmer while you are making other dishes, stirring occasionally.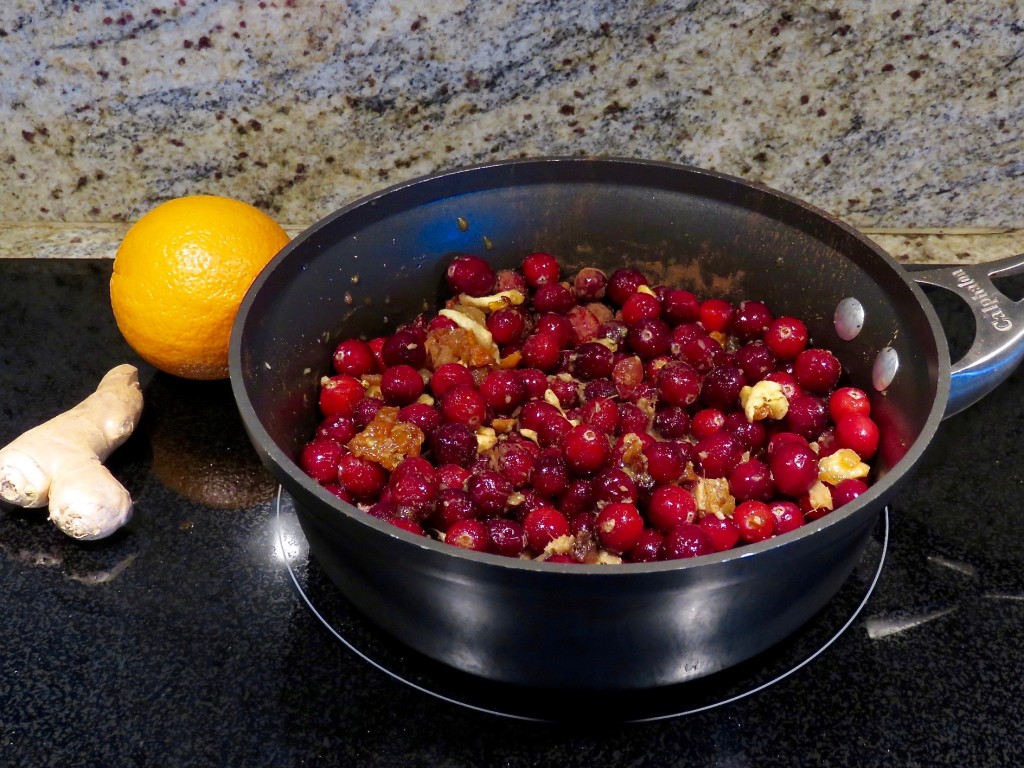 Hate curry or cinnamon? Leave either out. Ditto for the ginger. But please, please, please, try it my way first. You will be surprised how much you like it. Even avowed cranberry haters like Mr. Fussy agree that Marberry's is different and delicious! In fact, I sometimes eat it straight from the dish with a spoon. It's that good!
The chutney keeps really well in the refrigerator. It also makes a great hostess gift. Look at this ruby goodness. Wouldn't it be perfect packaged in a pretty jar with a ribbon?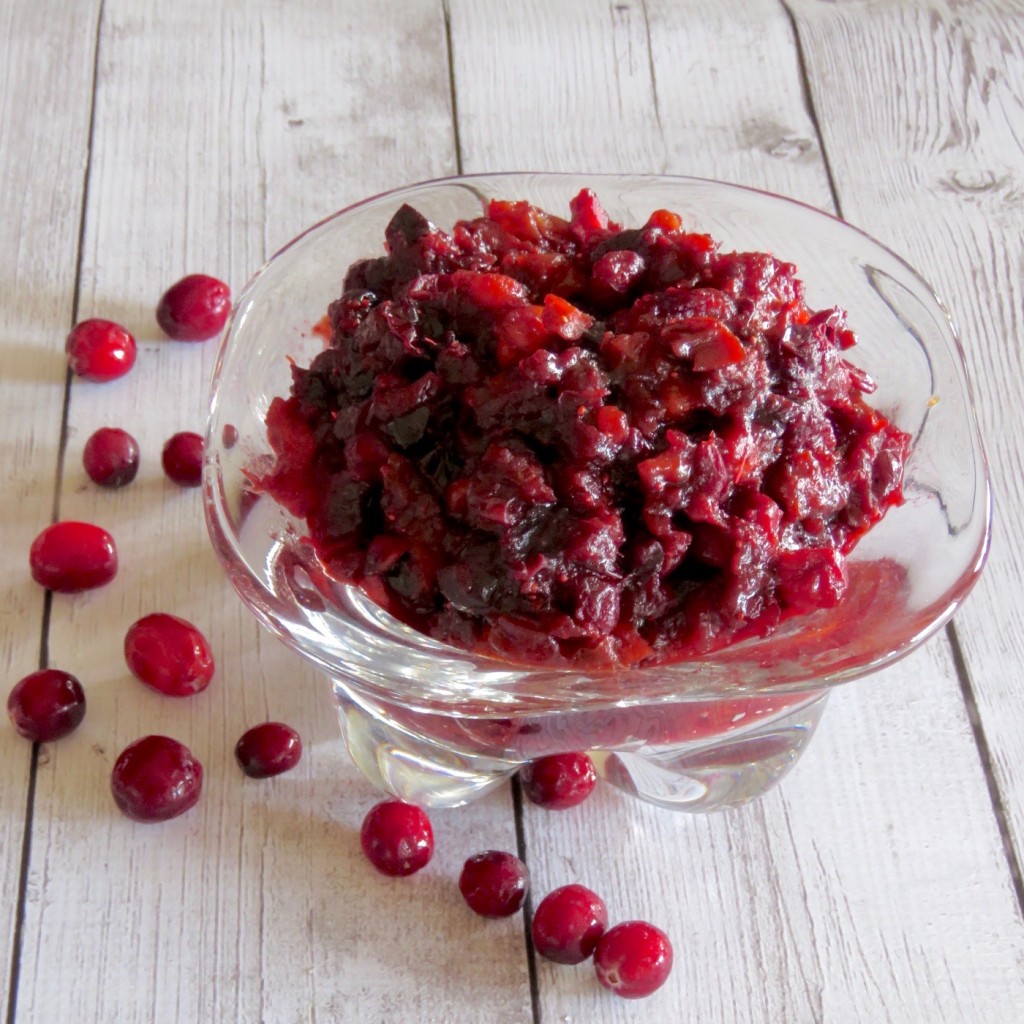 P.S.: What kind of name is Marberry's, anyway? Marlene's Cranberry stuff = Marberry's! When I served it for a holiday luncheon with smoked turkey, everyone raved about it so much that a friend suggested I sell it. We started playing around with names, came up with this one, and it stuck. I'm not going into business; instead, I'm sharing it with you!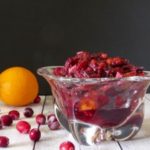 Marberry's Spiced Cranberry Chutney
Tangy and slightly sweet with a touch of spices, this cranberry chutney is a flavorful addition to roasted poultry and is also great on toast, in yogurt, or wherever you'd use a fruit jam.
Ingredients
1 12-

oz

. bag cranberries

1/2 - 3/4

cup

brown sugar

1/4

cup

cider vinegar

1/4

cup

orange juice

2

Tbsp

. minced fresh ginger or 1/2 tsp ground ginger

1/2-3/4

tsp

. cinnamon

1/4

tsp

. ground cloves

1/2

tsp

. curry powder

Grated zest of one lemon and/or orange

1/2

+ cup chopped dried apricots or other chopped mixed dried fruit
Instructions
Place all ingredients in a medium saucepan.

Cook over medium heat, stirring to dissolve sugar.

Bring to a boil, reduce heat, and simmer, uncovered, until cranberries pop, about 10-15 minutes (longer if necessary).

Cool and chill at least 1 hour before serving.
Recipe Notes
• For a sweeter chutney, use 3/4 cup brown sugar. I usually start with 1/2 cup and add more if it need it, as I don't like overly sweet cranberry dishes.
• You can substitute cranberry or another fruit juice for the orange juice.
• Other chopped dried fruits work well; I've added dried cranberries or cherries.
• Don't feel like chopping? Use packaged dried mixed fruit bits, a mix of chopped apples, apricots, peaches, raisins, and sometimes papaya or mango. I've found them at Sprouts or the supermarket.
• The chutney thickens upon chilling.
• This keeps very well in the refrigerator.
• I sometimes double the recipe and usually add more spices. Makes a great gift, too!