Hi and happy Friday to all, from umpteen-thousand feet as we fly southwest from Orlando to Lima, Peru. Our travel day began ultra-early, with breakfast at 5:30 am. Those of you who know me well are chuckling I'm sure, as I am not an early riser by any means. Then it was off to the Sanford airport, a smaller one just outside of Orlando. The TSA agents must have been really bored, because they were extra stringent with our screenings. Mr. Fussy did not enjoy his pat down…we have no idea what triggered it.
Once we were on the plane, all annoyances faded away. The charter 757 has about 85 first class seats, instead of the typical 230 or so. Here is Don, settling into his comfy seat.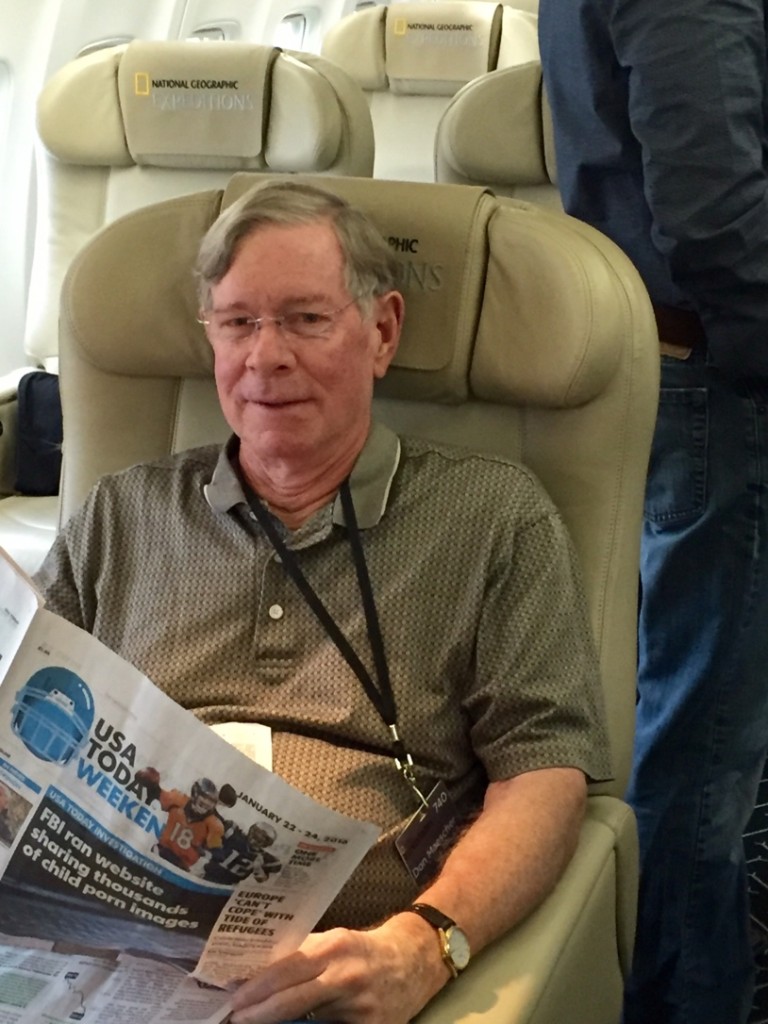 The plane has a crew of 16, including 8 flight attendants and a chef. If our first meal was any indication of the plane food, we will arrive home 10 pounds heavier. We started with champagne and caviar. The lunch appetizer was poached lobster, followed by a choice of rack of lamb, swordfish, or pumpkin gnocchi. And look at this lamb: perfectly pink! How does Chef Smith do that in a tiny plane galley?
The logistics to pull together this trip must be mind-boggling, and National Geographic does a superb job. The attention to detail is superb, right down to the smallest. For example, in each destination they provide postcards that they will mail for us. We have plane totes with duvet, pashmina, slippers, a travel amenities kit, and of course, a Nat Geo logo baseball cap. In each locale we get a few dollars of local money for small items.
Even though the flight was about 6 hours, it seemed to pass fairly quickly. Two of the National Geographic experts traveling with us gave short presentations using a special app on our iPads and the onboard WiFi. David, our cultural anthropologist, provided an introduction to the indigenous Andean cultures. He will conduct interviews with natives along the way as part of his ongoing research into living cultures. Jay Dickman, long-time NG photographer, gave us some introductory photography tips. He will be documenting our journey with us, and we get a DVD with his pictures after the trip. He's available to help us improve our photography and will take interested photographers on special photo shoots. I'm looking forward to improving my skills, for sure.
Some fun trivia for you: the Andes is the longest mountain range in the world and the highest in the Western Hemisphere. Also, Peru is known as a language hotspot, with 104 known languages! Spanish and Quechua are the two largest. Peru is the home of the potato, and farmers grow hundreds of varieties in a rainbow of colors.
Here is a cool shot from the plane window.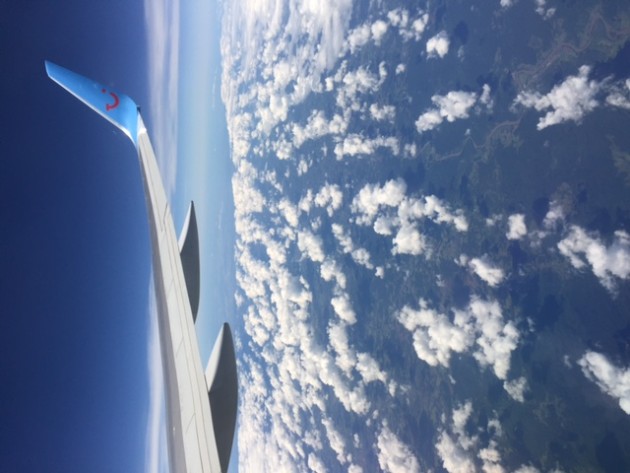 Upon arrival in Lima we had the usual immigration and customs formalities, then on to a domestic charter flight to Cusco, arriving at 7:15. It was a short minibus ride to our hotel, the Belmond Placio Nazarenas. It was originally a monastery and is well-located in the center of Cusco. It is gorgeous, with rooms arranged around courtyards. I quickly snapped a few pictures of our huge suite and the hotel on the way to dinner.
All in all, a long, tiring travel day. Tomorrow we'll explore the Cusco area, and Sunday we're off to Machu Picchu.
(I'm figuring out how to blog on the iPad; it's tricky so bear with me. No I didn't do much photo editing because it's already late and I'm pretty tired!)