This is a quick refueling stop, both for us and the plane. Although there were several activity options, we chose to take it easy. Yesterday was really long, too. In the morning we did a quick shopping stop in Hangaroa, the main town on Easter Island. Don has been impressed; both there and in Machu Picchu I went with a specific purpose and bought only the item I wanted.
After another lovely lunch buffet, we visited another part of the island to learn about the bird man cult. More on that in another post. Here is the view near our room.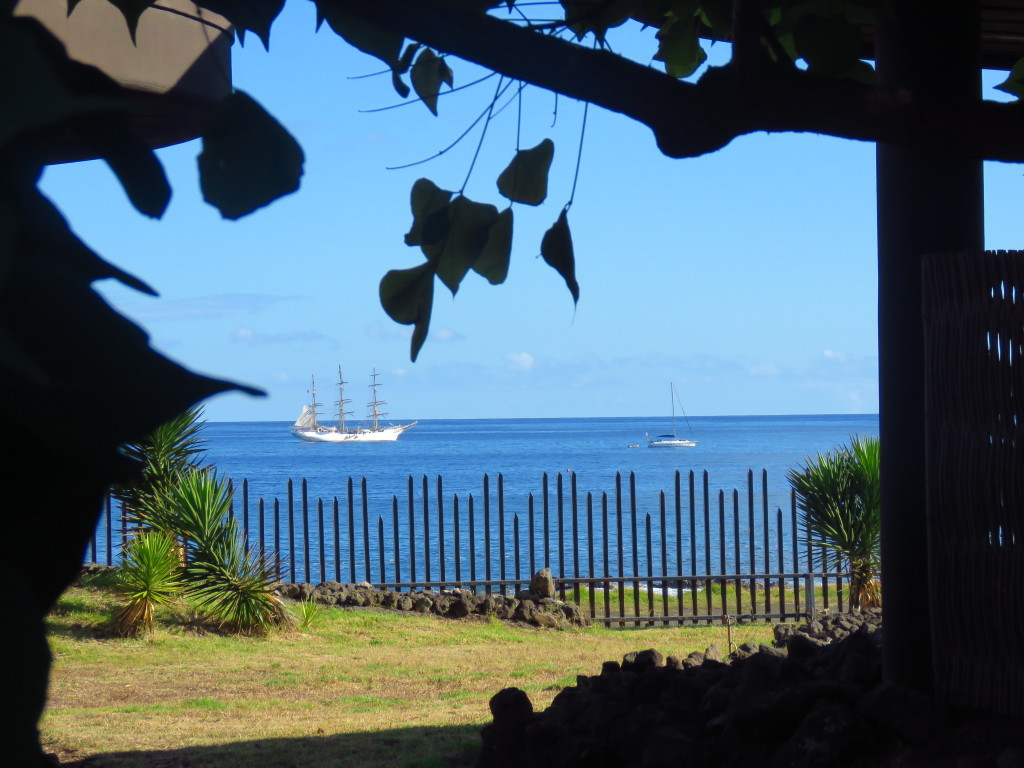 Then we were delayed in leaving, not sure why, so they took us to another site before finally flying on. We were able to skip the scheduled stop in Papeete Tahiti and fly straight here, about 9-10 hours.
The flight actually went pretty quickly. We had two lectures. Here's what Don had to say:
Just finished 2 onboard lectures with slide shows on our IPads. First was by an unbelievably fascinating world-renowned paleo-anthropologist (2 hrs ago I didn' even know what that was). Second was by a linguistic-anthropologist (ditto). Would never have thought I'd be interested in this stuff, but is very interesting. Both professors publish extensively with Natl Geo and scientific mags/journals.
At the moment going thru turbulence. On a commercial flight captain would make everyone buckle up,etc. (fact is I'm having a hard time typing). Here, however, we've just finished our first course and they're clearing our plates, topping off our wine, and will soon serve dinner (or is it lunch?).
We took it easy this morning. It's lovely here and we opted to relax and regroup. There was a small market with native crafts. I had a basket weaver make me a headband to pull my hair back.