We are just over halfway through this trip, even though my posts are not caught up yet.
We just left Myanmar (Burma) after three fabulous days and are en route to Agra, India and the Taj Mahal. We've had almost no WiFi while there, so I haven't been able to post Easter Island, Samoa, and Australia. You'll be getting a flurry of posts.
As a break from all the history and sights, Mr. Fussy and I thought we'd share our impressions thus far. There won't be many pictures this time.
We are now into the rhythm of the trip and getting used to the many early starts and long travel days. You couldn't do this trip any other way! It would take much longer probably cost even more. This is not a trip for sissies; the pace is fast, with not much free time if you want to do it all. We've decided it's impossible to do so and take "option 4: afternoon at leisure" every now and then.
National Geographic and TCS Travel, a Seattle-based private jet tour operator, have done an amazing job. No detail is too small to miss, from giving us stamped postcards in each place to detailed itineraries for every day. We always know where we should be, and when. Together with the local guides, they make sure no one gets lost. We start on time or early. This operation is a well-run machine, with all sorts of surprises along the way which we'll share in the posts for each place. They keep outdoing themselves! The packing and unpacking is a royal pain as in some places we only can take a small bag rather than all our luggage and knowing what to take is not so easy. Such a first world issue!
The flight crew goes out of its way to learn our preferences and tend to every need. The wine and other drinks are plentiful and top drawer. We developed great rapport with the flight attendants in the rear section where we began our trip. They do fun things for us as well. When we boarded after our stay in Cusco, instead of their regular aprons, they wore colorful ones with the recipe for Pisco Sours on them. I wished I'd seen those when we were shopping in Machu Picchu and took this photo of Suzanne, our flight attendant, in hers. And of course the crew had Pisco sours for us when we boarded.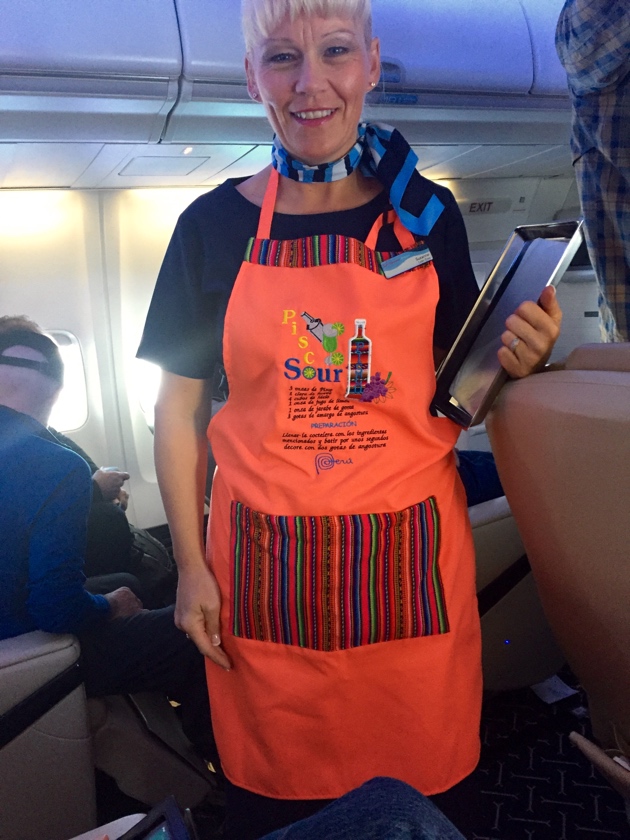 After our Easter Island visit, when I arrived at my seat, there was an apron waiting for me. I can't tell you how touched I was!
In Cairns, Australia, they decked out the plane for us.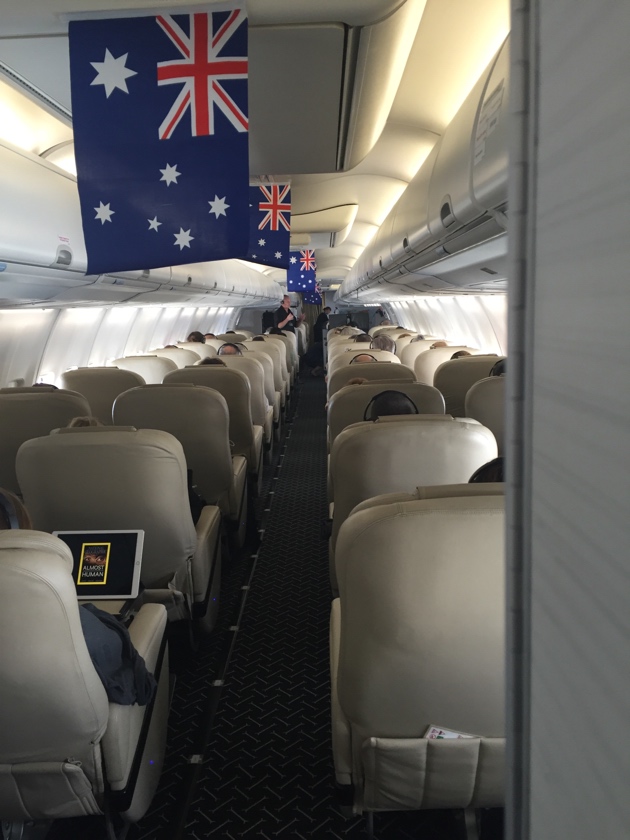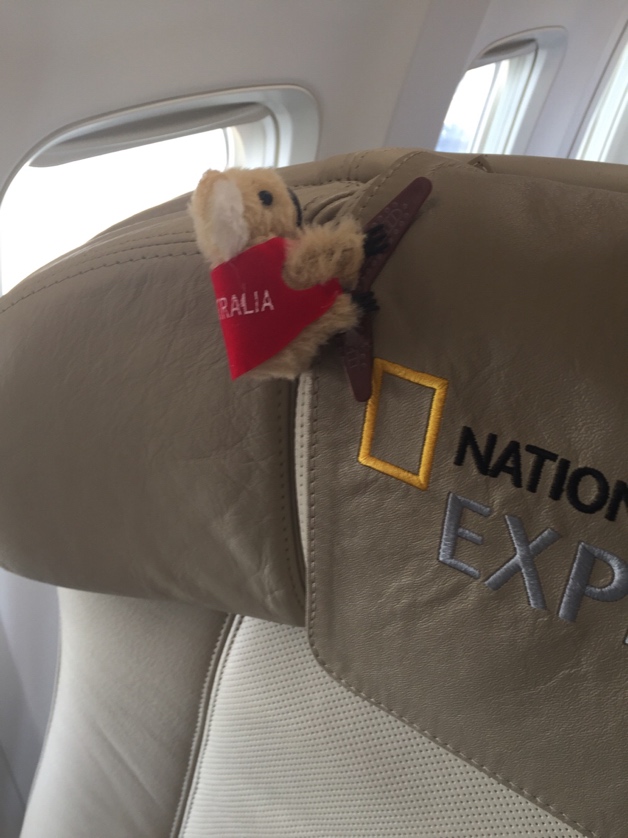 What follows are some (edited) general impressions and play-by-play descriptions from emails Don has sent to our family over the first 9 days of the trip.. Who knew he could be so humorous?
Long day tomorrow.  Couple hours in town and leave for 6 hr+ flight to refuel in Papeete and then 3+ hrs on to Samoa. (MB Update: we were able to skip the refueling stop and fly straight to Samoa, yay!)  Would be way beyond miserable were it not for our incredible plane and fantastic flight crew.  Little tiny galley that somehow turns out wonderful food and pours great wines.
Nice people on the trip -haven't met anyone pretentious yet.  Most dress 'shlumpy', though perhaps not as shlumpy as me. (MB: There really isn't time to worry about how we look, with the pace of the trip. As the trip progresses, everyone cares less and we all dress for comfort. And Don is not much schlumpier than most.)
Actually, these long flights go much more quickly than on commercial aircraft.  The plane is divided into three sections. The first section has about 5 rows of 4 seats each, the second about 11 rows of 4 ea, and the last 7 rows of 4 ea. We're in the back section, in fact the last passenger row on the plane.  The 3 rows behind us are lecturers and expedition staff.  Being in the first and last sections is great because you really get to know your neighbors and cabin staff.  Kinda like family.  Really fun and friendly.  After Cambodia everyone changes seats.  We'll be in row 2 in the front section – we got lucky again.
We're now up in the air, it's 9:40 am. Our flight attendant Suzanne just asked if I wanted my "usual."  Fooled her and told her I want Mount Gay Black Barrel Rum (M heard me order and suggested a Bloody Mary instead, which I didn't think of 'cause it's not on the menu).  Good idea, I'll have the rum later.  Good grief, how shall I ever cope w/o morning drinks when I return?
11:20 AM.  Just finished a 45 min lecture by Lee Berger, our onboard paleoanthropologist (wow, I'm getting to be a good speller).  His series is on the origins and development of humans and is fascinating (he sits across the aisle one row behind me and is very interesting to talk to).
DOGONNIT! Almost 11:30 and entering some big-time turbulence. On a regular flight the crew would be all buckled up and and telling us to do the same and I wouldn't be able to get my non-MGBBR (Mount Gay Black Barrel Rum) ("non" because they wouldn't even have it) for hours. Captain hasn't even turned on the seat belt light so I'm sure Suzanne will be by shortly.
11:45  Suzanne 2 rows away from putting down my tablecloth for lunch so will have to put this IPad away for a while and settle in to my MGBBR.
1:00 pm. OMG…..totally insane, ridiculous lunch.  1st course buffalo mozzarella, basil, tomato salad; main course (get this) lobster (not crab) cake, lobster mashed potatoes, and a huge and very tender lobster tail (of course they had other entrees to choose from, but why not lobster). Chef pairs a different white and red wine with every meal but you can choose whatever you want. With my "lobsta" I chose a grand cru Chablis.
(Postponed my MGBBR for later)
Sure, I' ve had better meals………..but on an airplane????? No way.  You should see the galley – about the size of a small closet – the chef is a bloody genius.
Aside…..the doc just stopped by to ask how we're doing.  She does this with everyone every day.  No work for her – we're doing just fine thank you very much.
Peter, Chris and Rebecca all know me as a not-particularly-verbose person so why the hell am I writing this stuff?  Frankly, it's because I get tired of reading and trying to add a little human interest, humor, and awe to M's most-excellent travel blog.
OMG II.  They just brought dessert.  I'm having  two:  a coffee eclair and "burnt fig, honeycomb & caramel" ice cream.
10 mins later……….yuck, feel like a stuffed yak!    Good it will be a at least a couple hours before they come around to ask me if I want my MGBBR (btw……never had it before – is it any good?) MB: He never did get to the MGBBR!
Jan. 31–Raffles Le Grand Hotel, Siem Riep, Cambodia
4:45pm
Whew!  When taken to our room decided no way could stay in such a small room for 2 nights.  Went down to front desk and asked for an upgrade.  Was told to go back to our room and they would see what they could do.  10 mins later someone knocked on our door (may have been an ass't manager.  She came in and said she had something better and asked us to follow her.  Took us down one floor and opened a door to a HUGE suite – large BR, living/dining room, and 2 bathrooms.  MUCH happier now.
Sitting on one of our balconies watching traffic go by.  What a trip.  Just like Vietnam – bicycles, motorized carts, tuk tuks, and motorbikes – many with 3 or 4 people on them.  Some carrying chickens and all sorts of stuff.  Don't understand how dozens aren't hurt or killed every day.  Just love watching the passing parade. MB: This photo doesn't convey the crowded streets, because it's early in the morning.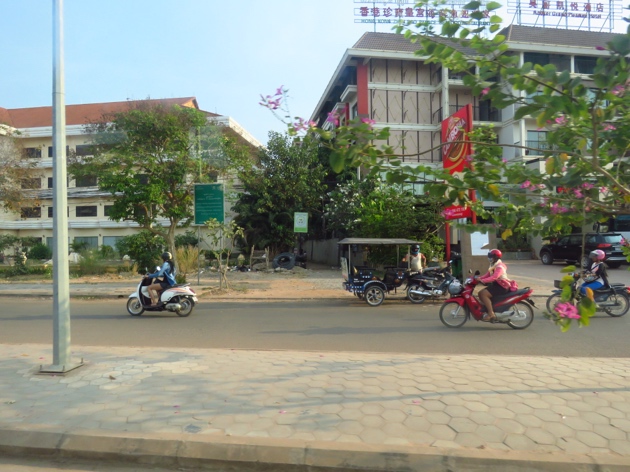 Angkor Wat tomorrow and then to a marketplace.  Everyone here so friendly.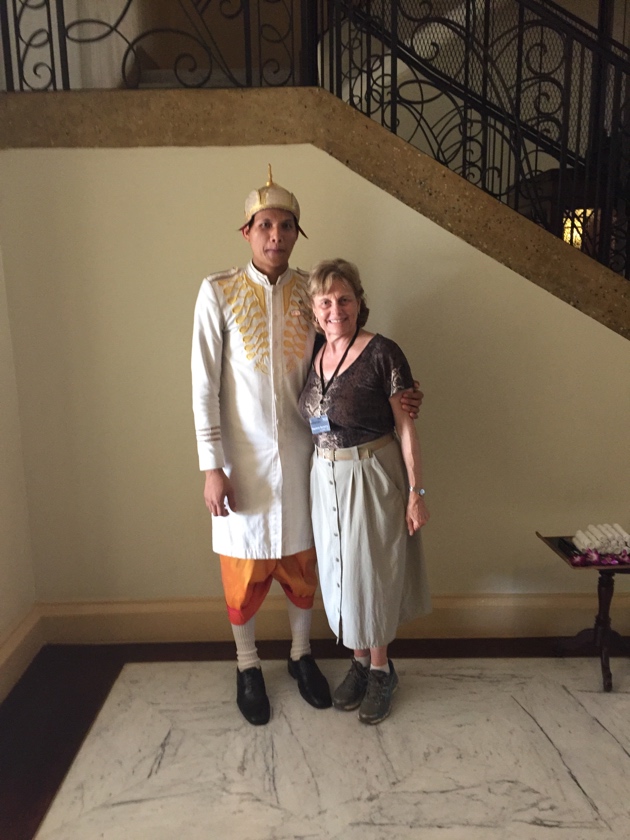 More musings to come, as well as posts.
Edited with BlogPad Pro