We certainly have eaten well on this trip. You've already seen how well we eat on the plane; more to come! The lavish breakfast buffets start our days off deliciously, with a huge selection of beautifully displayed dishes with both local and "American" dishes. There is always an omelet station, plus hot and cold dishes galore. Quinoa appeared in many forms. I especially enjoyed the quinoa pancakes. Good source of protein, right? Plus the yogurt, my usual breakfast, was watery and really sour.
After visiting Chinchero and seeing the demonstration from the Chinchero Weaving Cooperative, we had a bountiful buffet luncheon in a courtyard, with musicians playing Peruvian folk music. The food is beautifully displayed, with colorful peppers and folk statues adorning the tables. The quinoa and fava bean salads were flavorful.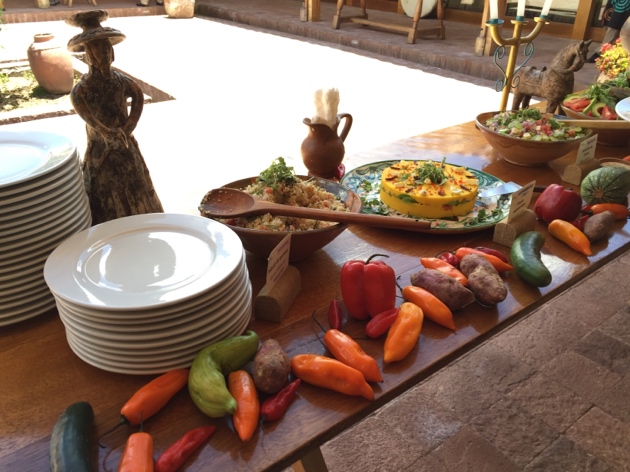 During lunch these musicians played Peruvian songs.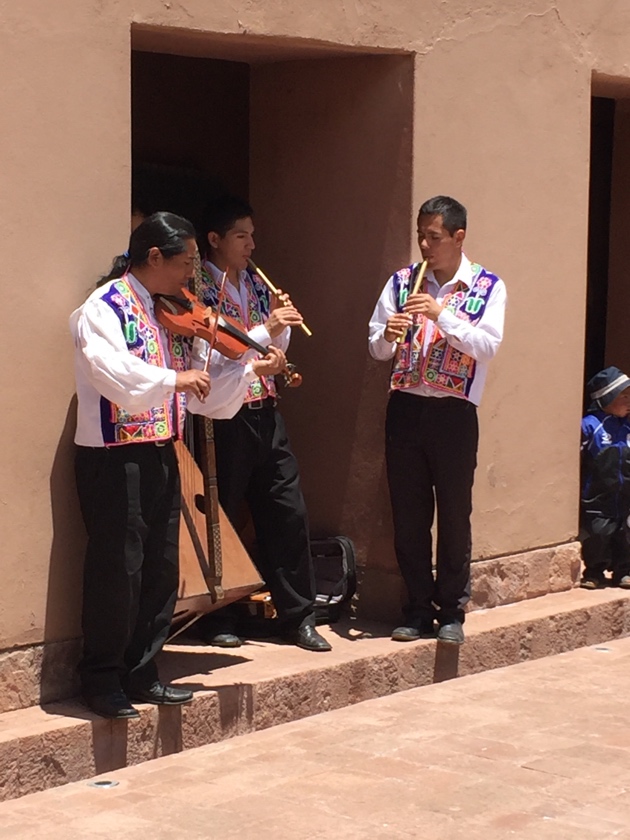 Here's a dish you don't expect on your lunch buffet!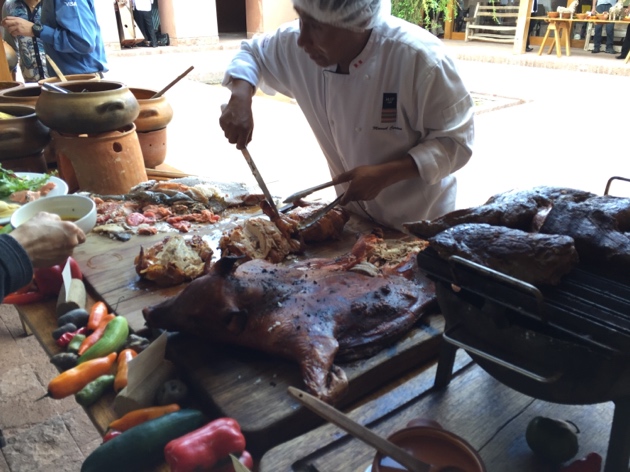 That evening we could choose from several local restaurants. Don and I dined at MAP, the restaurant of the Museo Arte Precolombio, which featured contemporary Peruvian cuisine. The tables were in a glass "box" inside the museum courtyard. The presentation of the dishes was artfully done. I began a Top Sour cocktail made with several fruit juices, ginger, and pisco (a clear liquor distilled from grapes, a traditional South American beverage). For my first course I had Mushroom Capchi, a mushroom soup made with a medley of mushrooms, fava beans, potato, and a local cheese, served with a cap of puff pastry and black quinoa. Unfortunately, I didn't get a picture before our server neatly cut off the pastry cap. Don had a crayfish "ceviche" served hot.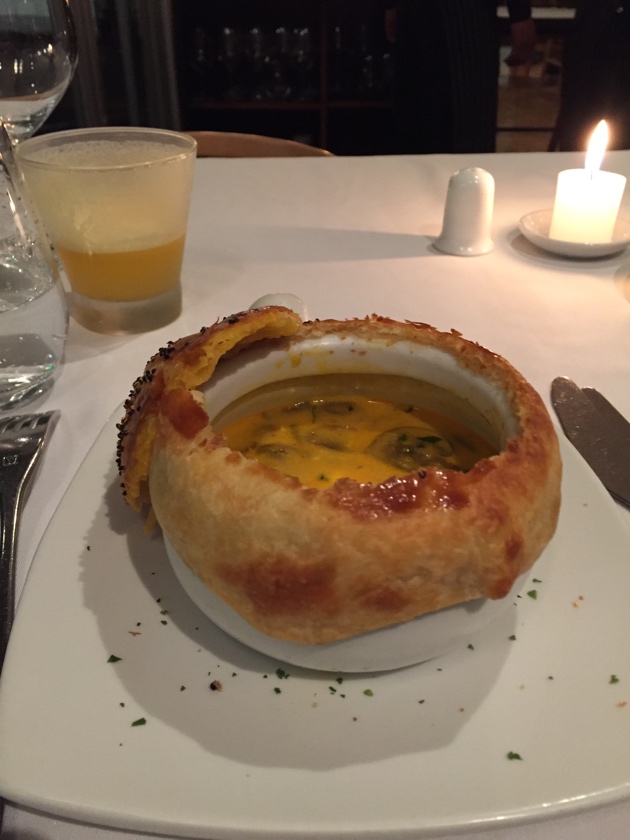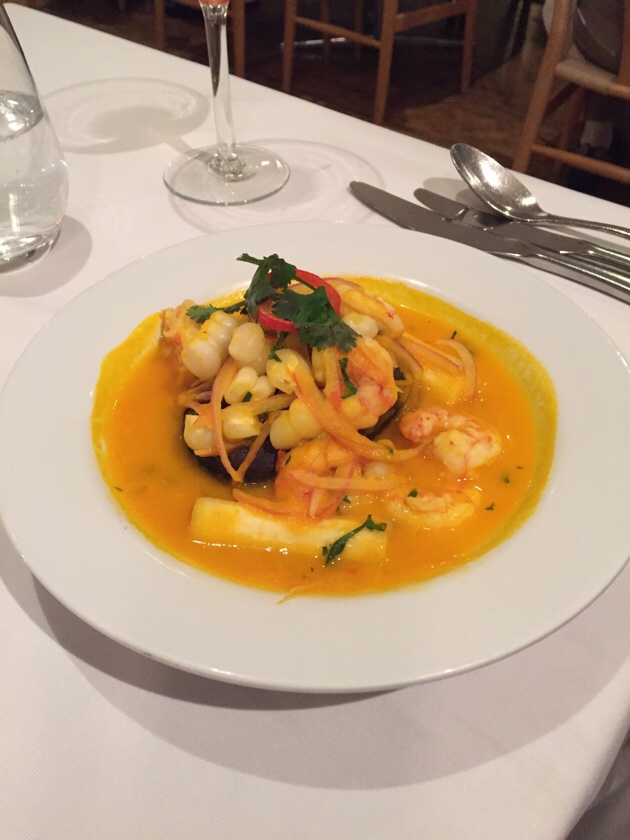 I chose alpaca with a red wine reduction as my main course; the meat was delicate and tasted like a lighter lamb. That makes sense, as I believe alpacas and sheep are related. Don had lamb-stuffed chile peppers with three-quinoa pilaf, described as a Peruvian-Arabic fusion of spices. We are not quite sure what that means! Both were very tasty and beautifully presented. The wines were also excellent. Don had a lovely Malbec, and I had a white from Peru.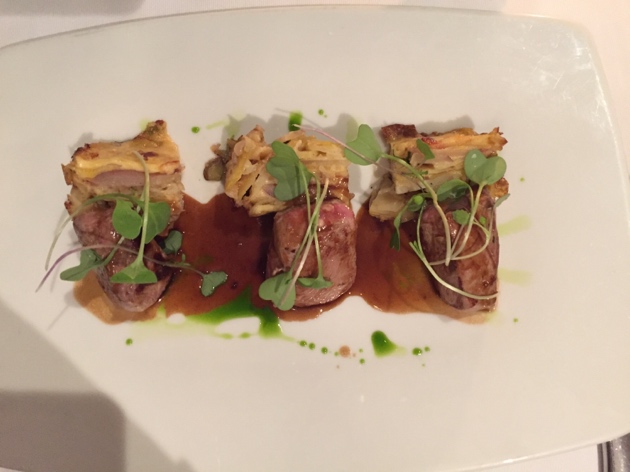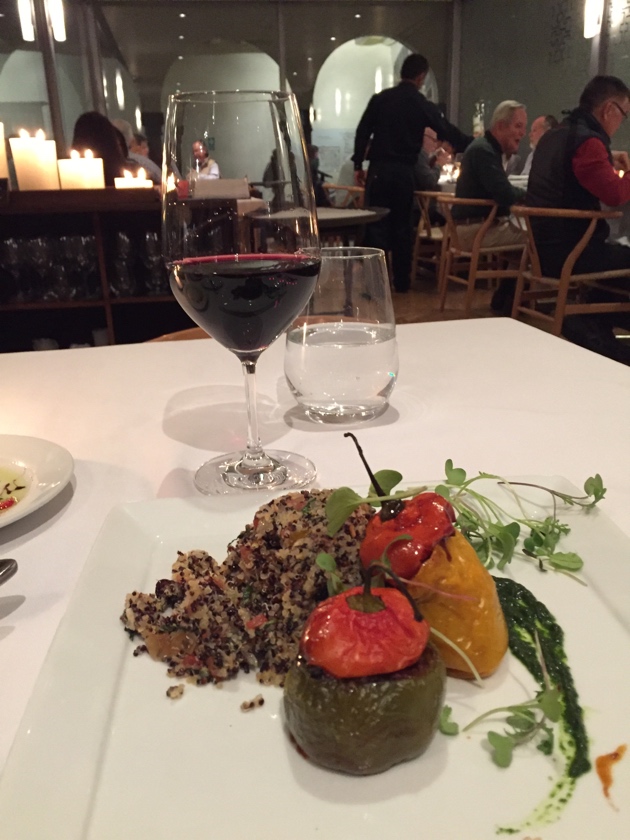 Now for the dessert! My citrus cheesecake tart had a light fluffy filling ringed with orange slices and topped with mango sorbet and a chocolate curl, with a honey-caramel "sun" around it. Isn't it beautiful?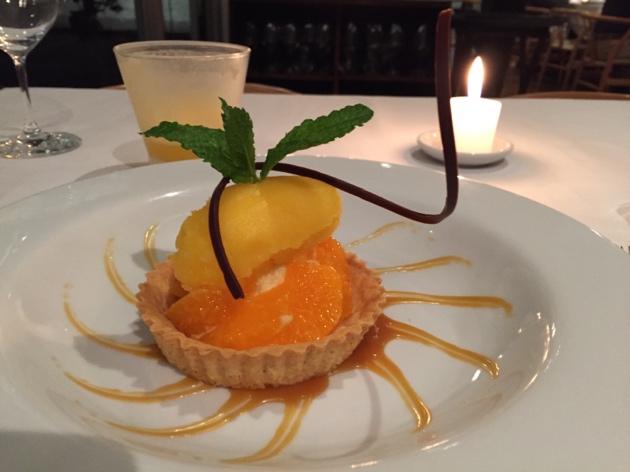 As a food blogger working on my photography skills, I like to try shooting from different angle. I had no idea until I saw the photo larger on my iPad that I had caught a delightfully humorous shot.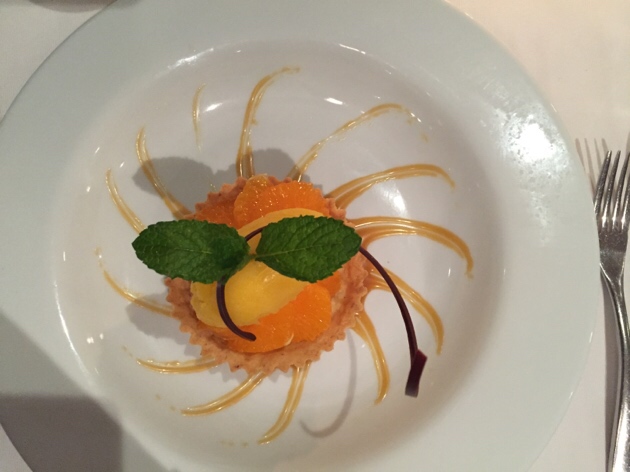 Doesn't it look like a smiling face in sunglasses (the mint leaves), with the mango sorbet forming a large nose? The honey swirls remind me of one of the hats you see in the Caribbean with the straw ends swirling around?
The meals on the Hiram Bingham train to Machu Picchu were also lovely. Not quite up to our plane meal standards, but very tasty and nicely served. I was sure I had taken pictures to show you but you will have to take my word for it. For lunch I had beef tenderloin on the way up, Don had salmon. Both of us had duck leg confit for dinner the way home.
And lest you think we went hungry after our long hikes around MP, we had sweet and savory goodies awaiting us at the Sanctuary Lodge at the entrance to MP. I loved how the macaroons were displayed (although they didn't taste as good as a they looked). And the Alfaro shortbreads with dulce de lech filling and a drizzle of chocolate were divine. I will have to work on mine when I get home so I can post the recipe for you. (Pics of my first batch are on the blog FB page.)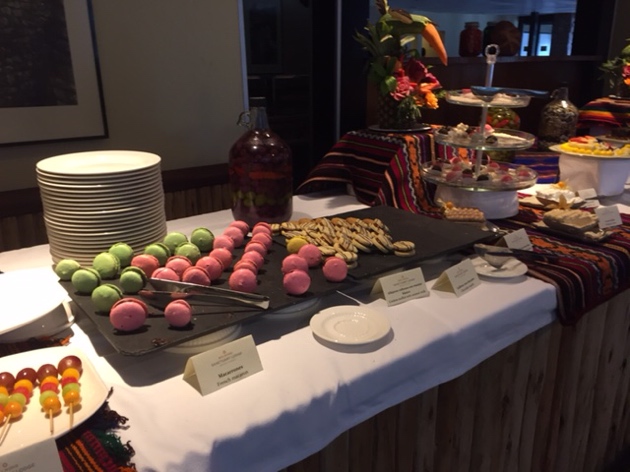 Next food post: Easter Island, Samoa, Australia, and Cambodia.
Edited with BlogPad Pro