Now that we've been home for 10 days, I've pretty much recovered from jet lag and it's time to move on to the rest of our trip. Today let's travel to Myanmar. It was the least familiar to us–and the biggest surprise. While we enjoyed every place we visited, Myanmar–and especially Inle Lake–was perhaps our favorite. (Wondering about the correct pronunciation of this country's name? It's MEE-an-mar.)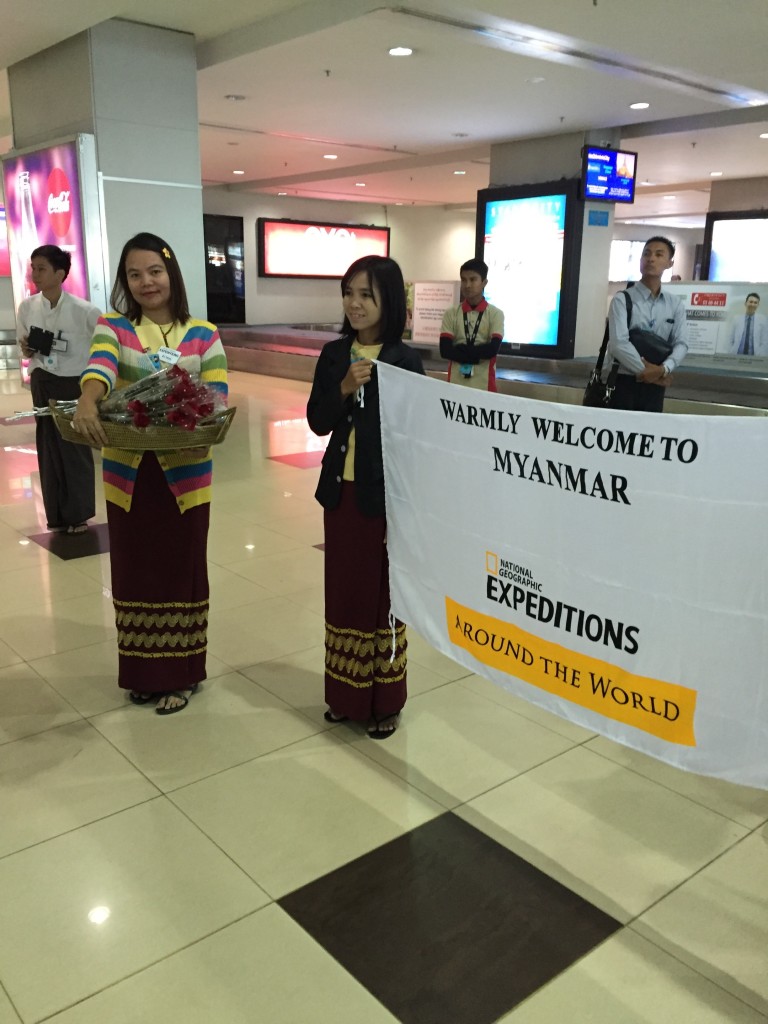 Mingalabar! That is how everyone greets you in Myanmar, and with a broad smile as well. This greeting comes with a deeper meaning: "I wish you to be auspicious." We found the people we met warm and welcoming. Our guides, who were articulate and had mastered English very well, told us not only about their country's long history but also about the current situation, and very candidly.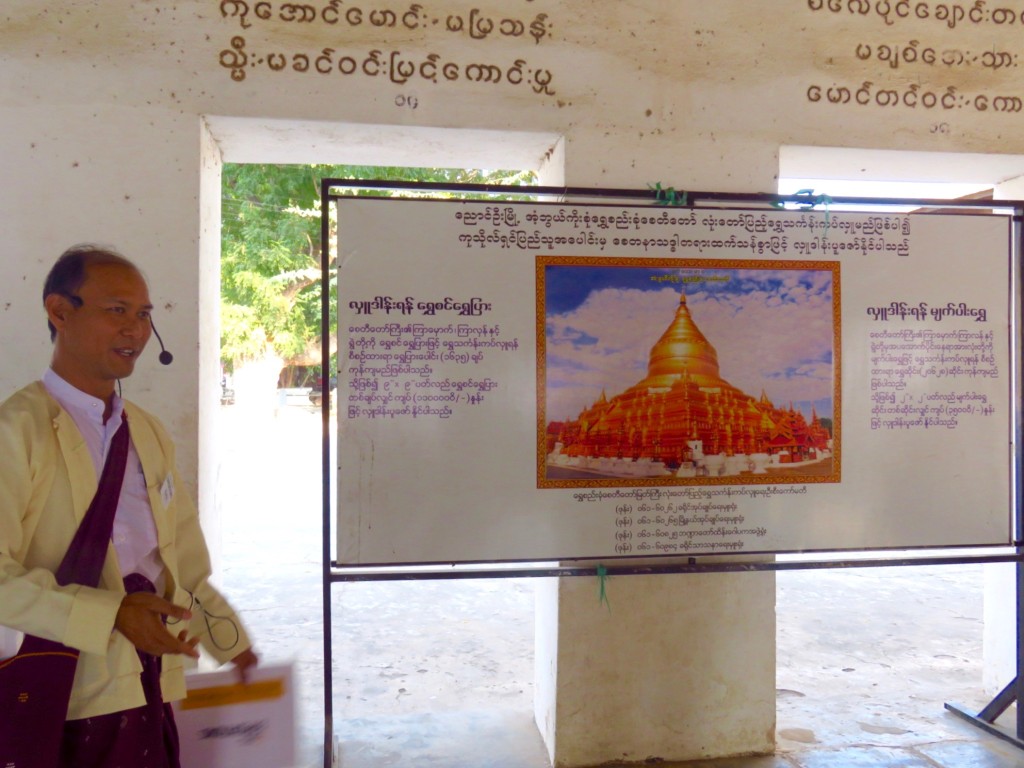 A side note: The written alphabet of Mynamar is unlike any other I've seen! The rounded forms are unusual and unique compared to the Cambodian and Sanskrit alphabets. We had a tough time distinguishing between letters, not that we really tried! Other than Mingalabar and Che-su-bay (phonetic spelling for thank you), we weren't able to learn much of this difficult language.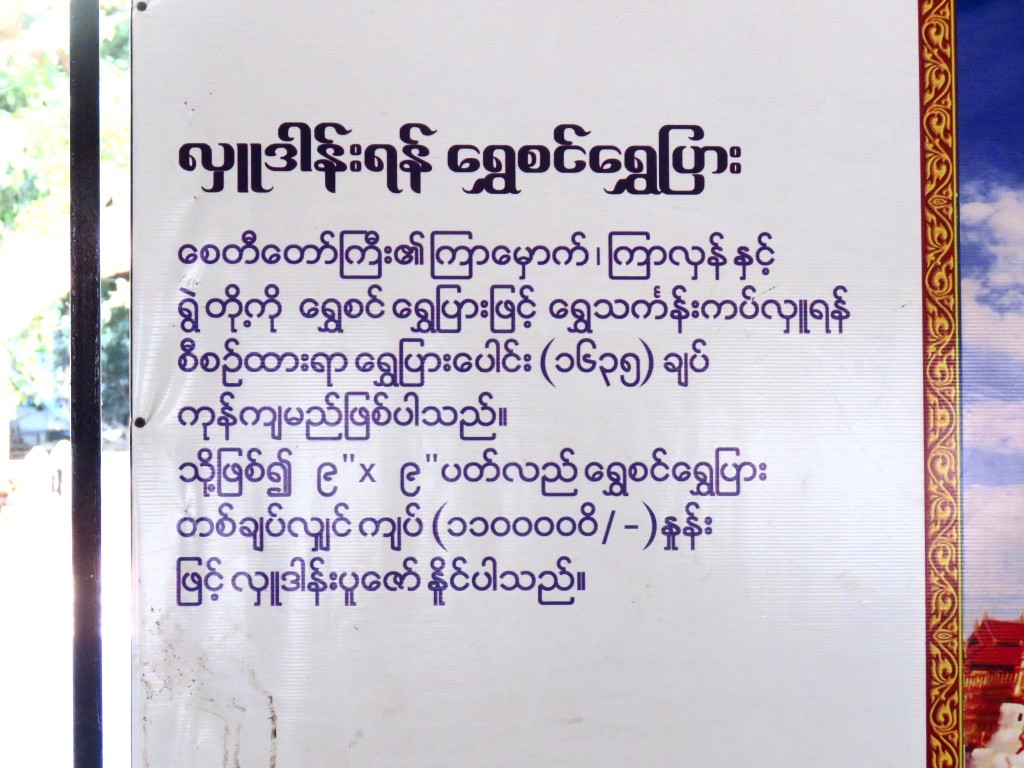 Because of its turbulent history and the dominance of a totalitarian (and corrupt) military regime, Myanmar has been off most tourist paths until recently, when I've noticed it on a number of "places to see in 2016" lists. As one website comments–and the photo below shows, "Myanmar is seemingly frozen in time—its mist-shrouded lakes, ancient Buddhist temples, and multiple cultures remain largely unspoiled by the modern world."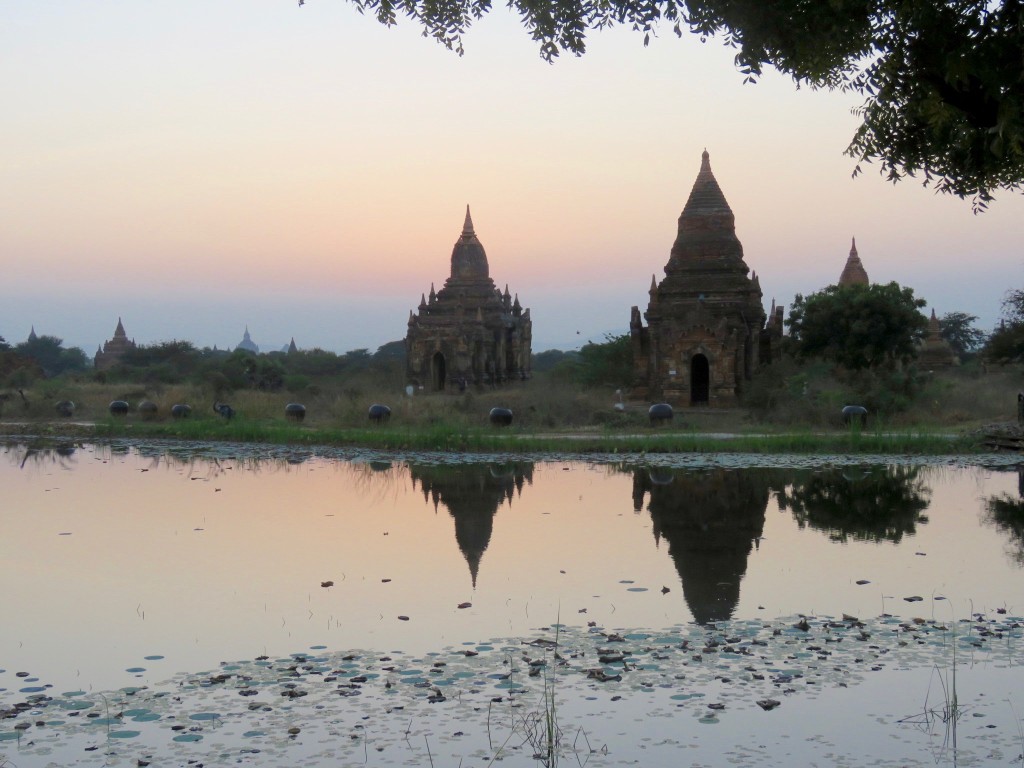 First, a bit of history (but not too much, as you can look up the rest if you are so inclined; here is a good site for a closer look at the country: Insight Guides' Burma/Myanmar)….Myanmar was once part of the historic overland trade route between India and China. Formerly known as Burma, it was a British colony and considered part of India until 1937. It gained independence from Great Britain in 1948 and changed its name to Myanmar in 1989.
Myanmar is a country in transition from military rule to a civilian democracy. Since 1989 the military junta has repressed efforts of Nobel Peace Prize winner Aung San Suu Kyi's National League for Democracy to form a government despite winning elections, and she was under house arrest from 1989 until 2010. In 2015's election, however, Aung San Suu Kyi won an overwhelming victory and is poised to finally take her rightful place as Myanmar's leader.
Now, on to our visit. After our arrival in Yangon (Rangoon), the former capital, we went to the Green Elephant Restaurant for a wonderful lunch, spicy and tasty. (Not everyone was as happy as we were; many didn't like or couldn't handle even moderate spice. We loved it!) Below you can see some of the many dishes that kept coming and coming, from wonderful vegetable salads with peanut dressings to lovely curries.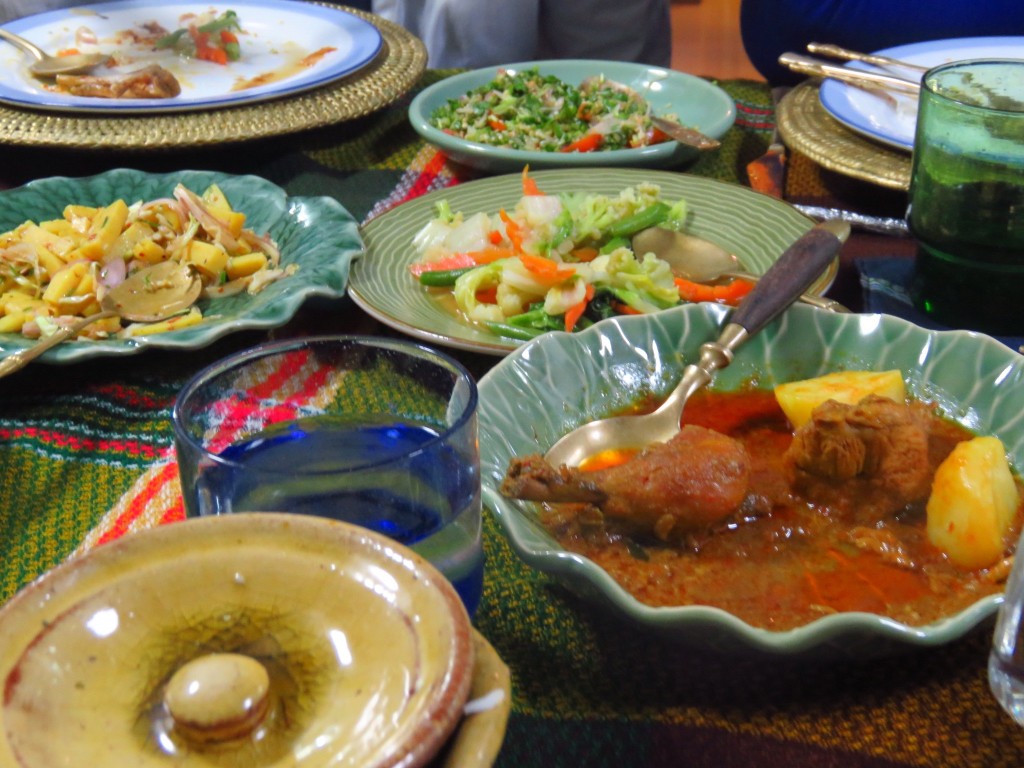 We then flew on smaller chartered planes to Bagan in the Mandalay region, a former capital that ruled much of Southeast Asia from the 11th to the 13th century. In the centuries before Kublai Khan sacked the region, devotees built more than 10,000 temples, pagodas, and other religious structures on the vast plain east of the Ayeyarwaddy (Irrawaddy) River. Today, the whole area is considered the Bagan Archeological Park, where remains of more than 2,200 monuments are still left from this "Kingdom of the Temple Builders." (Thank you, Nat. Geo, for providing this background!) As you will see, literally thousands of crumbling brick and stucco stupas, monasteries, temples, palaces and pagodas—many of which have been restored—dot the landscape.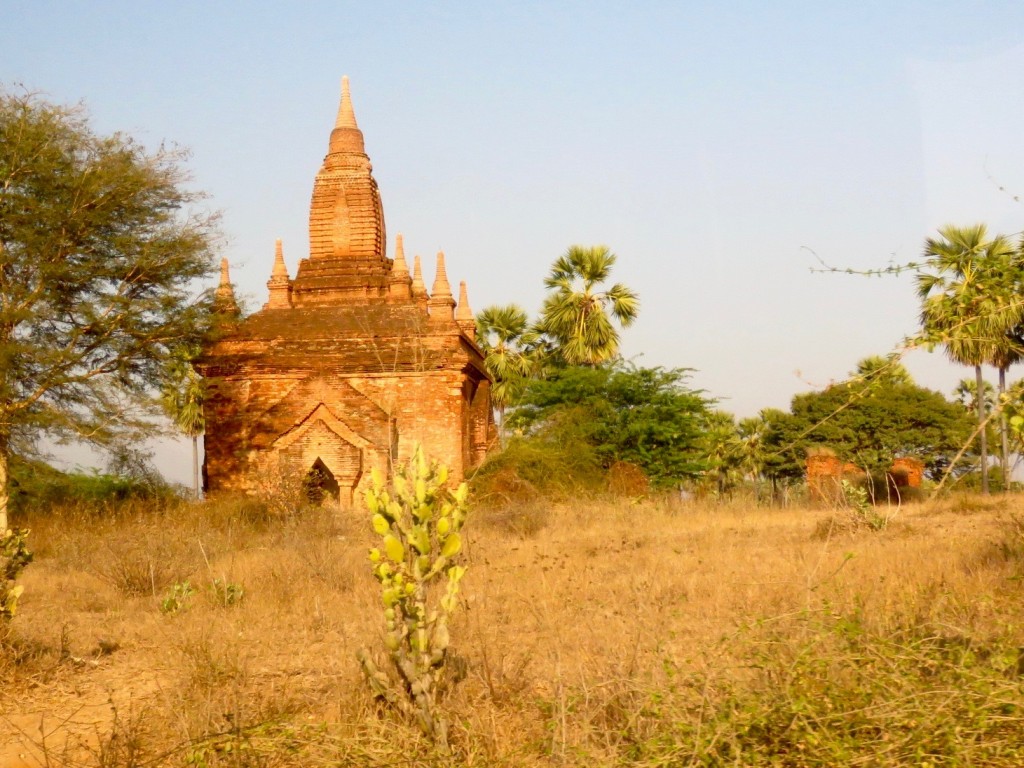 Because Myanmar has all these temples, Nat Geo of course wanted us to experience as many as possible (to Don's delight…). I must admit that I had a bit of a problem figuring out which of the two temples we visited was which in my photos, because you can't name pictures in the iPad Photos app. Thanks to the Internet, I was able to identify them. Mr. Fussy–who is not fussy when it comes to things like this–doesn't understand why it matters. Of course it does! No way I could give you incorrect information about what you are seeing! That's not my style.
Trivia fact of the day: The difference between a Burmese Buddhist temple and a pagoda (also called a stupa) is that you can enter a temple, whereas you only walk around a pagoda. Temples are also places for meditation.
When visiting a Burmese Buddhist temple, you must dress appropriately–no shorts–and remove your shoes. Don and others happened to be wearing shorts, so he donned a longyi (pronounced lunge-y, soft g), the skirt-like garment worn by both men and women. Isn't he attractive? (We all received longyi as gifts.)
We began at the Ananda Temple, dedicated in 1105 and built of bricks covered with stucco. Here are some of my favorite photos of this temple's exterior. To see the caption, place your mouse over or tap the individual pictures. Double click to enlarge it.)
We walked around the grand temple complex, which is in the form of a Greek cross and quite overwhelming. At its center are four 31-foot tall standing gilded Buddhas that each face East, North, West or South. It also has many small buddhas in niches along gallery walls. These pictures hardly do it justice; those standing Buddhas are huge! You get some sense of the scale when you look at the man photographing the Buddha in the first photo.
I loved watching the local temple visitors, especially the kids, like this little boy. Isn't he adorable? His face isn't dirty; that's thanaka, which the locals use to keep insects away, and it is also a sort of cosmetic for the women. The woman is making an offering of gold leaf to Buddha, for future good fortune in all things.
On to the next pagoda–and the next post!