En route to Australia, we learned more about this continent during an inflight lecture. Because of the continent's isolation, it is home to an enormous number of unique plant and animal species. The indigenous peoples were also isolated, unlike what we have seen in Oceania; there was very little ocean immigration. Lee Berger commented that we are journeying backwards in time in evolutionary terms, because the African continent is our true home.
The Dutch reached Australia in 1606, but its remote location was of little interest to them. The British came in the id-1700s, and as we know made it a penal colony. And that's it for the history! We also learned that Australia has more than 390 languages, of which 213 are living. And through language we learn an amazing amount of history and knowledge about a place's inhabitants. When languages died we lose the history that arose with that culture. I bet you never thought of language in those terms before! That's what happens when you have a linguistics professor along and not only listen to his lectures but have dinner and casual conversation with him.
We landed in Cairns and were hit by sweltering heat and humidity whe we stepped off the plane. I had been warned that this area would be hot, hot, hot and that was indeed the case. We then drove to Port Douglas, where we stayed at a vacation condo complex that was OK; we had a 2 bedroom apartment with washer and dryer–the latter being the reason we were there!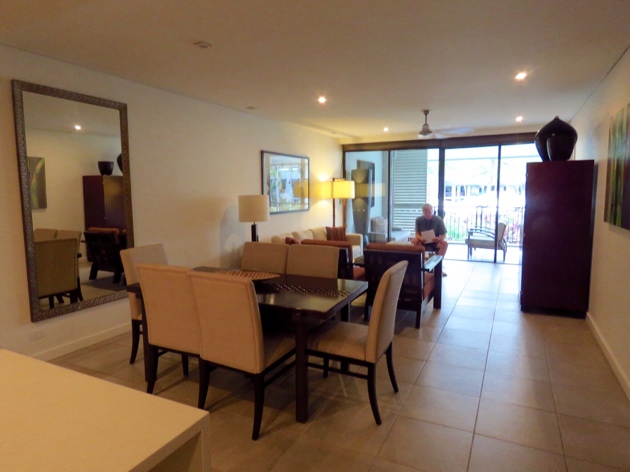 The pool was lovely, though we didn't have time to take advantage of it.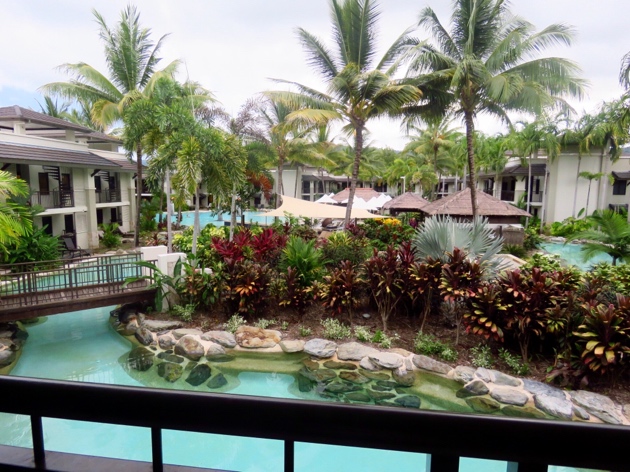 That evening we had a special guest at our cocktail hour, named Forrest. He was such a sweetheart!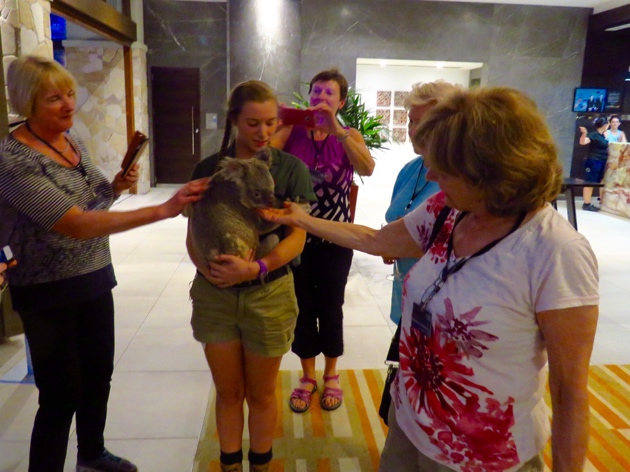 Fun fact for the day: Koalas have fingerprints that look almost the same as ours. They are the only other animals besides primates to have them! Who knew? 
The next day we were off to the Great Barrier Reef, 1300 miles long an done of the largest living organisms know to us. We were fortunate to have a smooth catamaran ride to the Reef, followed be a ride in a submersible submarine through which we could see the coral and fish pretty well. (It reminded us of the old submarine ride at Disneyland!) Here are a few shots taken during our short ride.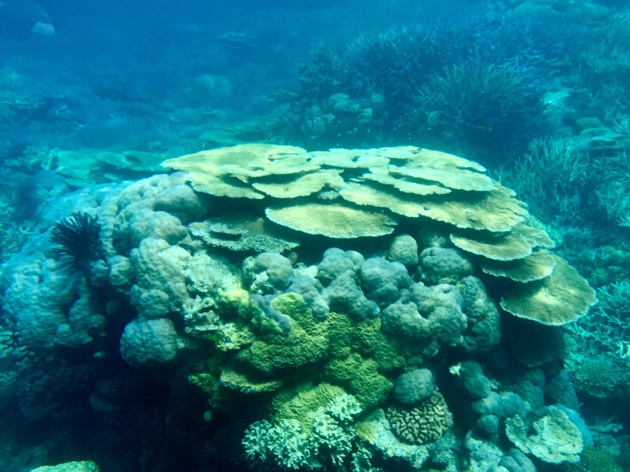 Then we snorkeled in lovely warm waters. Aren't we attractive in our Lycra wetsuits, which we wore because of possible jellyfish in the area (there weren't any).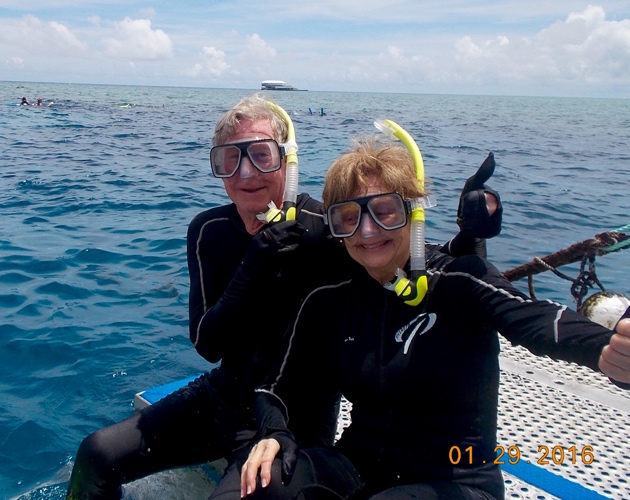 Because the day was overcast, the colors weren't as vibrant as we'd hoped. To be frank, it wasn't as wonderful as we'd expected, having snorkeled in Hawaii and Bonaire. I did get a few good shots with the underwater camera Rebecca loaned me, though I was essentially shooting blind. I stayed out longer than Don and went to a second area of the reef that was much better. A few of our group swam with sea turtles and also saw giant clams, both of which we missed.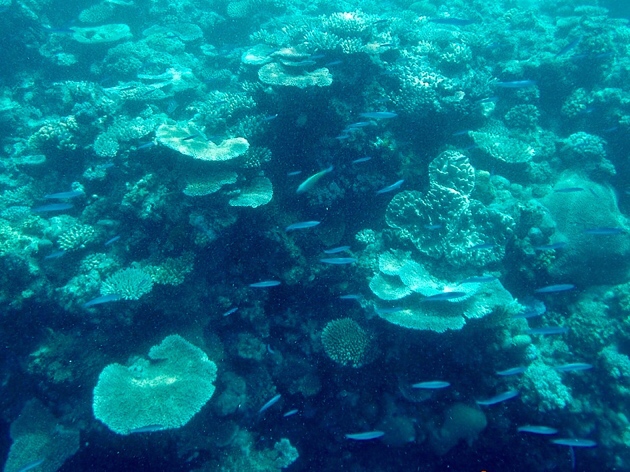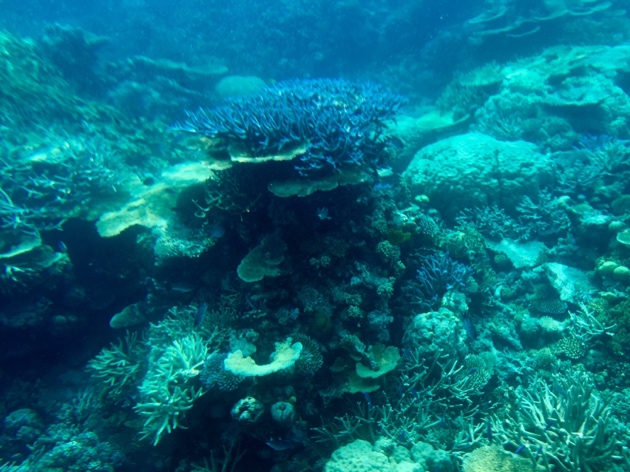 The photo below has two sergeant-major fish, so called because its stripes are the same as for that rank.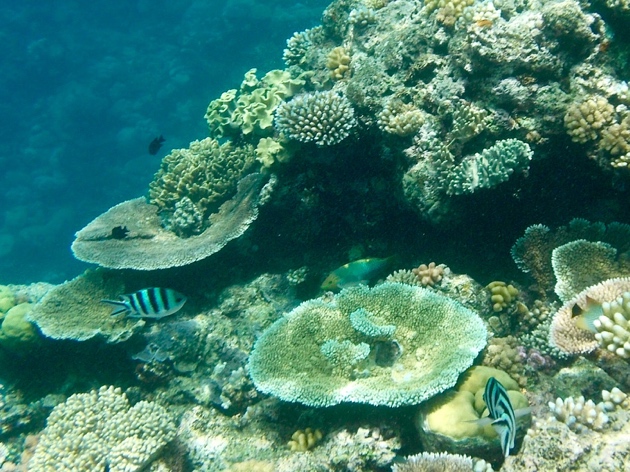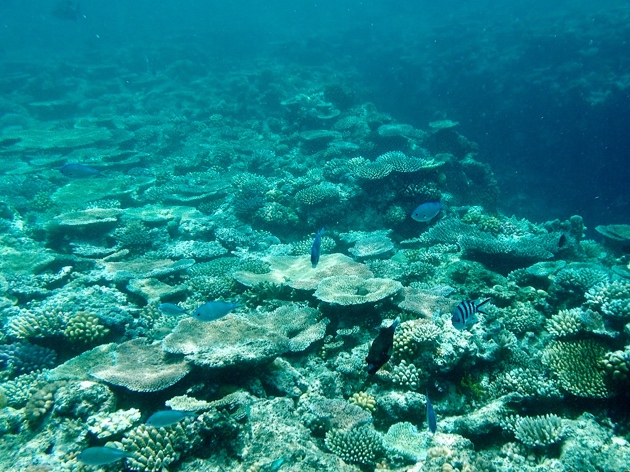 After our snorkel trip we browsed in the shops in the quaint town of Port Douglas. Man, was it ever hot! And all the shops were air conditioned– and left their doors open so all the cool air poured into the street! Don commented that electricity must be cheap….one lady who I asked how she dealt with the extreme heat and humidity said that she loved it and waited eagerly each year for it. Maybe you get used to it. We all found it way too hot for our liking!
I bought a mini-boomerang for the collection I'm making of small "icons" for each stop on our trip. Mr. Fussy was annoyed at first that I am bringing more stuff home, but these will be a lovely reminder of the experiences we had. We also get a gift at each destination from NG, in this case a hand painted boomerang by a noted Australian artist.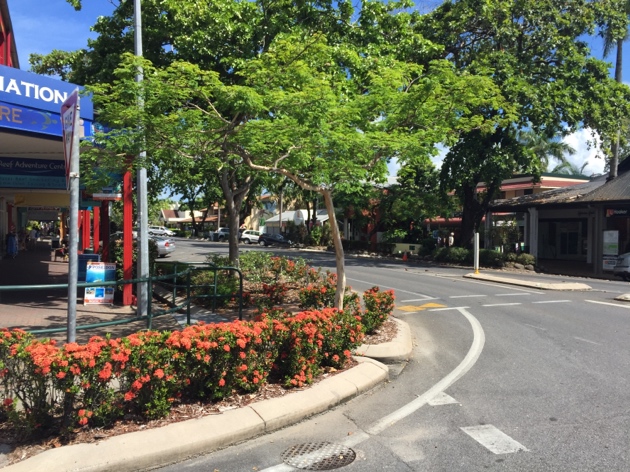 We knew we'd be tired after a long day in the sun so we opted to eat at the hotel rather than in Port Douglas for our dine-a-round option. The menu looked good, and the food lived up to expectations. (And the in-town restaurants weren't air conditioned.) However, the service was horrible. We saw friends going to the bar themselves to fetch their drinks. One high point of the evening was the wine, a Marlborough Sauvignon Blanc from New Zealand: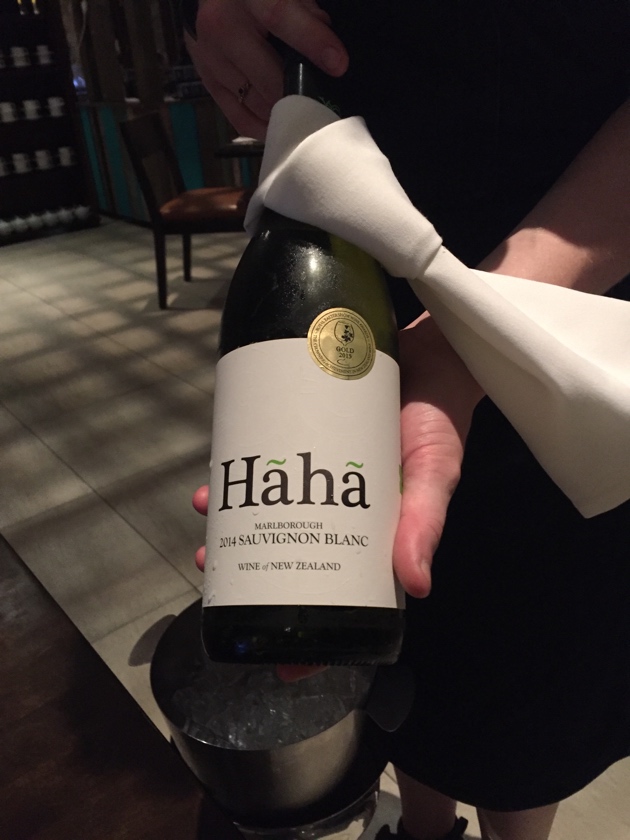 We couldn't resist ordering it because of the name, and it did not disappoint (though we poured it ourselves…).
We were very surprised at the overall poor service at the resort complex. One fun thing was the pancake machine at breakfast. My pictures aren't great but you'll get the idea. It squeezes batter onto a moving conveyor belt of sorts and cooks as it goes, with the machine depositing the finished delicious pancake on your plate! In the first photo if you look closely you can see the batter just to the right of center. And look at the scalloped edges on the pancake as it exits the machine! I've never seen anything like it before.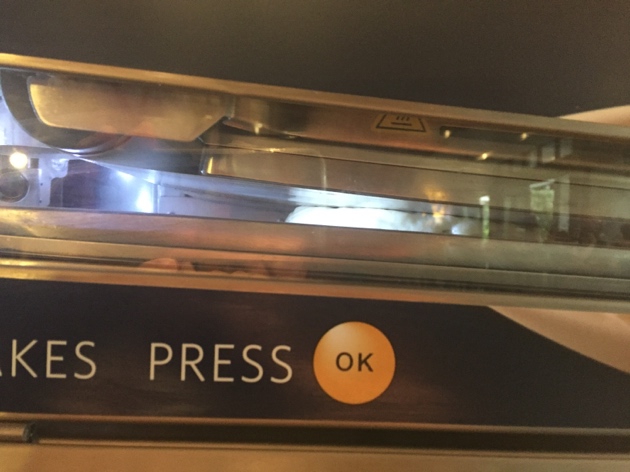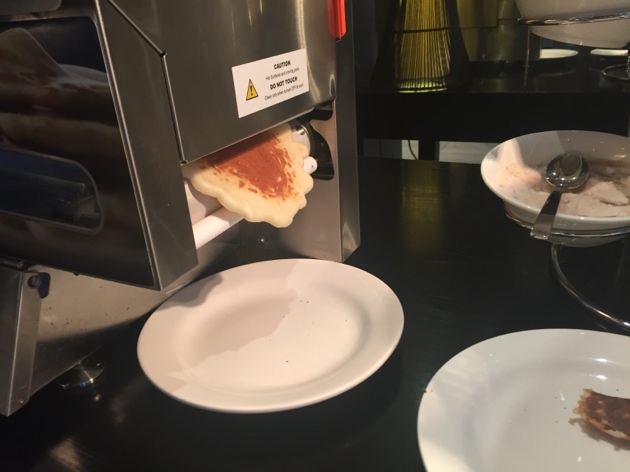 And now we are off to Siem Riep, Cambodia, and Angkor Wat.
Edited with BlogPad Pro