Now to finish up Cambodia. It's amazing what we can accomplish in a day! Three temple sites in one morning, and our relatively early start meant we were done as the heaviest crowds arrived. The afternoon options included more temples but we'd had enough so opted to go to the markets to see and shop. (Unfortunately our plans to visit Tonle Saping, a floating village, didn't materialize because the water levels were so low it wasn't worth the trip.)
Here's more information about the temples we saw, random items I found interesting. Since the 1980s, there has been a great deal of international support for the restoration of the Angkor Archeological Park sites from many countries, with the US, Germany, Japan, and China among the largest contributors.
Angkor Wat was built as a temple-mountain for the Hindu god Vishnu. We don't know why it was abandoned; one theory is that the Khmer Empire's Hinduism was replaced in the 13th and 14th centuries by Theravada Buddhism.
The kings of Cambodia had long and complicated names, such as Suryaworman and another one beginning with J. Our guide referred to them as simply S2, J7 (S2's great grandson), etc. It was both amusing and confusing! Plus for several centuries the religion was not fixed; some of the kings opted to change from his predecessor's choice, so there were periods of Hinduism and then Buddhism, and vice versa. For example, in the 13th century J8, grandson of J7, changed the religion from Buddhism back to Hinduism, destroying many Buddhas or reconfiguring them to represent Lord Shiva by opening the statues' eyes and adding a third eye.
And now for a lighter moment. I had to laugh at this sign in a restroom along the way. No smoking you know. The others, left to right, say no squatting on the toilet seat ("squatty potties" are common in this area), no foot washing, and no showering in the toilet stalls!!!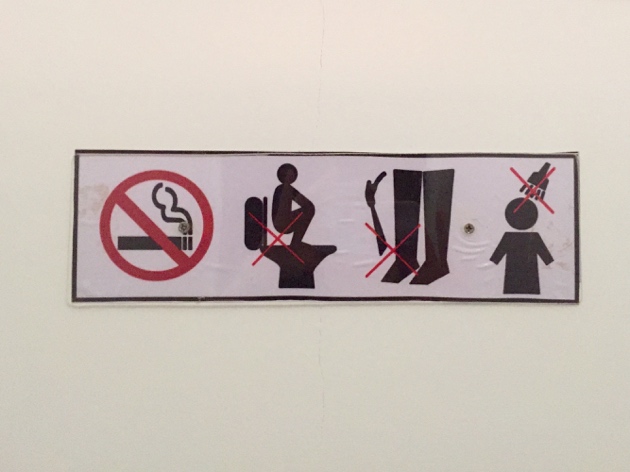 Lunch was another expansive buffet with fabulous salads of all kinds, both Cambodian and Western. The desserts were also lovely. I didn't bother to show you the line of 5 hot dish selections, as it wasn't as pretty. These displays were pretty typical of our lunches in every destination, although the desserts were not as plentiful here (!).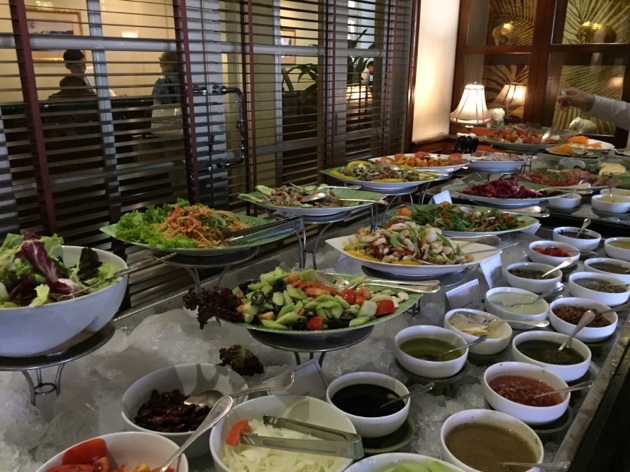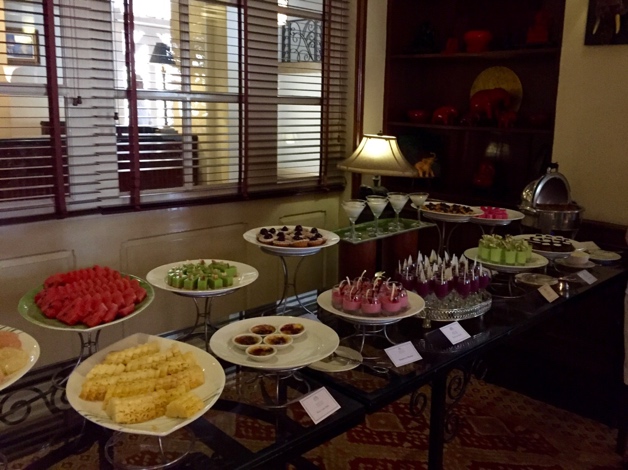 Outside the dining room, this young lady entertained us with soothing music on this Cambodian version of a marimba.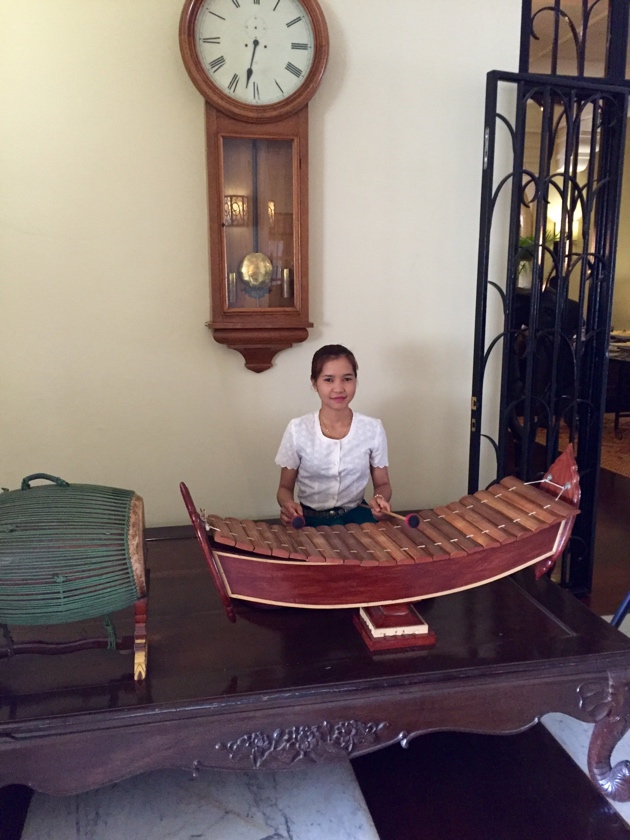 Well fortified, we headed to the market, a huge warren of vendor stalls as well as a food section. It was similar to ones we'd seen in Vietnam, with colorful displays of everything imaginable.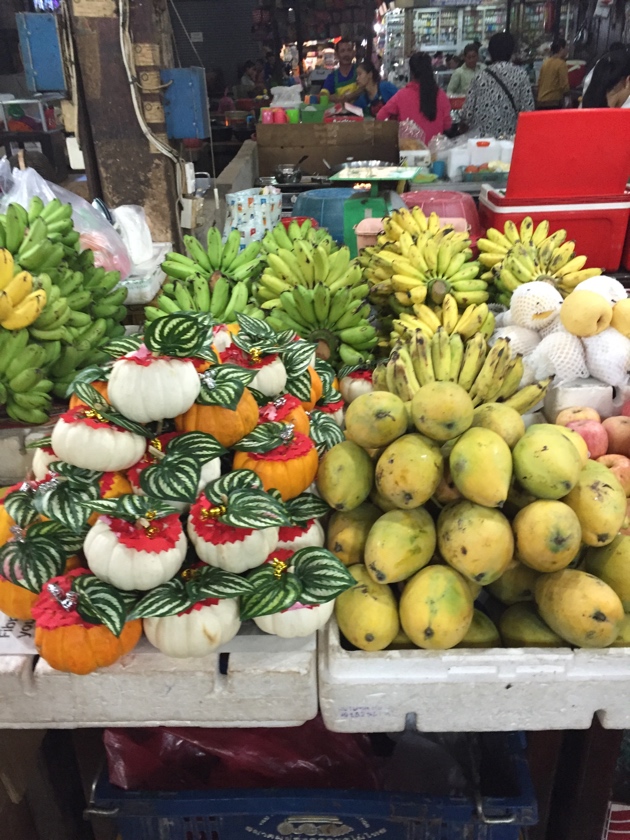 We have no idea what the multicolored fruits above are, nor the types of fish below!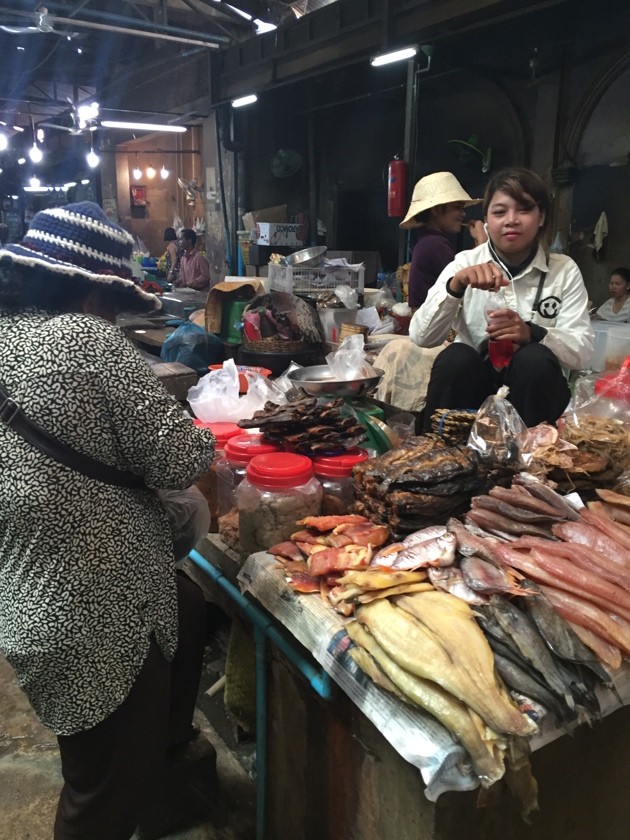 We also shopped for lovely silk scarves and silver jewelry in the other part of the market; somehow I can't find any pics of that section at the moment but will look for them, or get them from fellow travelers and share them later.
The hotel had several lovely shops and art galleries, including this display of Smiling Buddhas.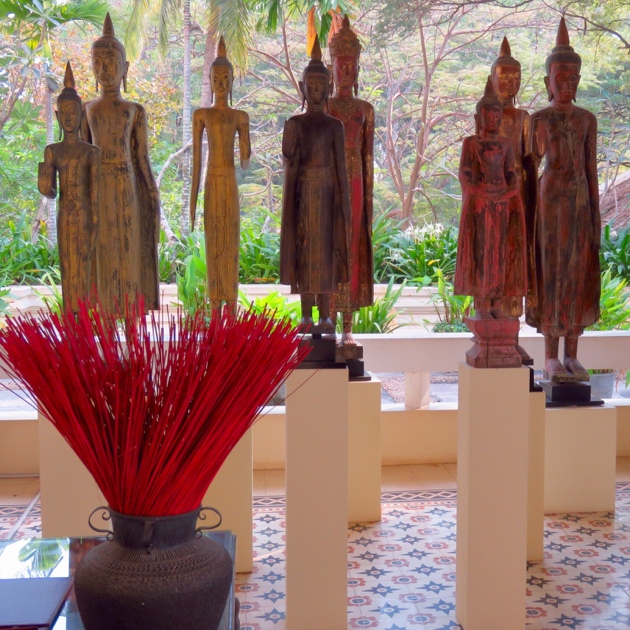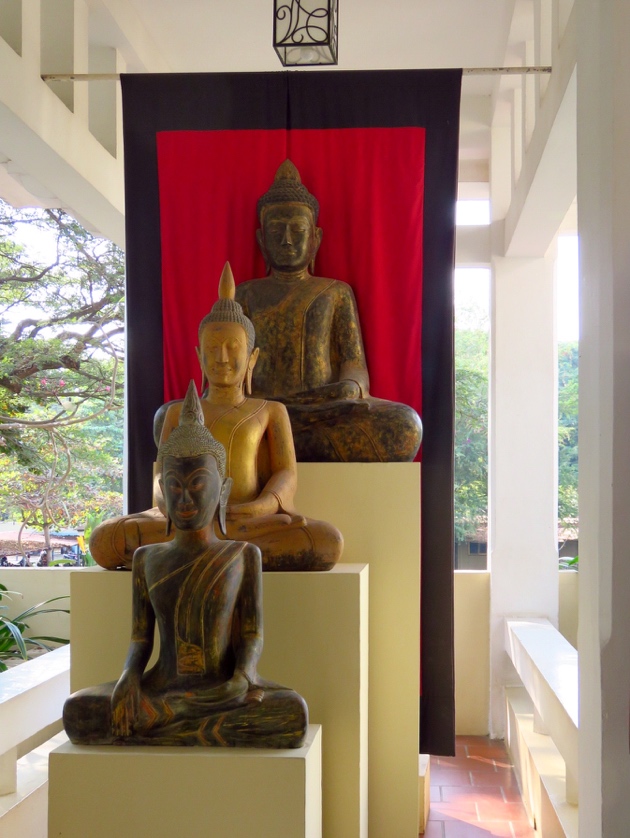 After a bit of relaxing, we visited our adorable bartender for a cocktail before the festive dinner. She remembered what drinks we'd had the previous evening and served them up right away. I had a delicious vodka drink with kaffir lime and ginger, which I'll have to try to recreate at home.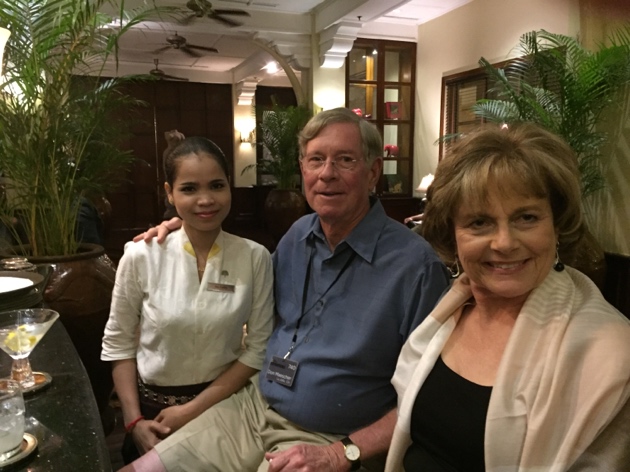 When we arrive in our hotel rooms at each stop, Nat. Geo. has a gift or two for us that represents local craftsmanship. Here we received a long silk skirt for me and a silk shirt for Don (which Mr. Fussy said he wouldn't wear, although many of the men sported them at dinner).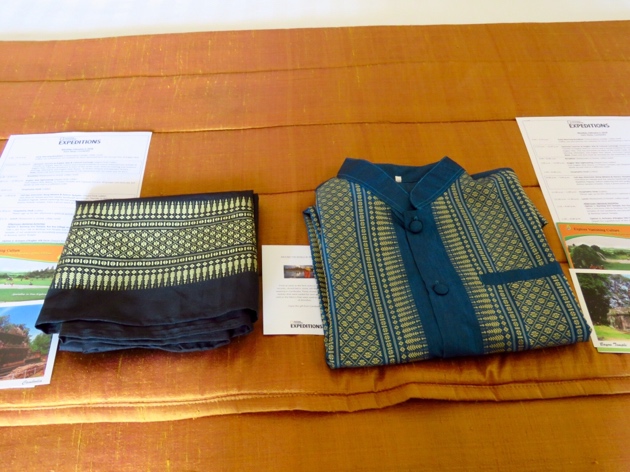 I wore my new skirt and one of the scarves I bought to dinner, and our expedition leader Esther wore hers as well.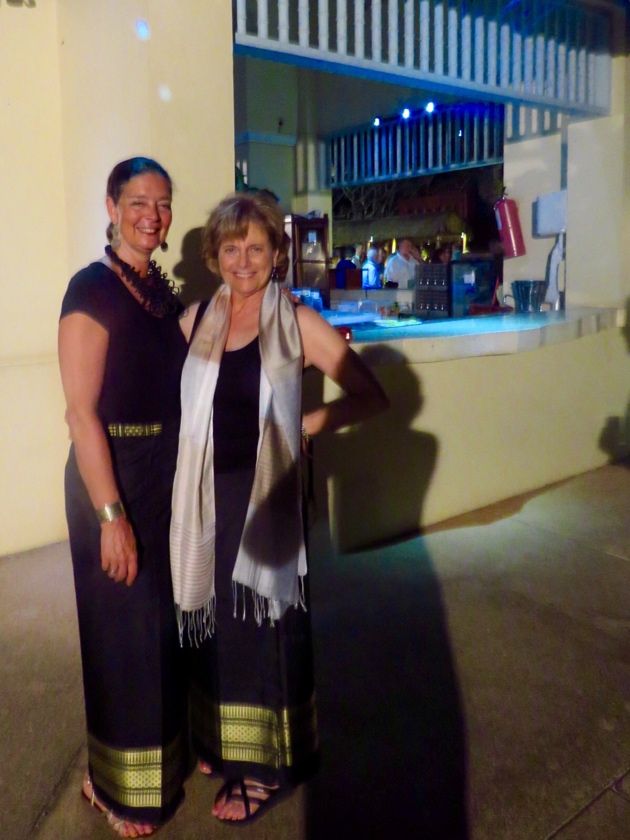 The hotel pool area looked lovely at night.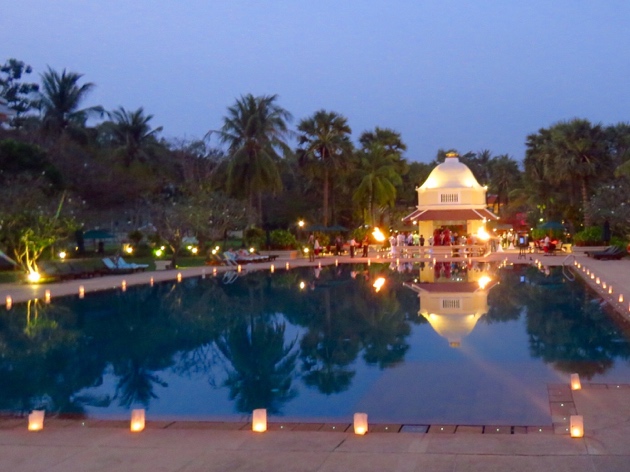 That evening our dinner was served in an area behind the pool pavilion. The tables were beautifully set, and we had lots of food stations to visit. Our favorite was the tandoori and naan station. Unfortunately all the buffets are blending in my mind and I can't recall what else there was!
We were all amazed at how the huge ice sculptures flanking the stage stayed frozen in the very warm weather. Mr. Fussy decided to see if they were really ice; they were indeed!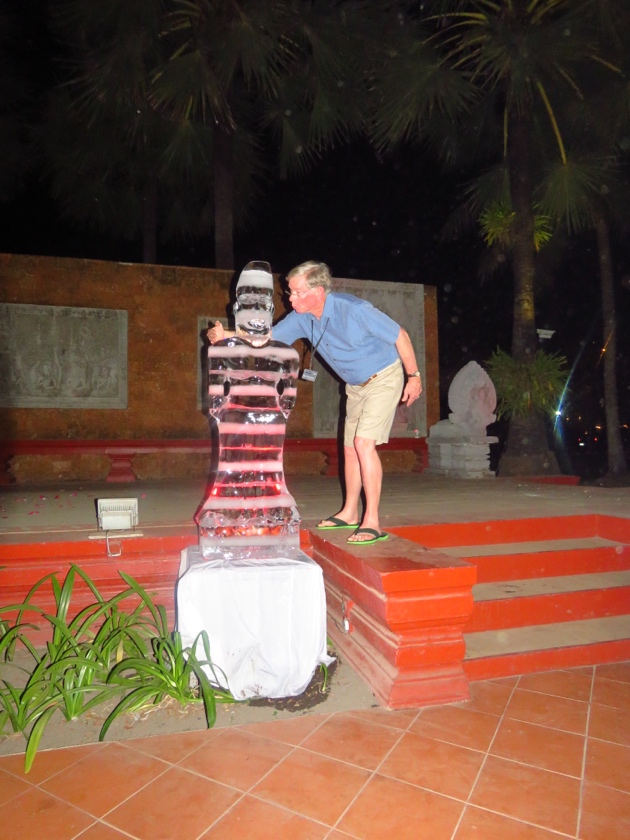 A dance presentation followed dinner. The first was a lovely blessing dance.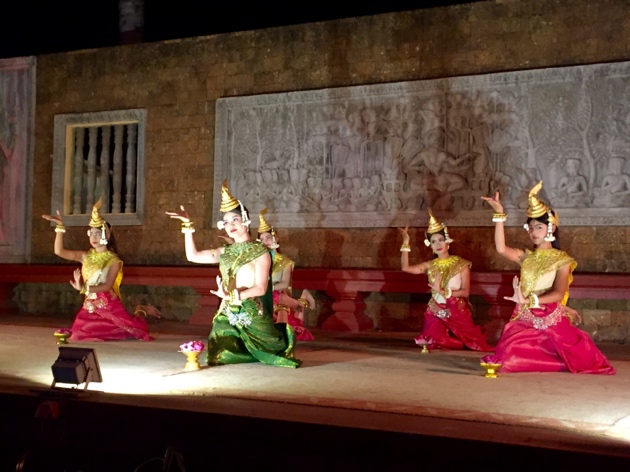 The second dance was the Golden Mermaid, part of the Ramayana epic. Here we have Hanuman, the Monkey King, wooing the Golden Mermaid so he could rescue King Rama's queen.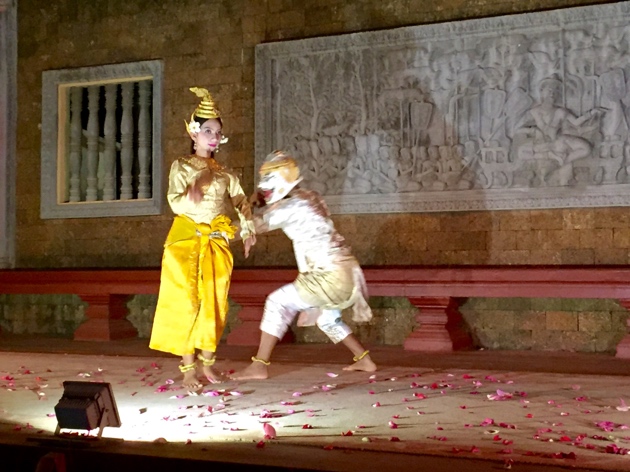 The last dance was the Apsaras, the celestial dancers reputed to bring prosperity to the kingdom. It looked pretty much like the first dance. I have a video of it that I will share later; I've been writing most of my posts offline and can't embed videos or do photo galleries instead of individual pictures. We then got to pose with all the performers afterwards.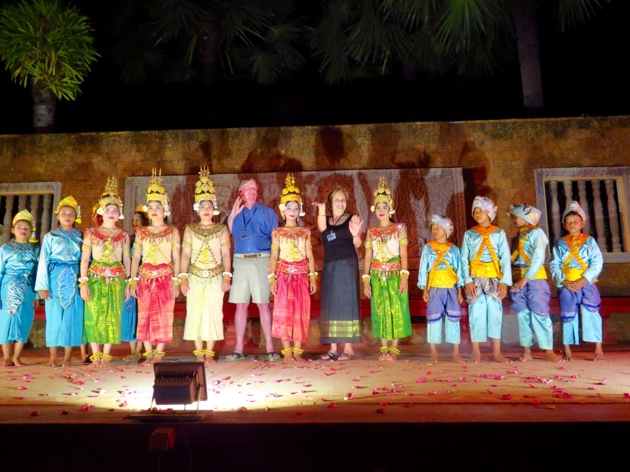 Namaste and good night!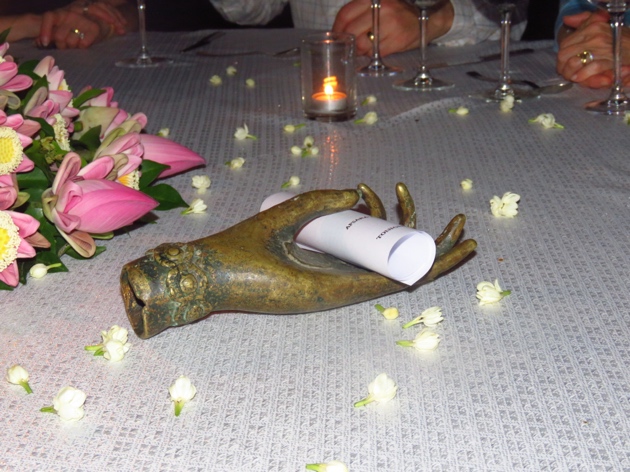 Edited with BlogPad Pro