We left Yangon, Myanmar, and flew to Agra, India to see the Taj Mahal—but not without seeing one more pagoda! Rest easy, dear friends, I am not going to subject you to more pagoda pictures. Even though the Shwedagon Pagoda is Myanmar's largest, it isn't that different in style from Shwezigon in Bagan. (If you feel deprived, click on the name to learn more.)
We thoroughly enjoyed the ride from the airport to our hotel. The street scene in India is a people watcher's delight, with cars, motorcycles, trucks, buses, tuk-tuks, cows, and pedestrians competing for road space. And somehow it works! This scene brought back fond memories of our fabulous 2011 trip to India.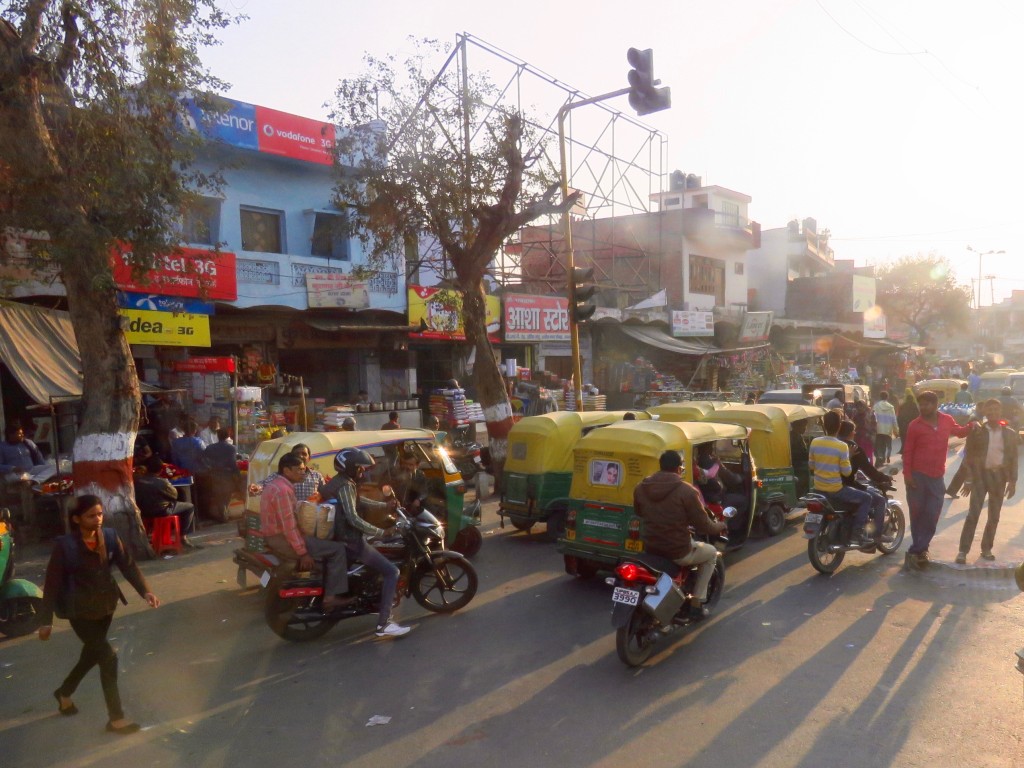 We arrived at the Oberoi Amarvillas, where we'd stayed before. Only this time we could actually see the Taj Mahal from our room (all rooms at this luxury hotel overlook the Taj). In October 2011, the smog was so dense we could hardly see it. The hotel itself looks like a palace. See how the laundry comes back? Wrapped like a gift!
Most of you know the story of the Taj Mahal, built between 1631 and 1648 by the Emperor Shah Jahan as a tomb for his favorite wife, Mumtaz Mahal, who died giving birth to her 13th child. If you want to know more, visit the Unesco site's summary.
The next morning we opted for the sunrise visit to the Taj Mahal, as did most of our group. By 6:20 we were in line, even though the site doesn't open until 7 a.m. It turned out to be a wise move, as we were among the first to enter and pretty much had the place to ourselves. Seeing the marvelous buildings emerge from the morning mist was magical. The colors of the marble walls changed with the light, from pink to gold to white. At one point, the mists rolled in again and we saw it emerge a second time.
I didn't get the kitschy but fun picture of me "holding" the Taj Mahal, but I did get this one of the reflecting pool. (The towers flanking the main building are being cleaned, hence the scaffolding. Doesn't make for great photos, but the pollution in Agra is so bad that this is necessary.)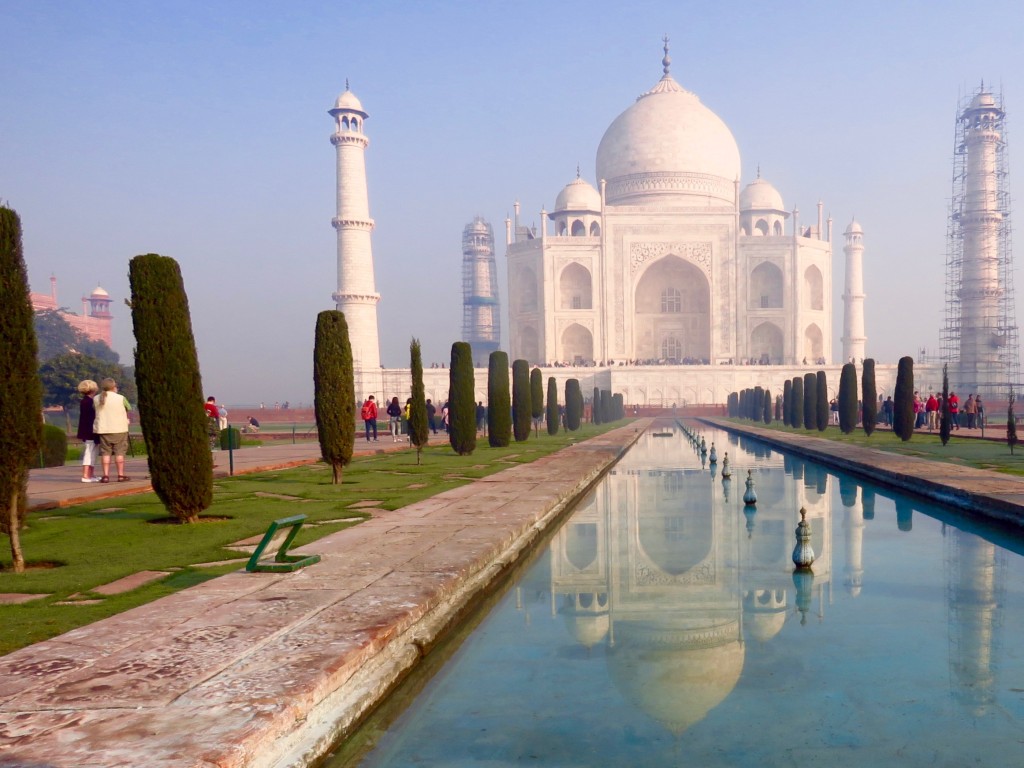 By about 9:30 we were on our way back to the hotel for breakfast, as the crowds poured in. To get to and from the site, you must take an electric jitney (to reduce vehicle emissions that could damage the marble), walk, or ride a bike.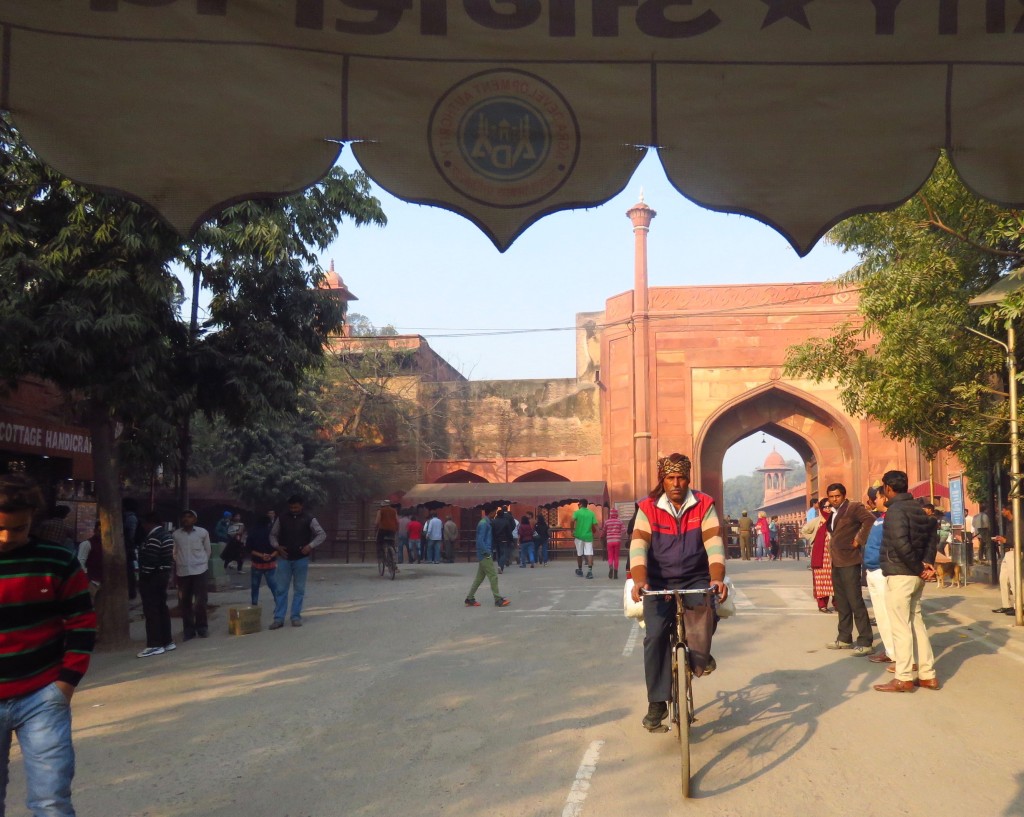 Because we'd spent several days in Agra on our prior visit, we'd seen all the other sites covered on the optional tours. Instead I did a yoga class  before lunch and we spent the afternoon in the spa getting pampered. Instead of an ordinary massage, I decided to go outside my comfort zone and chose this "ritual:"

It was wonderful! The petite therapist placed three ringing Tibetan singing bowls on my chakras, front and back. What a different sensation! I also received a wonderful massage using Ayurvedic oils (none of the dripping on forehead stuff, though, thank goodness). I was beyond relaxed when she finished. I was sure I had taken photos of the singing bowls afterwards but they seem to have disappeared. 😞 Here is one from the Web. Different sizes create different tones/vibrations).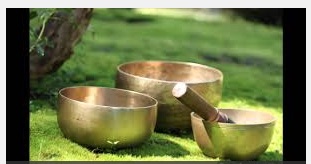 That evening we had a cocktail party with local dancers, during which we could get henna tattoos. Despite Don's telling me not to, I had one put on my ankle. Not my favorite design, but fun for a few days!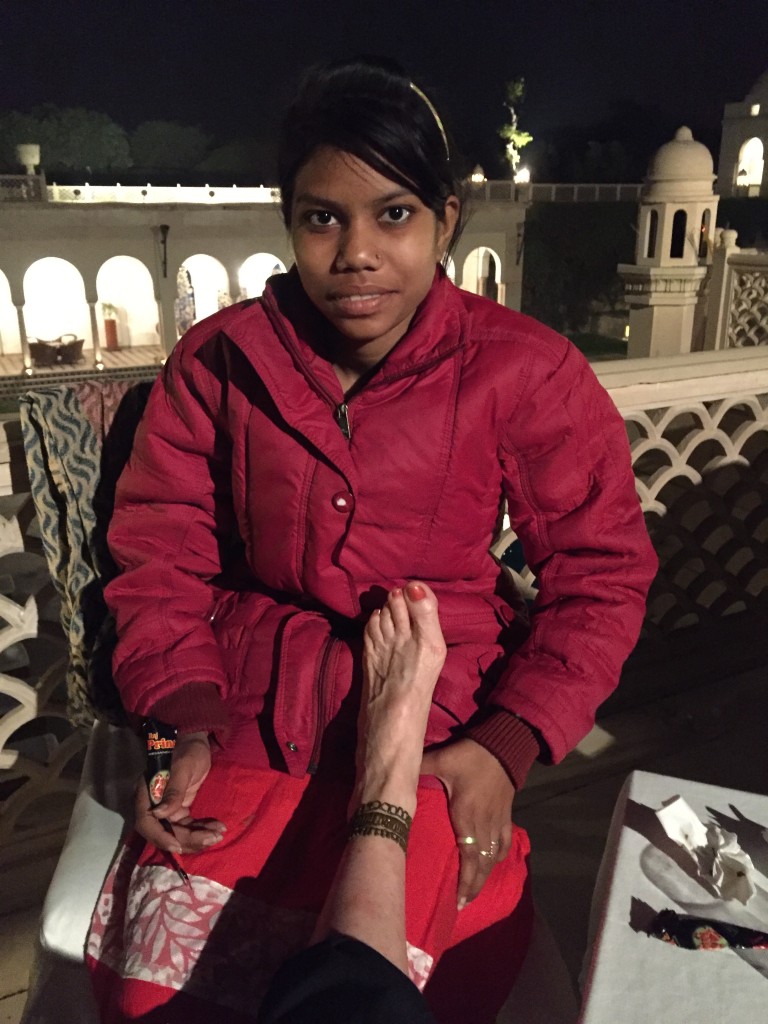 And that's it from India! Now we're off to Tanzania.