Mingalabar again from Myanmar! After visiting the Ananda Temple, we moved on to the Shwezigon Pagoda, near Bagan. It is one of Bagan's oldest, built in the 11th century. Its bell shape became the prototype for later Burmese stupas. A series of terraces decorated with plaques of scenes from the Jatakas, previous lives of Buddha, rise up to the main pagoda.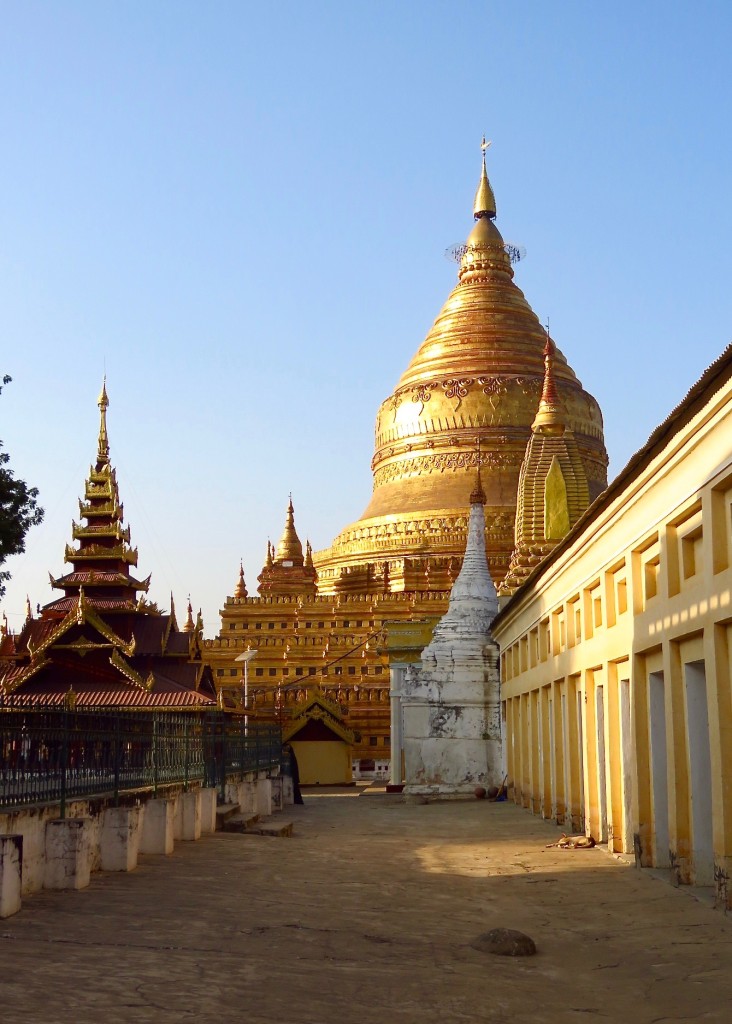 As you can see, there is a long "causeway" leading to the main area. In addition to longyi, we'd been given flip-flops to wear to make it easier to remove our shoes. We left them, along with those of all the other visitors, at the end before entering the actual pagoda. We all wondered if they would be there when we returned (they were, of course), and also if we'd be able to identify our own flip-flops from amongst the many that all looked the same! Fortunately Don had worn his own flip-flops, so we had no problems finding our shoes. (I should have taken a pic of all the shoes!)
Here is a jataka. Actually it's from Ananda Temple, but I forgot to include it in that post and wanted to give you an idea of what the glazed terra cotta panels look like.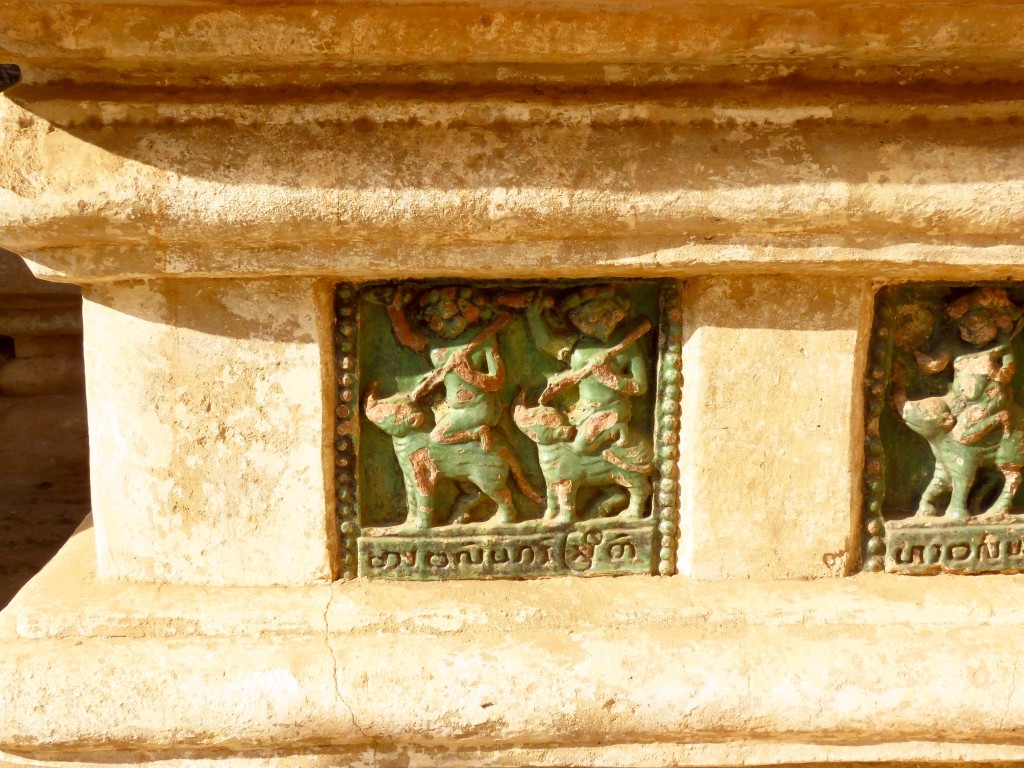 Here are several views of the pagoda. It was so large that I wasn't able to get a good overview The small shrine is where people make offerings.
And here are some close-ups of the detailed workmanship.
Fortunately that was all the pagoda/temple visiting for the day—and it was plenty, even for me. You can only absorb so much at a time. And we'd been traveling since early morning as well, so we were more than ready to reach our hotel.
The Aureum Palace, Bagan, was a welcome oasis within Bagan Archaeological Preservation Zone, overlooking a lake with villas and rooms set amongst lush gardens. The villas were huge, with lovely antiques and several sitting areas.
We were fortunate to have one overlooking the lake, so the views were spectacular–especially at sunset. And the weather in Myanmar was a delight after steamy Cambodia: much lower humidity and cooler temperatures.
After quickly settling in, we headed for the welcome cocktail party and dinner. After seeing so much gold on the Buddhas and temples earlier, I shouldn't have been surprised at the elegant table settings. It felt like we were at a special wedding! My photo is off in terms of focus, but you get the idea. Local dancers performed for us after dinner. Again, the photo isn't sharp, but I wanted to give you an idea of the elaborate staging.
Given that it took two posts two cover the day's adventures, you can see why this was an exhausting as well as exciting trip! We slept really well as a result. Good night!