I hope you aren't tired of Myanmar and Inle Lake yet, because we had another amazing day here. Plus you've had few days to recover from Myanmar overload!
As we arrived at the main hotel building, we received a special good morning greeting from the Butterfly Lovers, a Burmese Romeo and Juliet. Aren't they gorgeous?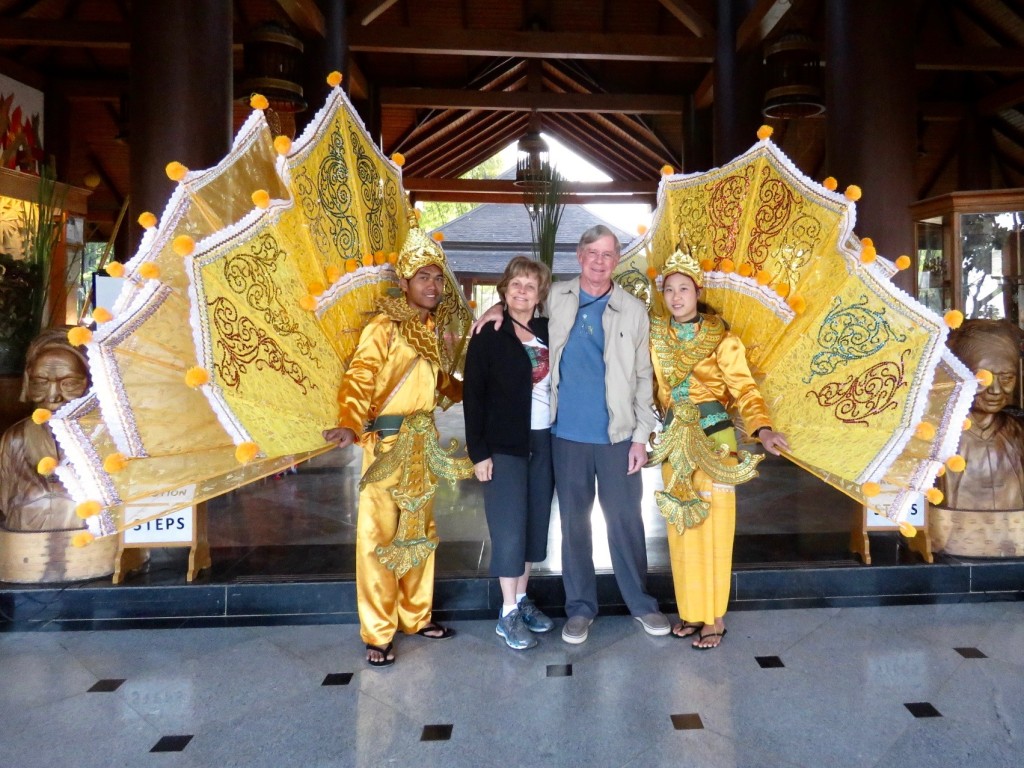 I've been telling you about the sumptuous buffets we've enjoyed, so here are some photos of the breakfast and lunch spreads. And yes, having soup for breakfast is a custom in Southeast Asia (which I didn't try).
Today's boat ride took us across the lake and into a narrow canal. It was so different from cruising across the lake, with many small "dams" and narrow gates marked by bamboo poles. We loved seeing daily life along the shore, including women shampooing their hair and others doing laundry.
We arrived at Shwe Inn Thein Pagoda (also spelled Inn Dain). Unlike the other sites we visited, Inn Thein is a huge complex of 1,054 small pagodas. Yes, that's right, more than 1,000 stupas in various styles. (We decided to take the guide's word on this….) Most were built in the 13th and 14th centuries, though the site dates back to 220 BC. It has undergone extensive renovation, and we saw everything from crumbling brick structures to beautifully restored stucco and gilt pagodas, many with plaques naming the family that subsidized its restoration.
As we left the main site, we met this Pau woman and her son selling fruit. The colorful turban is traditional headgear for this tribe.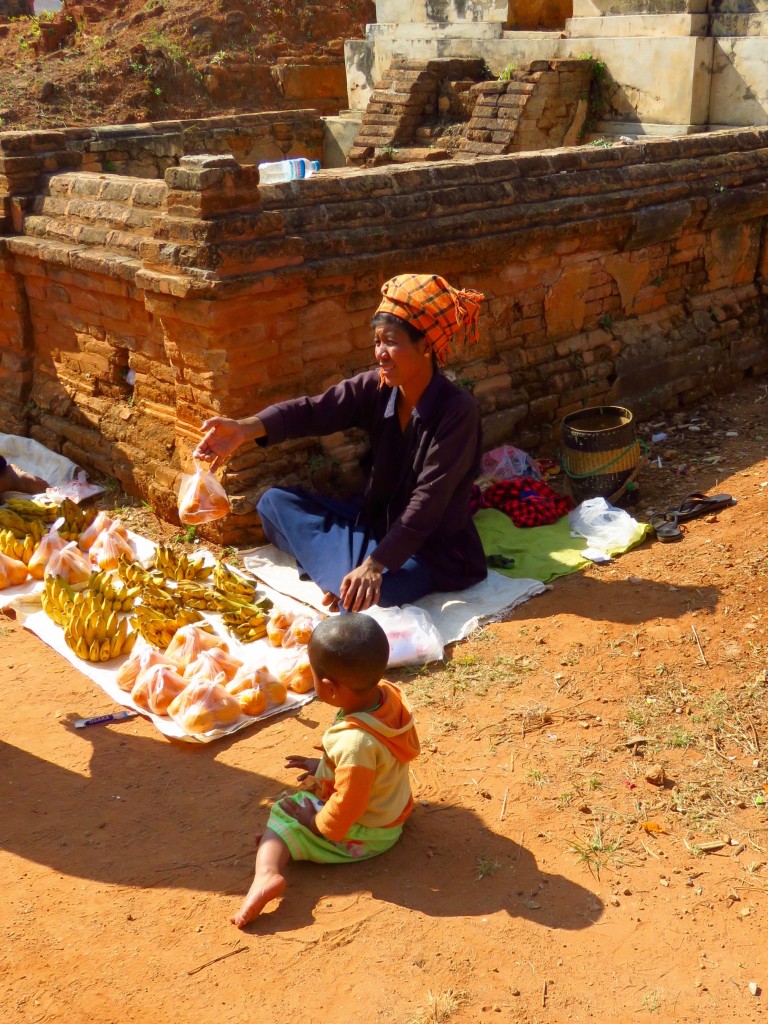 After touring the pagodas, we browsed amongst the many shops in this long arcade. I loved the colorful puppets but restrained myself and took a picture instead. And look at this talented artist, who is able to paint lacquerware using his feet! We bought two pieces from him, as did many others in our group. Because other vendors sell similar items, we asked our guide and tour leader if he experiences resentment from other merchants who might feel he has an advantage. Apparently not, as there are many tourists who buy elsewhere and stop only to watch. (And once again I amazed Don by doing my shopping in record time. Will wonders never cease?!)
When we arrived at our nearby lunch area, which was set into a bamboo grove, we had another surprise waiting for us. These are the long-necked women from the Kayan tribe, whose brass neck-rings (it is actually one long spiral) depress their shoulders and make the women's necks look longer. The girls start with a coil of about 4 rings, and over the years the coil is replaced by a longer one and more turns are added until it reaches 25 rings. Contrary to what you might think, the rings do not limit the women or girls, who are able to move pretty normally. Nor are they are forced to wear the rings; they do it because they believe the long neck makes them beautiful. This is a vanishing cultural phenomenon, as the Myanmar government of Myanmar has been discouraging neck rings.
Think we've seen enough for one day? Not at all! You really get your money's worth with Nat Geo. I visited a special weaving factory where in addition to silk the artisans make thread from the lotus plant. You can see the woman carefully pulling out the lotus fibers, which are then twisted and sealed with a type of glue on the bench in front of her. This cloth is unique to this workshop. We also saw how the weavers create colorful patterns by typing and dying bundled thread, using the finished cloth as a guide. Of course I bought a few more scarves–silk, not lotus, which wasn't as soft.
And still our day wasn't over. That night we had a gala dinner, with traditional dances including a really amusing mythical creature that looked like a horse combined with an antelope. At one point we formed a "conga line" and danced around the room with him. We also wrote wishes on small pieces of paper. After dinner we headed outside for still more surprises: A slew of small hot air balloons were released, and then a humongous National Geographic balloon was inflated. Tied to the basket base were all our wishes. Up it went–and all of a sudden the loveliest fireworks display began, launched from the balloon basket! My pictures don't do it justice. It was a truly magical evening, and a wonderful finale to our three days in Myanmar.