Jamba–hello in Swahili–from the Ngorongoro Crater. On the drive to the crater floor we had a Swahili lesson, learning phrases to help us on our game drive: Si mama–stop for a photo opp, sawa sawa–OK, and twen-de–we're done, let's move on. And of course: Asante–thank you,; karibo–you're welcome, and kwahare—good-bye.
Our day in the crater started bright and early—early enough for me to get sunrise photos (yes, indeed, that's a rarity you won't see very often!). Along the way we also saw the roofs of a Masai settlement and herders taking their flocks out to graze. Our safari vehicles were enclosed with pop-up roofs, unlike the open ones we had in Botswana last March. (Double click on the photos to see them full size.)
The Ngorongoro Crater is part of the Ngorongoro Conservation Area, a UNESCO World Heritage Site. The deep crater was formed when a giant volcano exploded and collapsed in on itself about three million years ago. It is the largest unflooded and intact caldera in the world and is about 12 miles wide and 900 feet deep. As such, it is a closed eco-system and home to the highest density of big game in Africa; approximately 25,000 animals have learned to coexist within its confines. (Why can't people do the same?) Game viewing is good year-round, so tourists flock to it, either to stay as we did or for a day trip. Going out early was perfect, as we saw very few safari vehicles. By the time we left the crater the Jeeps were rolling in. (When we left the next morning, we saw all the day trippers lined up to enter the park.)
As we descended we saw gorgeous vistas along with lots of animals roaming freely together. The first picture shows the expanse of the crater wall; then you have pictures of zebras, wildebeests, and gazelles, grazing together.
And here are a warthog family, the adorable Grant's gazelles, a bird feasting on the insects they find in the Cape Buffalo's hide, more Cape Buffalo (they are bigger than wildebeests and have handlebar-mustache horns), a group of elephants, and a beautiful gray crested crane.
It was a very special time to visit the Crater, as so many animals had recently given birth.
Even more special, we saw a Wildebeest actually give birth! Another mama and calf wandered over to lend a hand, er, a look, at the almost born calf (second picture). The baby struggled to get up but then succeeded, within minutes of being born.
Not only do the newborns walk within minutes; a few days later are able to keep up with the herd as they move to new grazing areas. We saw a mother and baby loping across the crater to catch up with their herd. A jackal was tracking them, and we anxiously watched the mother protect the baby until they successfully joined the herd. Nature at its best! Trivia facts of the day: Wildebeests are also called gnus and are members of the antelope family, not the cow or buffalo family as you might expect. They are ungainly creatures, for sure.
On the way to lunch we saw more animals, of course, including the (very dangerous)  black rhino paying no attention to the Thomson's gazelles and these hippos wallowing lazily in the shallow water. And finally, our first lion sighting. (We hadn't seen any in Botswana.)
We stopped at a picnic site for lunch. Quite a spread, with champagne, wine, wonderful salads and grilled kebabs. And they even set up porta-potties for our convenience!
Our next animal sighting was at the main hippo pool. Seeing so many in one place was quite the sight!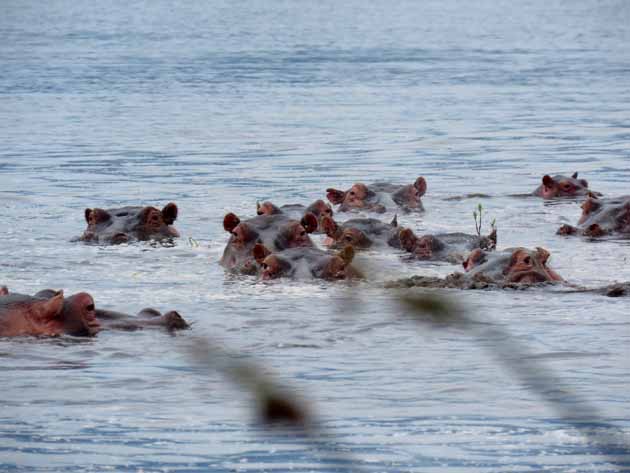 At last! The king of the beasts and his mate, in all his glory, and at play.
As we drove back up the crater rim en route to the Masai village, we were treated to the sight of hundreds of flamingos across the way. Love that long zoom!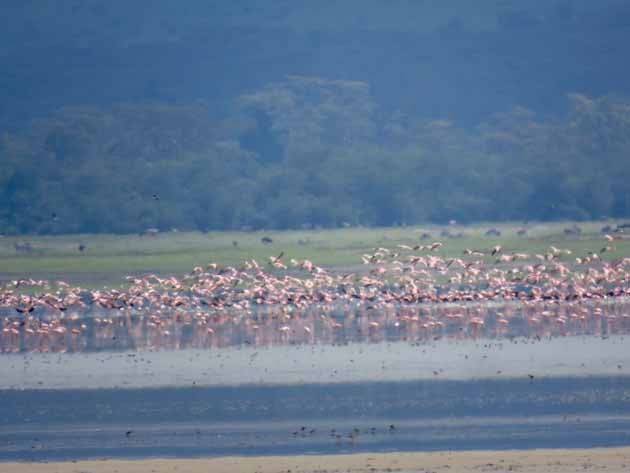 Kwahere for now. The Masai village deserves its own post.