Greetings, dear friends,
I know it has been a while since my last post. I was sidetracked by a very successful hip replacement and then the September 7 birth of my grandson Zachary Joseph Freiwald!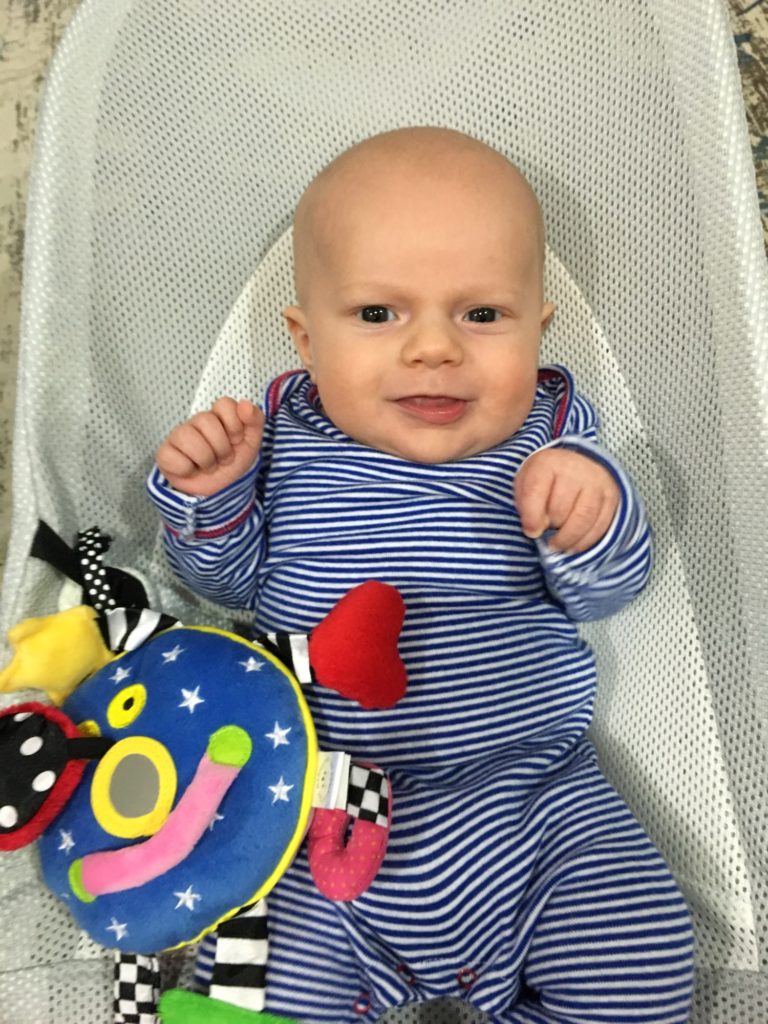 Don and I are now in Israel. This won't be a typical sightseeing tour, as we are going on a special trip with AIPAC, the American Israel Public Affairs Committee. The mission of AIPAC is "to strengthen, protect and promote the U.S.-Israel relationship in ways that enhance the security of the United States and Israel." We will have the opportunity to learn firsthand about Israel today, meeting with journalists, IDF members, high level officials, etc.
I plan to blog about the trip, to the extent I can; they keep us very busy all day and well into the evening. If you haven't already subscribed to the blog and want to follow along, please look for the "subscribe" box on the right side. (It's easiest to find it on the IPad and desktop version; it's trickier on a phone.) By subscribing you will get an email whenever I post.
Getting to Israel seemed to take forever! Turkish Air offers a free shuttle from SD, and we made great time, under two hours—only to wait 40 minutes for the Turkish Airlines checkin counters to open. Mr. Fussy was not pleased….the Star Alliance Lounge made up for it. At one point Don went down to the shops level to check out the Petrossian Caviar Bar. His report: All sorts of caviar and exotic appetizers, starting at $75 and going to $800. Needless to say, he returned to the lounge without partaking. And noted that no one else was, either.
LAX was quite the zoo. The scene at the gate was also disorganized, and we were delayed boarding and taking off. Once on board at least one of us was pleased. The seats were very comfortable, and I was able to figure out how to both move the seat and use the entertainment system. Mr. Fussy, however, was pretty cranky until I taught him how to use his, a bit tricky because we were across the aisle from each other.
Not only were the seats on the 777 roomy, but also the lavatories. In fact, they were the biggest we've seen on any plane, with room to move, a pulldown bench to sit on, and lovely lemon scented toiletries.
The food service was also special, one of the nicest I've had on a commercial flight. Our welcome drink was mint lemonade, very refreshing. The dinner menu was extensive, and the plane setting included candlelight!
The appetizers were served from this cart. I had the prawns, a vegetable spring roll, and tabbouleh–all excellent, as was the Turkish rose wine.
As if those appetizers weren't enough, the next offering was very tasty mushroom soup, which Don and I shared. My main course was lamb chops, very tasty though overcooked. The spiral is zucchini interlaced with noodles, very creative. Mr. Fussy ordered a seafood combo which was not to his liking; no surprise there! Dessert also came on a cart with many selections. Turkish pastry, fruit, and shared chocolate ice cream (which went on top of the almonds on the left) were the perfect finale for this meal.
And did I mention that we had a chef supervising the meal prep and sometimes serving us as well?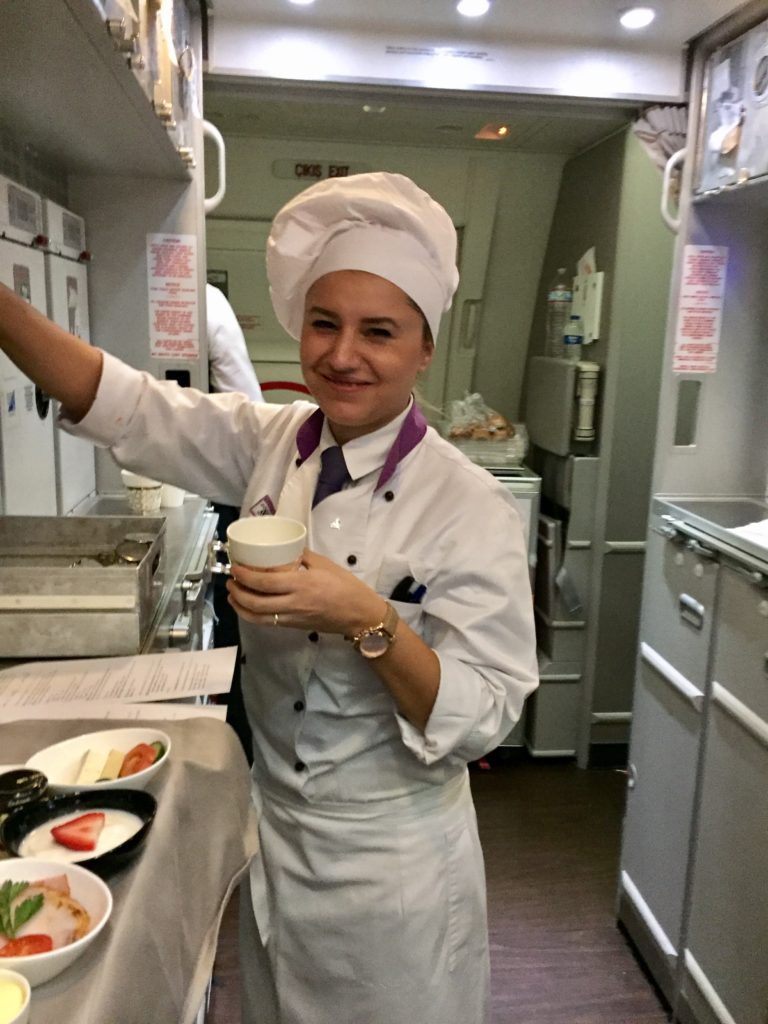 Well-fed, we actually slept very well in the lie-flat beds—again, much more so than on other flights. As nice as the flight and service were, though, it felt interminable, and it was long indeed: over 13 hours. Breakfast took up a bit of time, but we were late landing. After a mad zigzagging dash through the immense Istanbul airport, we made our connection with 15 minutes to spare.
Excellent service continued on the flight to Tel Aviv. Even though it was only a two hour flight, we had a full dinner, complete with another chef!
I'll let Don chime in about our arrival in Tel Aviv. "Due to the delay at LAX we were late arriving in Istanbul. Had a tight connection and hurried about a mile to our next TA flight (man, Attaturk is a HUGE airport). Had drinks and another meal (so excellent I don't even remember what it was) on the two hour flight to Israel.
"Arrived at Ben Gurion Airport and were in for the treat of our lives……….. a total and complete mess (Don used a different word that is inappropriate for this blog…😉) at Passport Control. Hugely congested and totally disorganized – took us over 45 minutes to get through the mob-scene. No semblance of what one would call a line. Mr. Fussy's fabled Zenlike calm was sorely tested. Road rage almost overtook him in dealing with the stupid and incompetent immigration bozo. M restrained him. As a result, he woke up this morning in a hotel bed instead of a jail cot."
I chatted with people in line during the long wait, several of whom
About 25 hours after leaving home, we made it to the David Intercontinental Hotel, had a nightcap to unwind, and gratefully fell into bed.
SaveSave