A great-tasting shrimp dish in about an hour, including marinating time? Count me in!
You only need a few ingredients, yet Shrimp with Peanut Garlic Sauce rewards you with wonderfully complex flavors. It's easily prepared for a weeknight diner and delicious enough to serve company.
I discovered this recipe in our local paper many years ago. It's from 660 Curries by Raghavan Iyer, culinary educator and co-founder of the Asian Culinary Arts Institutes, Ltd. Originally from Mumbai, Iyer was unable to find many of the ingredients to make his Indian specialties when he moved to Minneapolis. By recreating them using items easily sourced at American supermarkets, he made Indian cuisine more accessible to home cooks.
You may wonder why this is considered a curry when it has no curry powder. Indian cooks don't buy the premixed curry powder we find in our grocery stores. Instead they blend spices to taste and based on their region, using such basics as cumin, coriander, turmeric, and chili peppers. The simple mix of spices in this recipe is typical of how Indian home cooks prepare food. Each cook has a box with small tins of spices. When I visited India in fall 2011, one of the highlights was a cooking lesson at an Indian home in Jaipur. You can see the spice box in front of the sauté pan.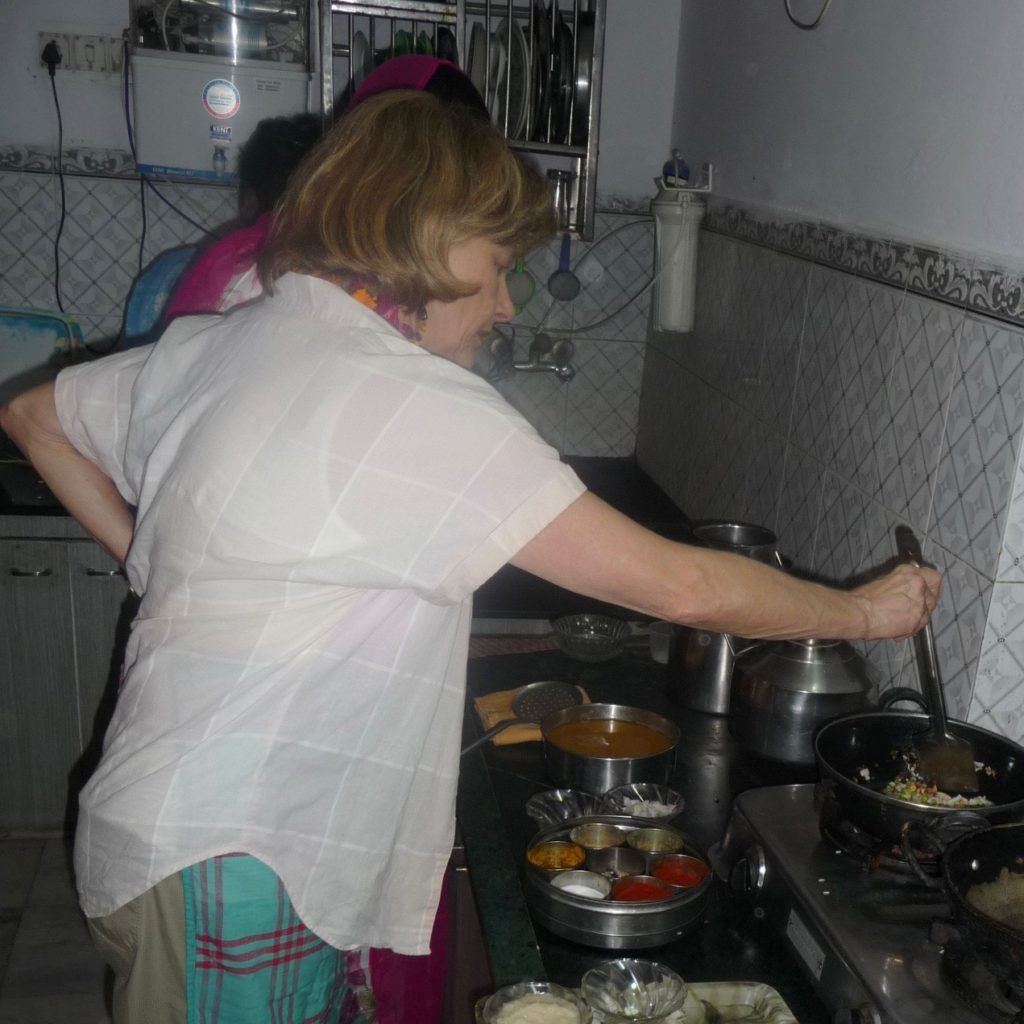 According to Iyer, the word "curry" does not exist in any of the numerous Indian languages! The word may derive from kari, which refers to a sauced dish. Today we use the term curry to describe an Indian or Southeastern Asian dish with a spiced sauce. Curries come in many varieties, depending on whether they are from; the ingredients in Indian curries differ from Thai and Malaysian versions.
My own love of curry was a gift from my dad, who served in the British Royal Army Medical Corps. in India and Burma during World War II. He loved spending hours in the kitchen cooking up a large batch of beef or lamb curry, using lots of Crisco shortening. (My parents kept kosher, so cooking with ghee, or clarified butter, wasn't an option.) My mom used to sneak in while the curry was simmering and try her best to siphon off as much grease as possible. I wasn't a particularly adventurous eater as a child, and it wasn't until I reached my teens that I was willing to try his creations. I'm happy I did, because curry in all its forms is now one of my favorite foods.
Preparing Shrimp with Peanut-Garlic Sauce requires a few simple steps. First, toss the shrimp with the turmeric and marinate for 15-30 minutes. This not only allows it to absorb flavor and color but also takes away "fishy" odors. While the shrimp marinates, make the spice paste. I love my Cuisinart mini-chop for this step, as it's just the right size. Iyer calls for fresh chiles, which I've replaced with jarred chile paste because I keep it on hand. I always start with a modest amount of the chiles; you can always add more heat but it's pretty hard to take it away! You can also make the spice paste with a mortar and pestle.
Next, sauté the spice mix to release the flavors. Don't rush this step or your dish won't have the layers of subtle spiciness. Pour in the coconut milk, bring to a boil, and cook for a minute or two before adding the shrimp.
Simmer for about 3 to 5 minutes, spoon over rice, sprinkle with cilantro, and you're ready for dinner!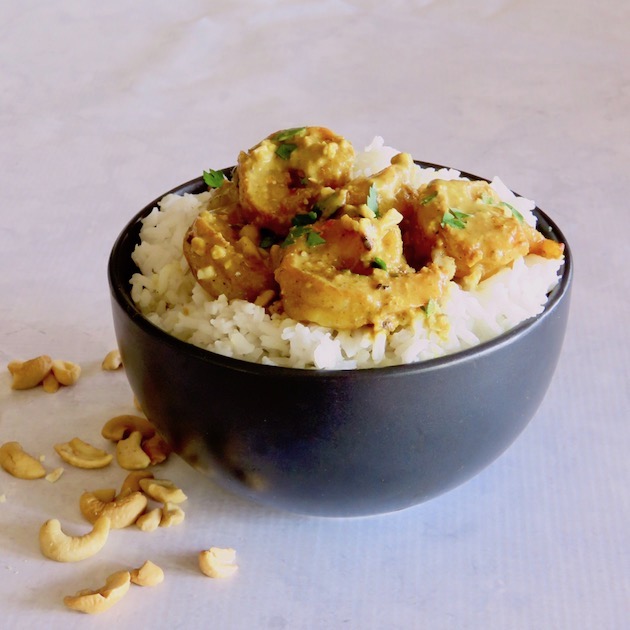 Shrimp with Peanut-Garlic Sauce and Rice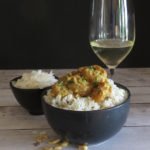 Shrimp with Peanut-Garlic Sauce
This "curried" shrimp has no curry powder! The simple mix of spices is typical of Indian home cooking and gives a dish with complex tastes, even though it's easy to make.
Ingredients
1

pound

large raw shrimp, 21 to 25 per pound, peeled and deveined

1/2

teaspoon

ground turmeric

1/4

cup

unsalted blanched or roasted peanuts (or cashews)

4

large cloves garlic, peeled

1-2+

teaspoons

Chile-Garlic Sauce or Sambal Oelek (crushed red chiles) or more to taste (Note 2)

1-2

tablespoons

canola oil

1

cup

unsweetened reduced-fat coconut milk (notes 3, 4)

1/2

teaspoons

coarse kosher or sea salt or to taste

2

tablespoons

finely chopped fresh cilantro leaves and tender stems, optional for garnish

White or brown Basmati rice for serving.
Instructions
Place shrimp in a bowl, sprinkle with turmeric, and mix well. Cover with plastic wrap and refrigerate for 15 to 30 minutes.

While shrimp marinates, combine peanuts, garlic, and chiles in a food processor or mini-chopper and chop finely and evenly.

Heat oil in a skillet on medium heat. Add spice and peanut mixture and cook, stirring gently to prevent burning, for 2 to 3 minutes until garlic and nuts are golden brown.

Add coconut milk and salt to skillet, bring to a boil, and cook for 1 to 2 minutes.

Add shrimp, bring sauce back to a boil, and then turn down heat to low. Stirring and turning shrimp, simmer until shrimp are curled, about 3 to 5 minutes.

Garnish with cilantro and serve with steamed Basmati rice.
Recipe Notes
Prep time does not include 15-30 minute marinating time.
You'll find Chile-Garlic Sauce and Sambal Oelek (crushed red chiles) in the Asian foods section of most supermarkets. You can also use 2-3 fresh red Thai or cayenne chiles, stems removed, or 3 dried red chiles, soaked in boiling water to rehydrate.
It's important to shake the unsweetened coconut milk before opening, to mix the thicker and thinner components.
Transfer unused coconut milk to another container. It keeps in the refrigerator a few days, or you can freeze it for a month or so. Be sure to mix well before using.
SaveSave
SaveSave
SaveSave
SaveSave
SaveSave
SaveSave
SaveSave
SaveSaveSaveSave
SaveSave
SaveSave