Before we move on to the afternoon's activities, I thought you'd enjoy these videos of the seals at play. (Click on the link and give them time to load.)
Kangaroo Island–Baby Seal Video
Kangaroo Island, Seal Bay–Seals at play
After lunch we drove through Flinders Chase National Park, which covers 200,000 acres. It's home to two spectacular rock formations: Remarkable Rocks, granite boulders carved be wind and water, and Admiral's Arch. The air was so fresh and pure, it was amazing and energizing. I walked up to the rocks and then down to the arch, both well worth the hike. Don said he'd rely on my photos and looked at the Rocks from afar; he couldn't see the arch from his vantage point. An added bonus: we saw the fur seals as well.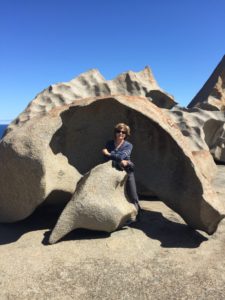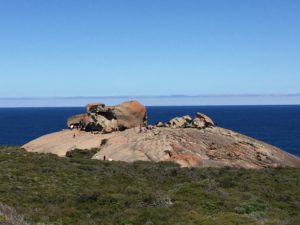 We were fortunate to spy an echidna crossing the road. The echidna and its cousin the platypus are the only two egg-laying mammals. It was tough to get a good picture. It looks a bit like a porcupine.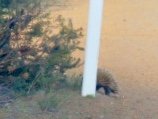 Ron also found us a wallaby in the bush, very hard to see. Wallabies are nocturnal and timid, so this was also a special sighting.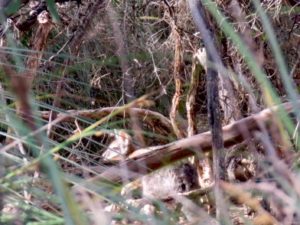 And to cap off our day, Ron stopped in a eucalyptus grove next to a car park at Flanders Chase to look for koala, and high up in a tree we saw a big mama koala 🐨 with a joey in her pouch! You'll have to take my word for it, as you can't see the baby.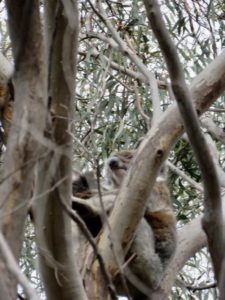 On to Melbourne!