A travel day…Kangaroo Island to Adelaide, where we had a 4 hour layover, then on to Melbourne.
But first, these protea were outside the KI Lodge. Aren't they gorgeous?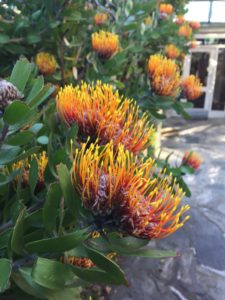 Rather than sit at the Adelaide airport, we took a taxi to Glenelg, a beach suburb, at the suggestion of the airline agent. It was a beautiful Sunday so the place was crowded with families enjoying the sunshine.
These kids were having a ball on this Bungy jumping sort of attraction. (Click on the link.)
Glenelg, Australia–Sunday Funday
We had a delicious Indian lunch at a restaurant, way better than airport food! Onion Bhaji, Chicken tikka masala–different than what we get in the US but very tasty–and a lamb curry
Even though the taxi cost us a pretty penny, Australian dollar, we were glad to break up the trip.
We got a bit of a culture shock when we arrived at our hotel in Melbourne, the Crown Towers. It's part of a huge complex, with four different brands of Crown hotels (not the same as our Crowne Plaza, though there was one of those nearby as well. Confusing!) linked by a casino and a huge shopping mall with all sorts of high-end stores. (Throughout our stay, every time we passed the Rolex store, Don couldn't help but wonder why the salespeople didn't die of boredom; we never saw anyone in the store.) After the tranquility of Kangaroo Island and the beach town of Glenelg, we felt like we were in Las Vegas! It was all quite over the top. Our spacious room even had its own wet bar!
The view on one side of the hotel reminded us of Chicago.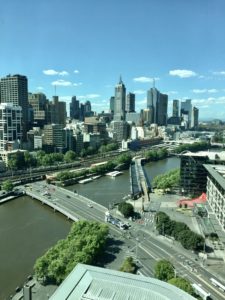 And this was the view from our room on the other side of the hotel, overlooking the convention center, at night. Every night, on the hour, we heard this big whoosh noise. A series of giant torches, for want of a better term, went off several times in quite the pyrotechnics display.
More of Melbourne coming soon!