Our Air NZ flight from Melbourne to Auckland was great, love the setup of the 777. Best design we've had in business class: Six across seating; very comfortable "pods," each with an aisle, so you don't have to crawl over anyone. You can get out while your table is up; simply push it forward. Flight attendants are great, so is the wine selection, with descriptions of the different NZ wine regions available on the entertainment system. Lots of movies, much better selection than UAL, all for a flight that is slightly over 3 hours. After sampling a few excellent NZ wines over lunch, we were concerned we'd need to be wheeled off the plane! We are flying Air New Zealand back to LA and are looking forward to more of the same high standard.
Mr. Fussy had nothing to complain about. Horrors! Without a doubt, this was one of the nicest flights we've ever taken. And it's not often anyone can say that these days….
As you enter the Auckland airport after clearing customs, you are welcomed in Maori style.
Our driver Maggie gave us a lively commentary as we drove into Auckland, the City of Sails. Auckland is on a narrow peninsula–narrowest part of country– with the Tasman Sea to the West and the Pacific to the East. Largest city in NZ, it is home to about 1.3 million people. Of the country's 4.6 million residents, about 80% live on the North Island.
We are staying at the Sofitel on the harbor, very conveniently located near restaurants. We walked around the harbor to Soul, a lively restaurant where Don enjoyed his local fish (which you can't see much of because it was smothered in peas!) and I had rack of lamb with amazing eggplant fries.
Walking back we had a lovely view of the Sky Tower at night.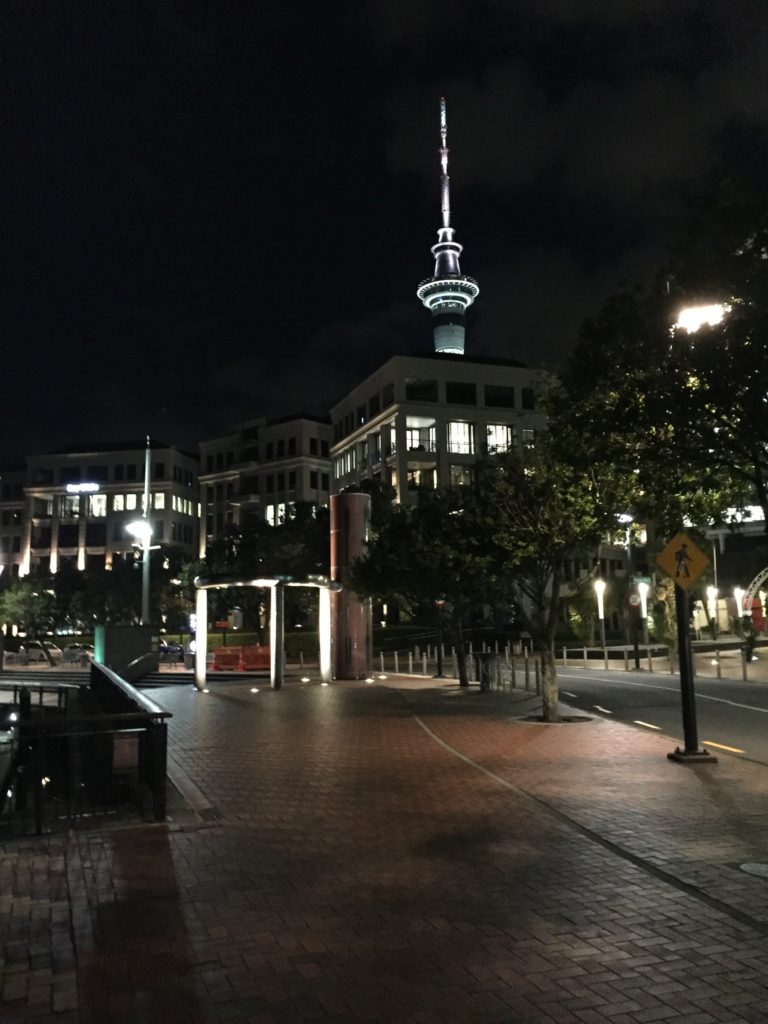 The next morning we were delighted that our good weather has continued to follow us. It was a lovely crisp fall, er, spring day for our outing to Waiheke Island. The 12 mile ferry ride over gave us a great view of downtown, the suburbs, and harbor islands.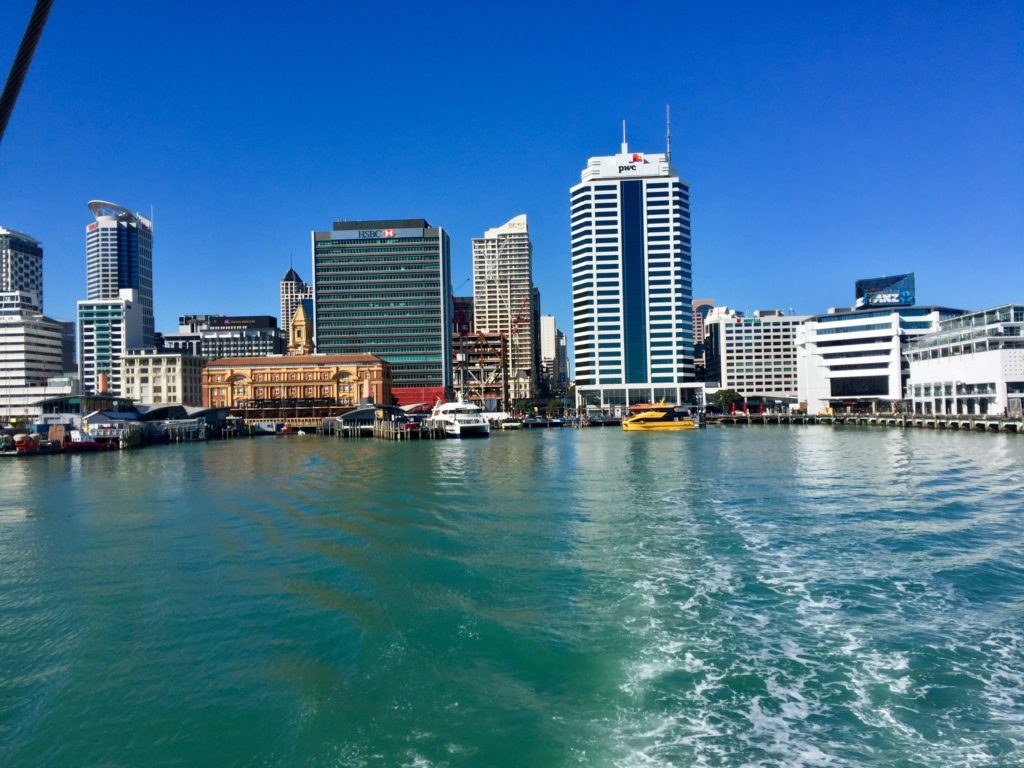 Our guide for the day was Steve from Ananda Tours, who lives on the Island. Waiheke is 18 miles long and covers 23,000 acres. The Maori settled Waiheke Island and other areas of New Zealand a mere 800 years ago, quite recently in the greater scheme of things. Waiheke means cascading waters in Maori. Captain Cook arrived here in 1769 but didn't stay long enough to sail into the harbor, moving on to Australia (I think!).
It is home to more than 30 wineries, several of which we visited. The wines here are of high quality, with many wineries yielding just one bottle per vine, rather than 5-6 as is more typical. The microclimate is 2-3° warmer than Auckland, with less rain. Its deep clay soil is mineral rich and produces lush wines.
After tasting the red wines at Te Moto, we toured the island and enjoyed the scenic vistas, such as these of Palm Beach.
Our tasting and lunch at Mudbrick Winery was tops. We very much liked the Chardonnay and Rosé–even Mr. Fussy, who isn't usually a rosé drinker, like this one. I convinced him that we should buy a bottle. After all, he bought a bottle of gin at duty free in Auckland, at my urging; shouldn't I have something to drink while he enjoys his martinis? He couldn't argue with that logic!
We both had this savory scampi, clam, and chorizo dish for lunch. It was served on a bed of fregola (a small pasta)
, and seasoned with Spanish paprika, fennel seeds, coriander, tomato, and bell pepper (called capsicum here and in Australia). Yes, it was so good I asked what was in it!
It was a delightful day, and we agreed that New Zealand wines were more to our liking than the Australian ones we'd had.
On the ferry returning to Auckland, I watched this America's Cup boat sail through the brisk winds in the harbor. (You can arrange to sail on an America's Cup class boat, but we didn't take advantage of the opportunity. Nor did we opt to try bungy  jumping off the Sky Tower!)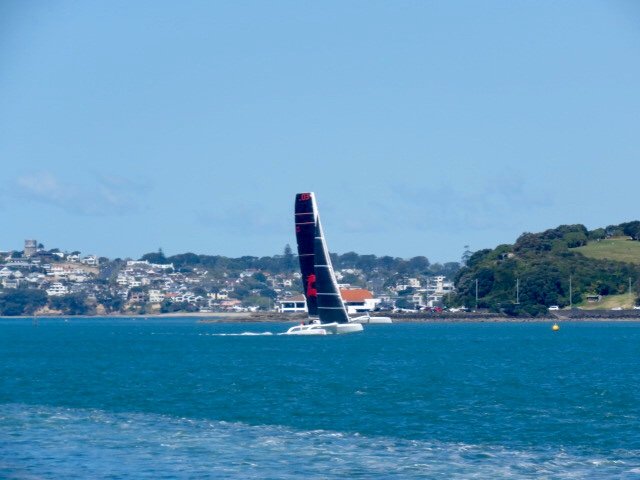 I enjoyed looking at all the boats in the marina near the hotel as we walked back.