We flew to Kangaroo Island via Adelaide, arriving mid afternoon. Our hotel, the Mercure Kangaroo Island Lodge, is in the American River area, so named because American seal hunters settled here. It isn't actually a river but an inlet and was the first permanent settlement on the island.
Australia's third largest island, KI is about 95 miles long and 35 wide. It's so far south that if you go west, the first land you reach is South America. We are further south than the Cape of Good Hope in South Africa.
Our driver, Luke, is originally from Perth and moved here six years ago for the lifestyle. He works several jobs to support his family, including driver and waiter at the Lodge and guide for Exceptional Kangaroo Island.
We received a warm welcome when we arrived at the Lodge. Our spacious room overlooks the river. A bonus: there is a washer and dryer for guest use! Our Australia travel agent was concerned that he was unable to book us into one of the more highly rated lodges, but we were very satisfied with the lodge and its staff.
The Reflections restaurant is considered one of the best on the island. Don had the local oysters, which he said had no flavor. They were served with only a wedge of lemon, not the mignonette sauce he prefers. My scallop appetizer was the better choice. We shared pasta dishes for our main courses, pappardelle with lamb ragu and orchiette with sand crab in a creamy sauce. Both were tasty and such generous portions that we couldn't finish.
The next morning we toured the southern side of the island with Ron Swan, a naturalist who moved to KI 25 years ago. As we drove past Pelican Lagoon we saw not only white pelicans but also black swans. I wasn't close enough to get a good shot of the swans, so this will have to do.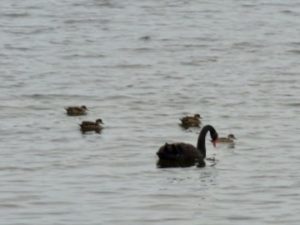 The island is home to 4,800 permanent residents and 800,000 sheep, as well as kangaroos, wallabies, koalas, and wombats. The sheep are mostly Merino, raised for their wool. There were many more sheep here until the 1990s, when oversupply led to such severe price drops that many farmers went bankrupt and never recovered.
One-third of the island is national park land. Native vegetation is protected. Overall KI is very eco-conscious, which was one of the reasons Ron loves living here. Mainlanders like having vacation homes on KI, as it's only 9 miles from Port Jarvis.
Beekeeping is a major industry for KI, and the honey produced here is delicious. Another big industry is eucalyptus oil, distilled from the leaves of a tree that only grows here and whose oil has a milder scent. The island supports many other crops, including fava beans, olives, canola, wheat, barley, wine grapes, and lavender. Because local farmers are not allowed to use GMO seeds, produce is very high quality and prized.
KI also has a distillery that produces craft gin. Of course Don had to sample the wild juniper that goes into it! Ron showed us several of the different eucalyptus varieties found on KI. Australia only has 700 types, as well as 1000 varieties of acacia.
More trivia for you: Australia is the most treeless continent, other than Antarctica.
Our first stop was Seal Bay. We weren't expecting to stay long, given that we have the seals and sea lions along the La Jolla coastline. However, this is a unique it spot and the only accessible colony to view the Australian sea lions, now one of the rarest types of seal and a protected species. The colony used to be huge until hunters came in the early 1800s. While this is what put KI on the map, it also decimated the seal population. Because the gestation period is 18 months and the female's fertile time is extremely short, the sea lions haven't yet recovered in terms of population growth. We enjoyed walking along the beach and watching the seals at play. Seal yoga, anyone? And isn't this pup adorable?
I took some great videos and will share them once I get a faster internet connection.
Ron stopped in the Kelly Hill Conservation Area for our picnic lunch of free range chicken and salad, complete with white tablecloth and locally produced wine. We began with two superb cheeses, a Tasmanian cheddar and a Kefaloteri made on KI. For dessert we had a classic Australian sweet, lamington cakes (sponge cake coated with chocolate and rolled in coconut, yummy!)
We dined amongst the kangaroos. KI's resident population is Western Gray kangaroos, though the ones here are darker in color than elsewhere. Can you see the mama with a large joey in her pouch? And note how close Don got to this little fellow. They had a staring contest for several minutes! More trivia: What do you call a group of kangaroos? Answer below.
Serenading us during lunch were several ravens, whose call sounded like someone laughing: Haw, haw, haaawwwww.
Trivia answer: A mob is a group of kangaroos.
After lunch we continued on our southerly drive to a very different part if the island. And I'll continue in Part 2!