Join us as we fly along the coast to Jonah's Restaurant at Whale Beach.
What a glorious day! We boarded a water taxi for Rose Bay. Our taxi driver, or should I say captain, regaled us with trivia and stories along the way. The harbor has 580 species of fish. Great for fishermen, right? Only for the fun of catching….in years past, industry used to release toxins into the water. Although the waters are clean now, the toxins seeped into the sediment, rendering the fish inedible.
After a delightfully entertaining 15-minute ride across the harbor, past such high-end neighborhoods as Piper Point where the prime minister has a home (in the area shown above), we arrived at the seaplane terminal. As we waited for our flight, I enjoyed learning about the history of Rose Bay, Sydney's first international airport. In the 1930s there were no land airports; to fly overseas you took a seaplane, and the Empire Class flying boats were quite luxurious. They even had putting greens! You needed lots of entertainment, however, because it took at least 10 days and 30 stops to go from Sydney to Southampton in the UK. You hopped from port to port, with two-thirds of the stops for refueling. The other one-third were overnight stays.
We boarded our Catalina seaplane and took a gorgeous half-hour flight up the coast. Don got to play co-pilot on the way up. What spectacular views! You can see some of the many inlets and marinas in the picture at the top of this post, plus more views that I snapped from the plane on both legs of the trip. Can you imagine how easy it would be to lose a ton of golf balls playing on that course right on the harbor edge?
My friend Nagi Maehashi, the amazing food blogger I met two years ago when she gave a workshop in LA, joined us for lunch at Jonah's, an elegant restaurant overlooking Whale Beach. How convenient that she lives 10 minutes away! What a delight to spend time with Nagi in her country. Our conversation was as lively as you'd expect when foodies get together, ranging from how she grew her food blog to differences between Australian and American ribs and other cuts of meat.
The views were gorgeous, as was the food. We were able to see quite a few whales breaching as they migrated south.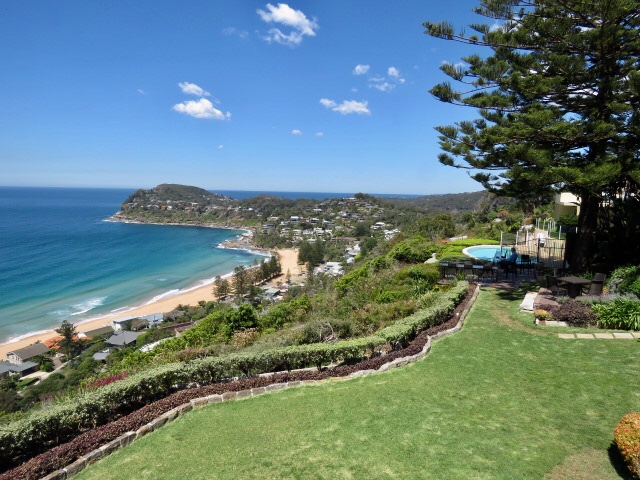 We chose three courses from the extensive menu. (Click on the photos to read the menu more easily.)
First came an amuse bouche: Creamy Scallop ceviche with deep red roasted diced strawberries, served on small white ceramic spoons.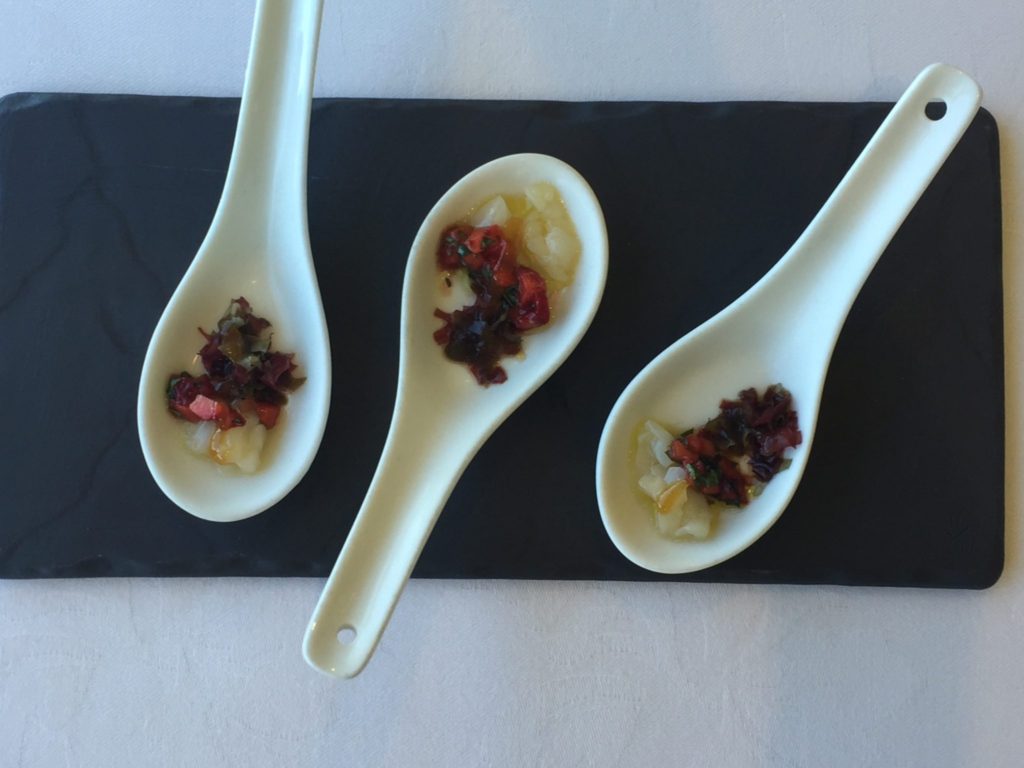 I had the Mooloolaba prawn appetizer–don't you love the Aboriginal names?–and the lamb, both of which were as flavorful as they were beautifully presented. Don stayed true to his Sydney lunch "tradition" and had oysters to start, followed by quail and then fish, while Nagi had the linguine and the beef. She and I agreed that my lamb was the best dish, so tender with just a touch of sauce.
Nagi and I indulged chose Raspberry Semifreddo for our dessert. It was a work of art, complete with gold leaf!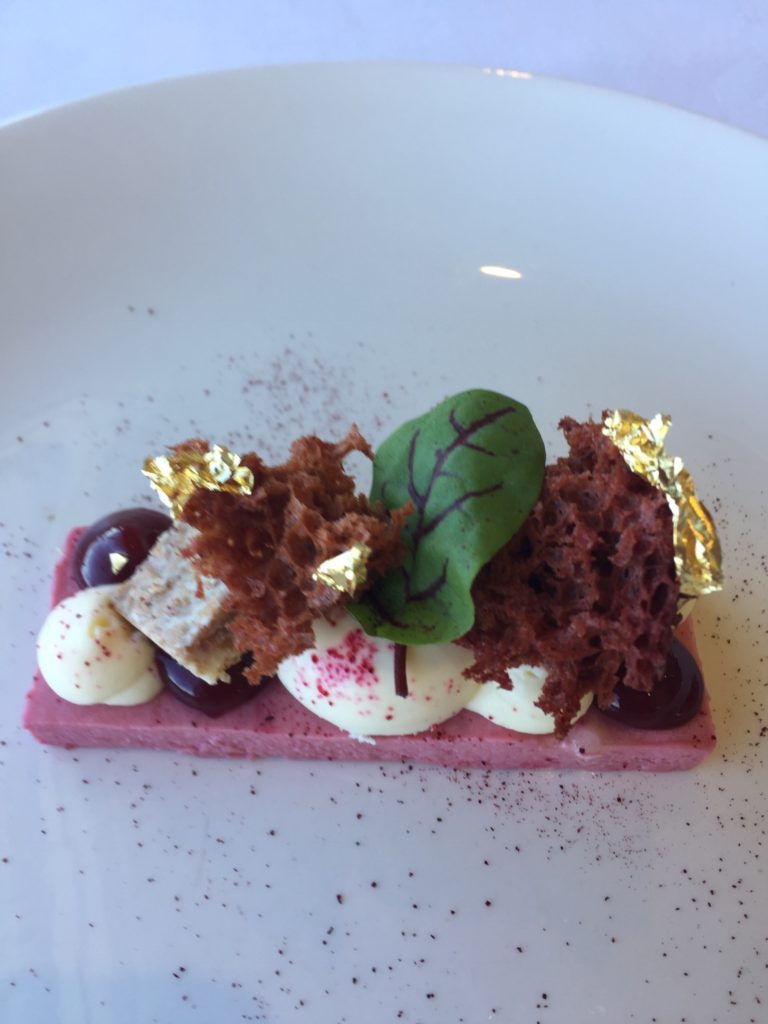 Of course we commemorated the special occasion with photos on the terrace.
To make our visit even better, Nagi presented me with a huge bag of Australian snacks and sweets, including Vegemite (which I managed to leave out of the photo!).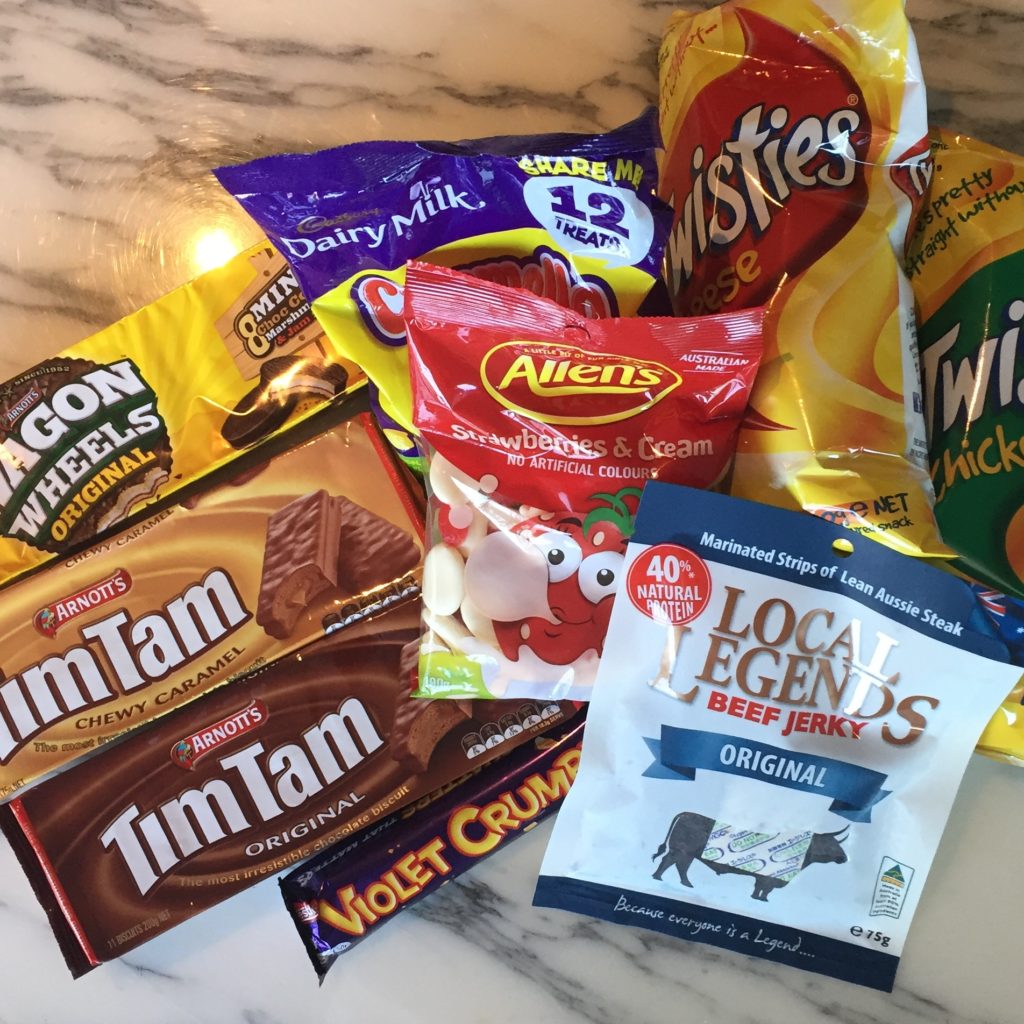 We flew back to Sydney and were greeted at the water taxi pier buy these rugby players, who were promoting the upcoming World Cup matches Sydney was hosting.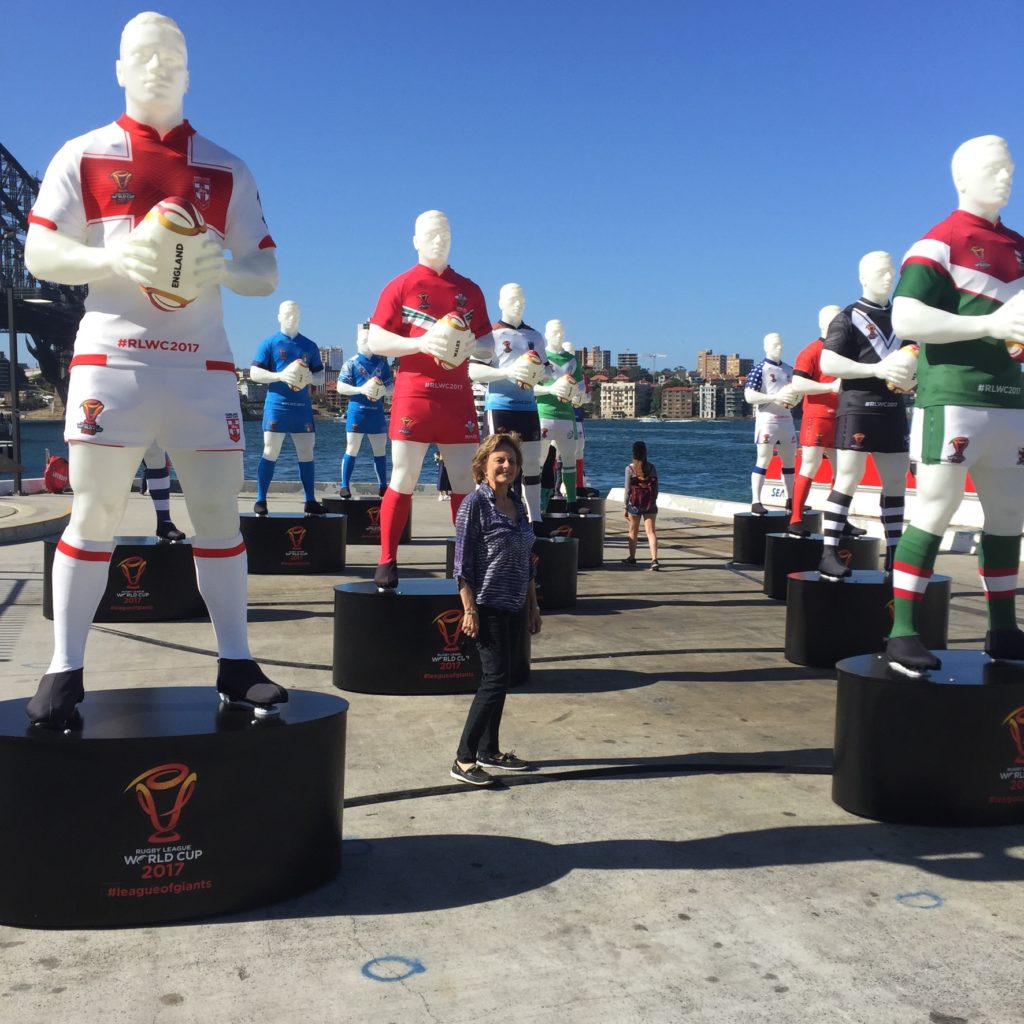 The day was a perfect way to end our three days in Sydney. Our next stop is Kangaroo Island, a sharp contrast to this cosmopolitan city.