Print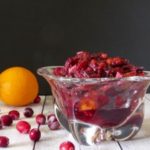 Marberry's Spiced Cranberry Chutney
Tangy and slightly sweet with a touch of spices, this cranberry chutney is a flavorful addition to roasted poultry and is also great on toast, in yogurt, or wherever you'd use a fruit jam.
1 12-

oz

. bag cranberries

1/2 - 3/4

cup

brown sugar

1/4

cup

cider vinegar

1/4

cup

orange juice

2

Tbsp

. minced fresh ginger or 1/2 tsp ground ginger

1/2-3/4

tsp

. cinnamon

1/4

tsp

. ground cloves

1/2

tsp

. curry powder

Grated zest of one lemon and/or orange

1/2

+ cup chopped dried apricots or other chopped mixed dried fruit
Place all ingredients in a medium saucepan.

Cook over medium heat, stirring to dissolve sugar.

Bring to a boil, reduce heat, and simmer, uncovered, until cranberries pop, about 10-15 minutes (longer if necessary).

Cool and chill at least 1 hour before serving.
• For a sweeter chutney, use 3/4 cup brown sugar. I usually start with 1/2 cup and add more if it need it, as I don't like overly sweet cranberry dishes.
• You can substitute cranberry or another fruit juice for the orange juice.
• Other chopped dried fruits work well; I've added dried cranberries or cherries.
• Don't feel like chopping? Use packaged dried mixed fruit bits, a mix of chopped apples, apricots, peaches, raisins, and sometimes papaya or mango. I've found them at Sprouts or the supermarket.
• The chutney thickens upon chilling.
• This keeps very well in the refrigerator.
• I sometimes double the recipe and usually add more spices. Makes a great gift, too!