Print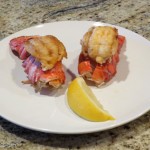 Butterflied Lobster Tails
An attractive way to prepare this special treat! Adapted from LobsterHelp.com's step by step instructions. It seems intimidating but won't be once you try it.
4 - 6

Lobster tails. depending on size

1-2

Tablespoons

butter, melted

1

teaspoon

lemon juice or to taste

1/4

teaspoon

finely chopped garlic or a dash of garlic powder

1/4

teaspoon

paprika

Dash of salt and pepper
Place lobster tails on a cutting board. With kitchen shears, slip the bottom blade under the shell and cut down to the end, where the shell fans out. Cut only the shell and not the lobster meat.

With your fingers under the center cut, carefully pull apart the shell and separate it from the meat along each side. Do not separate the meat from the shell at the "fan" end.

Gently lift up the lobster meat, press the shell together, and set the meat on top of the shell.

Cute a shallow slit along the top of the meat and fold it outward over the shell. If desired, you can cut another slit on each side of the center cut.

Place lobster tails on a broiler pan.

Preheat broiler.

Combine melted butter and seasonings and baste lobster tails.

Broil for about 1 minute per ounce (i.e., for a 5 ounce tail, 5 minutes) until firm, opaque, and lightly browned. Watch them carefully so they don't burn; it's easy to overcook them.

Serve with lemon slices and additional melted butter if desired.
The amount of melted butter, lemon juice, and other flavorings depends on the size and number of lobster tails.
Actual cooking time depends on weight of tails and how close to the broiler you have the oven rack.
The lobster tails cook quickly, so keep an eye on them so you don't overcook them.